Author: Y.S. Lee
Genre: Mystery, Historical Fiction, Young Adult, Victorian
Publisher: Candlewick Press
Publication Date: August 2010
Hardcover: 352 Pages
Orphan Mary Quinn works for the Agency, a secret spy organization run by and employing entirely woman. Her latest assignment has her disguised as a 12-year-old boy at the construction site of a clock tower near Parliament, investigating a mysterious death and the site's overall generally bad reputation. Mary is skilled at her "trade," but she finds being a boy harder than she expects when it brings back long-suppressed memories of her rough childhood.

To make matters worse—or better, in some instances—James, her old flame, has returned from India, changed in some ways, yet exactly the same in others. Will Mary be able to balance all the different parts of her life while she does her job, or will something have to fall—literally?
Stand alone or series: Book 2 in The Agency series
How did I get this book: Review Copy from the publisher
Why did I read this book: We were invited to join the Traveling To Teens Blog Tour for the release of this novel, and having heard nothing but praise for Y.S. Lee's first book, I eagerly acquiesced. (Yes, I just used acquiesced in a sentence – it must be Ms. Lee's Victorian vocabulary rubbing off on me.)
Review:
Since her stint in the gaol and her narrow escape from the gallows as a young orphan, Mary Quinn has flourished under The Agency's tutelage. A burgeoning young spy, Mary takes on a dangerous new assignment to investigate the untimely death of a brick-layer that has plunged to his demise from a clock tower at a construction site near Parliament. In order to accomplish her mission, however, Mary must pass as a young boy – which stirs up some hard memories from her past, when she used to dress as a boy to avoid abuse and rape. Despite these issues and desperate to prove herself to her mentors at The Academy, Mary dives into her new role as "Quinn" with alacrity, trying to get to the bottom of the mystery of the dead bricklayer and the stink of corruption that surrounds the site – though prying answers from men who think her to be an overly-educated, spying favorite of the founder of the site, one sir Harkness, proves much harder to accomplish in practice. And when a familiar face from Mary's past, James Easton, pops into the picture as a sanctioned investigator things get even more complicated.
As with its predecessor A Spy in the House, The Body at the Tower is another winning, impeccably well-written historical mystery from Y.S. Lee. The first thing one notices when reading The Agency books is how evocative and detailed the historical element is – it should come as no surprise that Ms. Lee holds a Ph.D in Victorian literature and culture. The strongest parts of The Body at the Tower were, for me, how seamlessly elements like sensationalist scandal sheets (with its tabloid inaccuracies, and its cheap ink rubbing off on Mary's hands) or bricklaying techniques (they apparently would work in pairs, using a tool called a hod to carry bricks) were integrated into the story. Not only are details like this believable and time-period accurate (or so I am assuming, as I'm by NO means an expert at this sort of thing!), but they are interesting – never once did I feel like I was being info-dumped or in a dingy lecture hall. Rather, Ms. Lee manages to bring the grime and sweat of working class Victorian London to life by means of this nuanced narrative.
But enough with the details! What of the characters and the plot, you say? As with the first novel, Mary is a strong heroine, yet she is much changed in this second book. Less brash, Mary is a bit more subdued in this book as she grapples with concealment and identity.**
Another familiar face returns in this second book, with James Easton back on the scene as his and Mary's paths cross once more. The banter and chemistry between these two books isn't quite as lightheartedly winsome as it was in the first book, but that's kind of cool. Though the two are reunited, they both have changed significantly, both physically and emotionally (James, frail from his illness in India, Mary in her boy-garb). There are new characters met in this book too that are memorable additions, in particular, I enjoyed Jenkins, a young boy Mary befriends on the job (as Quinn, of course).
Though the mystery isn't really that much of a mystery, and the plotting a bit slow, the writing overall with its attention to detail and period is genuinely winsome. My only other criticism is how I wish there was more of the actual Agency in the book. I love the idea of this fictional spy agency for women as a revisionist sort of history, that in the words of author Y.S. Lee serves as an "antidote to the fate that would otherwise swallow a girl like Mary Quinn." How cool is that? Though I wish there was more of an Agency presence in this second book, I'm pretty sure that they (along with Mary and James) will be back in full force by the time the third book in the trilogy comes out.
**SPOILER ALERT FOR THOSE THAT HAVE NOT READ A SPY IN THE HOUSE (highlight the white area below to read)
Mary's ethnicity in particular is a huge point of contention with her. I really, really wish there was MORE exploration of her Chinese heritage in this book (though the thread is picked up by the end).
END SPOILER
Notable Quotes/Parts: From Y.S. Lee's website, an introduction to the passage:
This is the fourth chapter of The Body at the Tower. Here, Mary arrives at the half-built St Stephen's Tower (the clock tower of the Palace of Westminster). She's disguised as 12-year-old "Mark Quinn", it's her first day of work, and she has zero experience of building sites.
It was only a short walk across the Thames from her new lodgings in Lambeth to the building site in Westminster. Nervous as she was about the first day of the assignment, Mary forced her attention outwards, to streets she would come to know well. All about her, men and women and children shuffled slowly workward, or perhaps home again after a night shift. The pubs did steady business as laborers drank their breakfast pints. Occasionally, a fresh scent – new bread from a bakeshop; a barrowful of lilies going to a florist's – cut through the thick, earthy, acidic smells of the city. She dodged a wagon heaped high with sides of beef, and grinned at the pack of dogs trailing it hopefully.

Her destination, St Stephen's Tower, loomed over all this. It was designed to look glorious and imperial, but the effect was spoiled from her angle by the missing hands on two of the clock faces. To Mary the tower merely looked blind, a spindly, helpless outcast marooned by the river's edge. As she stepped onto Westminster Bridge, she realized was breathing shallowly. How foolish to think she could mitigate the odour of the river! She inhaled a careful breath and forced herself to take measure of its stench. Yes, it was still intensely familiar, if slightly less disgusting due to the cooler weather. After last year's Great Stink, appalled Londoners had spent months arguing about the need to clean up the Thames. Campaigners crusaded, newspapers excoriated, politicians pontificated. But like most Londoners, Mary would only believe it once she saw the results. For now, she was grateful that the stink was no worse than last year.

She slowed her pace along the bridge, taking a long, deliberate look at the Palace of Westminster. Every child knew that this was the seat of government, where the Houses of Lords and Commons met. Yet she'd never paid close attention to the actual buildings, sprawling and imposing as they were. They'd been under construction since well before she was born. For most Londoners now, the Palace's twenty-five year re-construction was merely an obvious, unfunny joke about government and the ruling classes.

Nothing moved inside Palace Yard. It was too early for the law-makers, and too late for the night watchmen. The entrance to the building site was separate and there would be no need to enter the Palace itself; no dangerous mingling of peers and working men. Even so, she made a circuit around the Palace proper, entranced now by its colossal mass, its relentless detail. It was a revelation: not beautiful in a restrained, classical way, but fierce and extravagantly Gothic. The intricacy of the design was hypnotic, overwhelmingly so, and the arrogance and tradition it represented made itself felt in the pit of her stomach.
You can read the full excerpt online HERE.
Additional Thoughts: As mentioned above, The Body at the Tower is the second book in The Agency series. If you haven't check out the series yet, I recommend you start with book 1, A Spy in the House: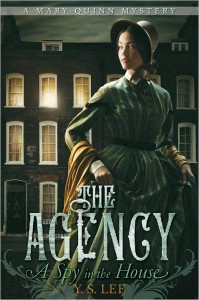 Introducing an exciting new series! Steeped in Victorian atmosphere and intrigue, this diverting mystery trails a feisty heroine as she takes on a precarious secret assignment.

Rescued from the gallows in 1850s London, young orphan (and thief) Mary Quinn is surprised to be offered a singular education, instruction in fine manners — and an unusual vocation. Miss Scrimshaw's Academy for Girls is a cover for an all-female investigative unit called The Agency, and at seventeen, Mary is about to put her training to the test. Assuming the guise of a lady's companion, she must infiltrate a rich merchant's home in hopes of tracing his missing cargo ships. But the household is full of dangerous deceptions, and there is no one to trust — or is there? Packed with action and suspense, banter and romance, and evoking the gritty backstreets of Victorian London, this breezy mystery debuts a daring young detective who lives by her wits while uncovering secrets — including those of her own past.
Also make sure to check out Y.S. Lee's Guest Post on Notorious Victorians, posted earlier today!
Verdict: I truly enjoyed The Body at the Tower. A worthy sequel to A Spy in the House, this is a series I wholeheartedly recommend for readers looking for a richly nuanced Victorian mystery (with a wonderful heroine to boot).
Rating: 7 – Very Good
Reading Next: Zombies vs. Unicorns anthology