Title: Dying to Live: Life Sentence
Author: Kim Paffenroth
Genre: Horror, Zombies, Post-Apocalyptic Ficiton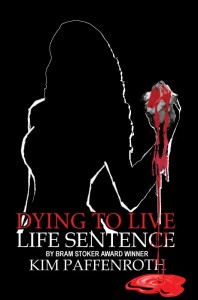 Publisher: Permuted Press
Publication Date: October 2008
Paperback: 232 pages
Stand alone or series: Sequel to Dying to Live, but can be read as a stand alone novel.
How did I get this book: Review Copy from the author
Why did I read this book: I loved Dying to Live, and was eager to give the sequel a try. A few months back, the annual Horror Writer's Association Bram Stoker Awards were held here in Los Angeles, and I drove out to meet and congratulate nominee Joel A. Sutherland. While I was there, I also got to briefly meet author Kim Paffenroth! (And, of course, made a bumbling buffoon of myself in the process) A few weeks later, the author contacted us with a review request – and I of course was most happy to oblige.
Summary: (from Amazon.com)
At the end of the world a handful of survivors banded together in a museum-turned-compound surrounded by the living dead. The community established rituals and rites of passage, customs to keep themselves sane, to help them integrate into their new existence. In a battle against a kingdom of savage prisoners, the survivors lost loved ones, they lost innocence, but still they coped and grew. They even found a strange peace with the undead.
Twelve years later the community has reclaimed more of the city and has settled into a fairly secure life in their compound. Zoey is a girl coming of age in this undead world, learning new roles–new sacrifices. But even bigger surprises lay in wait, for some of the walking dead are beginning to remember who they are, who they've lost, and, even worse, what they've done.
As the dead struggle to reclaim their lives, as the survivors combat an intruding force, the two groups accelerate toward a collision that could drastically alter both of their worlds.
Review:
Taking place twelve years after the events of Dying to Live, Life Sentence tells the tale of a young girl named Zoey, growing up in a world where the living and dead must coexist. It also is the tale of a man named Wade Truman – a gentle zombie, capable of cognition. Each chapter alternates between Zoey and Wade's narration, as their two paths eventually collide.
The Dying to Live books have been called the "thinking man's zombie novel[s]" (Dave Wellington), and I cannot think of a more apt description. Mr. Paffenroth's writing dares to explore more deeply and explicitly the philosophical implications of the zombie plague and its aftermath, continuing here what he began in the first book. This isn't so much a "zombie" novel as it is a novel about humans, both living and dead, trying to coexist in a world that has been transformed. This second novel is an extension of the apocalypse, growing past the struggle for immediate survival as a community of humans have cleared out a city and have lived peaceably for years. In Zoey's narrative, we learn that her city is built on an understanding and reverence for all life – which includes the dead. Instead of killing and eliminating the zombie threat, Zoey's people revere those who have passed on by keeping the undead locked in a storage facility. They never kill zombies except in self defense and in the situations when there is no way to restrain them safely – a novelty in a genre known for its violent, sensationalist approach to blood, guts and gore. Mr. Paffenroth's novel has its share of action and danger, but is a much more subdued, reflective book, built more on the strength of its characters than bloody descriptions. And these characterizations are what take the book to the next level, setting it apart as a truly wonderful, memorable novel.
Zoey, the "normal" human narrator is a young girl entering adolescence and preparing to take her vows and become a full-fledged member of the community. Zoey has always felt like an outsider to her fellow community members – different from her adopted mother and father who knew of the "real" world before the zombie apocalypse, different from the children her own age who do not question and view things as Zoey does. Zoey's written narrative, told in the first person, is a truly searing perspective of someone who has no ties to our world of office jobs, prom dresses and ethnic specialty foods – all she knows is the community she's grown up in, the way that the dead always reanimate, and the way of life of guns and farming she has lived since her birth. Zoey's story is that of a new generation, born of the survivors of the apocalypse and with no roots in the world as we currently know it. All this strangeness and detachment from our technology, customs and mores comes across beautifully in Mr. Paffenroth's writing through Zoey's perspective. Her voice is immensely moving and believable – she has a thoughtful, introspective tone as a character, questioning not only the tangible differences between our world and her own (as she questions why she must study history of dead kings and plays that no longer seem to hold relevance in humanity's current situation), but her unique vantage point applies to concepts as abstract as the idea of "memory" and as tangible as the pain of loss.
The other narrator of the novel is Wade Truman – a zombie who is able to think rationally, understand and communicate with others. "Smart" zombies are not exactly novelties – George Romero has examined the idea that zombies can remember certain actions and reason in his films Day of the Dead with Bub, and in Land of the Dead with Big Daddy's zombie revolution – but I have never read nor seen a film that captures the zombie perspective so completely and hauntingly as does Mr. Paffenroth in Life Sentence. Wade's narrative answers the questions we hardly ever think to ask of the walking dead – do they feel their mortal wounds? Why do they hunger so, and how do they quench that hunger? Do they remember their pasts? Do they dream, hope, or fear? Just as Zoey's voice is beautifully distinct and compelling, so too is Truman's first person narrative. His voice is full of sadness and loss, as he cannot remember his past and struggles to make sense of his present. His story, told through a typewritten journal, is an elegiac lament, a heartbreaking ode for the living dead. Unable to sleep, unable to rest, Truman refrains from eating human flesh and befriends humans and zombies alike. Though he cannot remember who he was, his ability to reason and understand, to think but not speak or communicate initially beyond the most basic signals is a very powerful, saddening story.
Life Sentence is an elegant, eloquent novel about how humanity endures after an unthinkable disaster, honoring the living and dead alike. At times philosophical, Mr. Paffenroth blends action and intellect beautifully in this powerful book, with only occasional missteps. Absolutely recommended for fans and for new readers alike.
Notable Quotes/Parts: You can read an excerpt of the first chapter of Life Sentence online HERE using Amazon's "Look Inside" feature (click the book cover image).
Additional Thoughts: Kim Paffenroth has a new, extremely limited edition novel out called Valley of the Dead. Though the novel is no longer currently available for order, but hopefully will see a wider release at a later date. Here's the gorgeous cover and synopsis: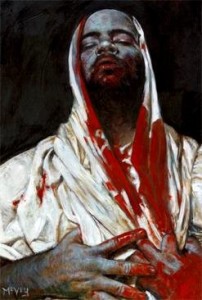 For seventeen years of his life, the whereabouts of the medieval Italian poet Dante Alighieri is unknown to modern scholars. All we know is that during this time, he traveled as an exile across Europe, while working on his epic poem, The Divine Comedy. In his masterpiece he describes a journey through the three realms of the afterlife. The volume describing hell, Inferno, is the most famous of the the three.

Valley of the Dead is the real story behind Inferno. In his wanderings, Dante stumbles on a zombie infestation, and the things he sees there – people being devoured, burned alive, boiled in pitch, torn apart by dogs, eviscerated, impaled, crucified, etc. – become the basis of all the horrors he describes in Inferno. Afraid to be labeled a madman, Dante made the terrors he witnessed into a more "believable" account of an otherworldly adventure with demons and mythological monsters, but now the real story can finally be told.
Rating: 8 – Excellent
Reading Next: Malpractice Anthology