"On The Smugglers' Radar" is a new feature for books that have caught our eye: books we heard of via other bloggers, directly from publishers, and/or from our regular incursions into the Amazon jungle. Thus, the Smugglers' Radar was born. Because we want far more books than we can possibly buy or review (what else is new?), we thought we would make the Smugglers' Radar into a weekly feature – so YOU can tell us which books you have on your radar as well!
On Ana's Radar
Our good friend Karen Mahoney has been blessed by the cover Gods. Seriously. Check the cover for the second book in The Iron Witch series, The Wood Queen: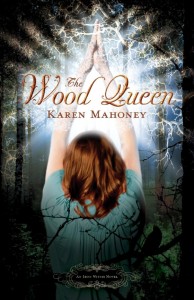 This next one I saw over at that the Little,Brown website and I like the idea and the cover. Should be interesting….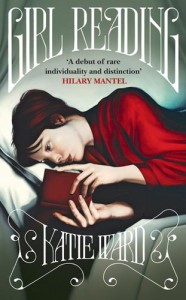 Seven portraits. Seven artists. Seven girls and women reading.

A young orphan poses nervously for a Renaissance maestro in medieval Siena, and an artist's servant girl in 17th-century Amsterdam snatches a moment away from her work to lose herself in tales of knights and battles. A young woman reading in a Shoreditch bar catches the eye of a young man who takes her picture, and a Victorian medium holds a book that she barely acknowledges while she waits for the exposure. Each chapter of this richly textured debut takes us into a perfectly imagined tale of how each portrait came to be, and as the connections accumulate, the narrative leads us into the present and beyond – an inspired celebration of women reading and the artists who have caught them in the act.

Kristen from Fantasy Cafe tweeted about this book and I looked it up. It looks and sounds pretty good.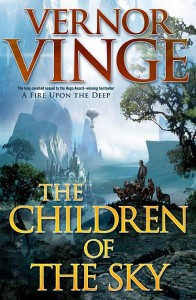 Ten years have passed on Tines World, where Ravna Bergnsdot and a number of human children ended up after a disaster that nearly obliterated humankind throughout the galaxy. Ravna and the pack animals for which the planet is named have survived a war, and Ravna has saved more than one hundred children who were in cold-sleep aboard the vessel that brought them.

While there is peace among the Tines, there are those among them — and among the humans — who seek power… and no matter the cost, these malcontents are determined to overturn the fledgling civilization that has taken root since the humans landed.

On a world of fascinating wonders and terrifying dangers, Vernor Vinge has created a powerful novel of adventure and discovery that will entrance the many readers of A Fire Upon the Deep. Filled with the inventiveness, excitement, and human drama that have become hallmarks of his work, this new novel is sure to become another great milestone in Vinge's already stellar career.

I think one of the most talked about books in 2010 was Anna and the French Kiss (which I plan to read really soon. Really. *vows*). Stephanie Perkins has another book coming out this year and it sounds every bit as good.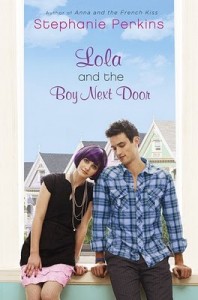 In this companion novel to Anna and the French Kiss, two teens discover that true love may be closer than they think.

For budding costume designer Lola Nolan, the more outrageous, the outfit—more sparkly, more fun, more wild—the better. But even though Lola's style is outrageous, she's a devoted daughter and friend with some big plans for the future. And everything is pretty perfect (right down to her hot rocker boyfriend) until the dreaded Bell twins move back into the house next door.

When the family returns and Cricket—a gifted inventor and engineer—steps out from his twin sister's shadow and back into Lola's life, she must finally reconcile a lifetime of feelings for the boy next door.

The next one has, I think, a very striking cover. And I love stories that deal with memory (or loss of)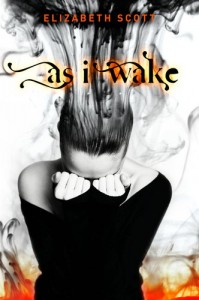 What if you woke up and didn't know where you were?

What if you didn't know who you were?

And what if, when your memories started to come back–what if they didn't match the you that you're supposed to be?

On Thea's Radar
This title looks great, and I like both the US and UK covers (maybe the UK one a little more, since the US one looks very much like another Simon & Schuster series – ahem, Cassandra Clare). Although I'm always a little wary of books that take famous historical figures, or in this case, an author, and integrate them into a work of fiction, I have high hopes for this title…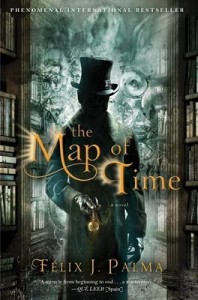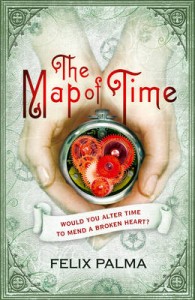 An epic, ambitious and page-turning mystery that will appeal to fans of The Shadow of the Wind, Jonathan Strange and Mr Norrell and The Time Traveller's Wife

London, 1896. Andrew Harrington is young, wealthy and heartbroken. His lover Marie Kelly was murdered by Jack the Ripper and he longs to turn back the clock and save her.

Meanwhile, Claire Haggerty rails against the position of women in Victorian society. Forever being matched with men her family consider suitable, she yearns for a time when she can be free to love whom she choses.

But hidden in the attic of popular author – and noted scientific speculator – H.G. Wells is a machine that will change everything.

As their quests converge, it becomes clear that time is the problem – to escape it, to change it, might offer them the hope they need…

I have this book and cannot wait to read it (even if the cover is a little silly looking) – based on how much I LOVED Catherine Fisher's Incarceron and Sapphique, I'm hoping this re-release of her older series stacks up: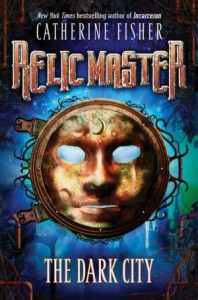 Welcome to Anara, a world mysteriously crumbling to devastation, where nothing is what it seems: Ancient relics emit technologically advanced powers, members of the old Order are hunted by the governing Watch yet revered by the people, and the great energy that connects all seems to also be destroying all. The only hope for the world lies in Galen, a man of the old Order and a Keeper of relics, and his sixteen-year-old apprentice, Raffi. They know of a secret relic with great power that has been hidden for centuries. As they search for it, they will be tested beyond their limits. For there are monsters-some human, some not-that also want the relic's power and will stop at nothing to get it.

You didn't think I'd go a whole radar post without ONE zombie book, did you? I like the cover for this one, and am excited to dive in to The First Days.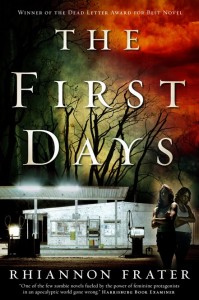 Rhiannon Frater's As the World Dies trilogy is an internet sensation. The first two books, The First Days and Fighting to Survive, have won the Dead Letter Award for Best Novel from Mail Order Zombie. The First Days was named one of the Best Zombie Books of the Decade by the Harrisburg Book Examiner. AmericanHorrorBlog calls Rhiannon Frater "a writer to watch."

The morning that the world ends, Katie is getting ready for court and housewife Jenni is taking care of her family. Less than two hours later, they are fleeing for their lives from a zombie horde.

Thrown together by circumstance, Jenni and Katie become a powerful zombie-killing partnership, mowing down zombies as they rescue Jenni's stepson, Jason, from an infected campground.

They find sanctuary in a tiny, roughly fortified Texas town. There Jenni and Katie find they are both attracted to Travis, leader of the survivors; and the refugees must slaughter people they know, who have returned in zombie form.

Fast-paced and exciting, filled with characters who grab your heart, The First Days: As the World Dies is the beginning of a frightening trilogy.

Ok, why not one more zombie title… (I LOVED The Enemy so am very, very excited for this one)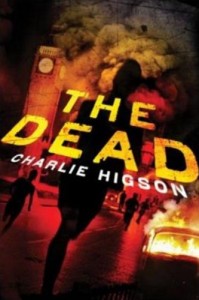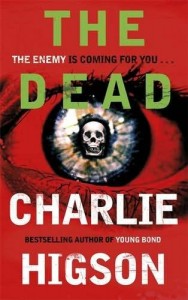 A terrible disease is striking everyone over the age of fourteen. Death walks the streets. Nowhere is safe.

Maxie, Blue and the rest of the Holloway crew aren't the only kids trying to escape the ferocious adults who prey on them.

Jack and Ed are best friends, but their battle to stay alive tests their friendship to the limit as they go on the run with a mis-matched group of other kids – nerds, fighters, misfits. And one adult. Greg, a butcher, who claims he's immune to the disease.

They must work together if they want to make it in this terrifying new world. But as a fresh disaster threatens to overwhelm London, they realise they won't all survive. . .

Saw this one on good ol' goodreads, and it sounds lovely: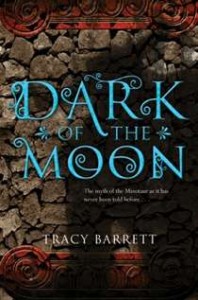 Ariadne is destined to become a goddess of the moon. She leads a lonely life, finding companionship only with her beloved, misshapen brother Asterion, who must be held captive below the palace for his own safety.

Then a ship arrives bearing a tribute of slaves from Athens, and Ariadne meets Theseus, the son of the king of Athens. Ariadne finds herself drawn to the newcomer, and soon they form a friendship—one that could perhaps become something more.

But Theseus is doomed to die as an offering to the minotaur, that monster beneath the palace—unless he can kill the beast first. And that "monster" is Ariadne's brother . . .

I am RIDICULOUSLY excited for the penultimate book in Cinda Williams Chima's Seven Realms series. Yay!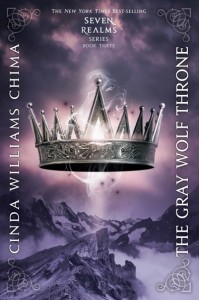 Han Allister thought he had already lost everyone he loved. But when he finds his friend Rebecca Morley near death in the Spirit Mountains, Han knows that nothing matters more than saving her. The costs of his efforts are steep, but nothing can prepare him for what he soon discovers: the beautiful, mysterious girl he knew as Rebecca is none other than Raisa ana'Marianna, heir to the queendom of the Fells. Han is hurt and betrayed. He knows he has no future with a blueblood. And as far as he's concerned, the princess's family as good as killed his own mother and sister. But if Han is to fulfill his end of an old bargain, he must do everything in his power to see Raisa crowned queen.

Meanwhile, some people will stop at nothing to prevent Raisa from ascending. With each attempt on her life, she wonders how long it will be before her enemies succeed. Her heart tells her that the theif-turned-wizard Han Allister can be trusted. She wants to believe it – he's saved her life more than once. But with danger coming at her from every direction, Raisa can only rely on her wits and her iron-hard will to survive – and even they might not be enough.

The Gray Wolf Throne is an epic tale of fierce loyalty, unbearable sacrifice, and the heartless hands of fate.

And that's it from us! What books do you have on YOUR radar?