"Inspirations and Influences" is a series of articles in which we invite authors to write guest posts talking about their…well, Inspirations and Influences. The cool thing is that the writers are given free reign so they can go wild and write about anything they want. It can be about their new book, series or about their career as a whole."
We are very happy to welcome back to the blog the multitalented Jackie Morse Kessler, author of a YA series about the four Horsemen of the Apocalypse as well as writer of Urban Fantasy, Comics (she is part of the Buffyverse CANON). She also writes the Icarus Project Series, a superhero series written in collaboration with Caitlin Kittredge. This time around, we have invited Jackie to talk about the second book in her YA series, Rage and what inspired her to write it.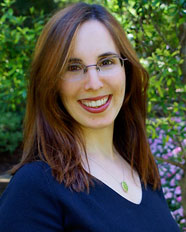 Ladies and gents, please give it up to Jackie!

For The Love of Horsemen
By Jackie Morse Kessler
Under my adult-fiction byline, I tend to write about demons doing rather naughty things. So maybe it's karma balancing itself out that for my teen-fiction books, one of my influences is the Book of Revelation in the Bible. I guess it's more accurate to say it's source material, because the first eight lines of chapter six pretty much sum up who, or what, the Four Horsemen of the Apocalypse are: the White Rider, the Conqueror (whom some refer to as Pestilence; others interpret him to be the Antichrist); the Red Rider, War; the Black Rider, Famine; and the Pale Rider, Death (the only one of the Horsemen who is named). Basically, these are the folks who herald the end of the world. Um, yikes.
Now, you have to admit, with this as source material, there's going to be some phenomenal stories out there about the Four Horsemen. Some of my favorite influences are:
Neil Gaiman and Terry Pratchett's GOOD OMENS.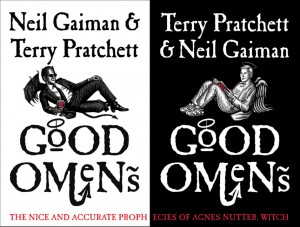 Who says the end of the world can't be funny? GOOD OMENS is one of my favorite books. Highly, highly, highly recommended. (And I'm not just saying that because Neil is my god of writing, or because I'm currently tearing my way through Terry's Tiffany Aching series.)
Piers Anthony's Incarnations of Immortality series—specifically, ON A PALE HORSE.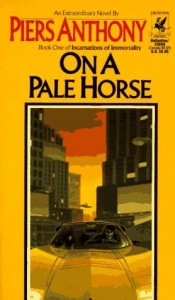 This was the first book I read that featured people doing the work of anthropomorphic personifications. Brilliant stuff. I have a hat-tip to the book in LOSS, the third Riders of the Apocalypse book.
The villain Famine from Marvel Comics' X-FACTOR. The first time I ever read about an anorexic teenage girl becoming Famine, it was in comic books. Autumn is a mutant with the power to destroy food. She gets recruited by a bad guy (called Apocalypse, natch) to be one of his henchmen. Er, horsemen. So she gets a spiffy costume and mask, rides a mechanical steed, and fights the good guys. Epic battles ensue. And that's the end of her being an anorexic teenager; now she's a supervillain.
But wait! Other authors are doing terrific things with Horsemen, such as Larissa Ione in her Lords of Deliverance series (I'm looking forward to reading ETERNAL RIDER). And there have been plenty of other Horsemen riding around, especially on television (Charmed, Supernatural), but I haven't watched those shows (don't yell at me! At one point, I'll Netflix them) so I can't call them influences. Still, it's nice to see the Horseman love.
So if you had to be a Rider of the Apocalypse — Famine, War, Pestilence/the Conqueror, or Death — which one would you be?

Giveaway Details: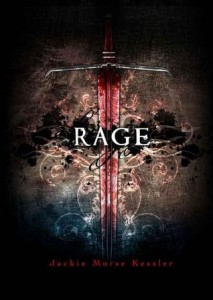 You heard Jackie! Answer her question "If you had to be a Rider of the Apocalypse — Famine, War, Pestilence/the Conqueror, or Death — which one would you be?" in the comments on this post for a chance to win a copy of Rage.
The contest is open to ALL and will run until Saturday April 9 at 11:59 PM (PST). Only one entry per person please! Good luck!

But that is not all!
You can also enter the Riders of the Apocalypse Giveaway, courtesy of the publishers! Three lucky winners will receive one copy each of HUNGER and RAGE along with postcards and a mini-poster!
To enter, send an e-mail to RageGiveaway@gmail.com. In the body of the e-mail, include your name and e-mail address (if you're under 13, submit a parent's name and e-mail address). One entry per person and prizes will only be shipped to US or Canadian addresses. Entries must be received by midnight (PDT) on 4/30/11. Winners will be selected in a random drawing on 5/1/11 and notified via email by the publicist.
Good luck!