Hello and welcome to another addition to our new series "Inspirations and Influences" in which we invite authors to write guest posts talking about their …..well, Inspirations and Influences. The cool thing is that the writers are given free reign so they can go wild and write anything they want. It can be about their new book, series or about their career as a whole.
This time around we have the pleasure to give the floor to Angie Fox, writer of the Demon Slayer series.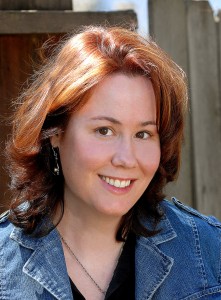 Her first book The Accidental Demon Slayer (reviewed here) was released last year and soon enough made the NY Times bestselling list. Her second book, The Dangerous Book for Demon Slayers comes out at the end of April and has been reviewed by Ana here.
Here is what she has to say in a very touching and thoughtful piece:
______________

How I learned to lighten up and trust my influences
by Angie Fox
A lot of writers I've talked with have always known who they are. I envy that. Because for many years, I tried to be somebody else. You see, I'm kind of quirky. I like going on odd adventures. I like meeting new people. I was the kid who would rather hang out at a Renaissance fair than go to the ball game.
And because I love to read, eventually I decided I wanted to be a writer. But in order to write the kinds of books people wanted to read, I decided I had to be very serious. No more playing around. And as far as listening to my inner voice? Forget it.
I'd never written a book before. This was not the time to trust my instincts. Instead, I had learn what other people had to tell me about my voice and my writing. So I signed up for these writing classes that taught me how to outline and how to write scenes on note cards and how to shuffle those note cards around and even how to put them on cork boards and make color coded note card charts.
Now don't think I'm knocking classes. I did learn a lot. But my problem was, I had somehow convinced myself that someone else's way was the right way to do things. As a result, my writing life was hard and it was tedious and sometimes I'd get frustrated and want to chuck the note cards at my shelf full of writing books.
Worse, I wrote three mysteries that didn't sell. One agent even told me that I had humor creeping into a murder scene – not good when you're oh, so serious.
When I'd get comments like that or when I couldn't look at one more chart, I'd retreat with the books I loved to read. I can go through several books a week and some of my favorite authors include MaryJanice Davidson, Katie MacAlister, Michelle Rowen and Elizabeth Peters. Then, suitably fortified, I'd go back to ignoring my influences.
Until one day, I snapped. I'd been working hard on some new note cards – color coded according to scene – when I received a longish letter from a respected agent. He'd read my third book and thought it would probably sell. But he hoped it didn't. He said I was compromising my voice. I was writing for someone else. How he could tell that from those words on the page, I'll never know. He said that book wasn't my, "breakout book" and that I should write something else.
It was painful to read, because I knew he was right. I didn't know exactly what I should be writing, but I decided to pull that mystery from consideration. I needed to relax and have fun for a change. So I decided to write a book just for me, a book I knew wouldn't sell. It had to be about the excitement, about the love of books and writing. I was so energized by the idea that I had trouble sleeping that night.
Then, a few nights later, I was up at three in the morning feeding my infant son and a fun idea popped into my head – what if a straight laced preschool teacher suddenly learns she's a demon slayer? And what if she has to learn about her powers on the run from a fifth level demon? Ohhh and wouldn't it be fun if she's running with her long-lost Grandma's gang of geriatric biker witches?
I could write the kind of book I liked reading – quirky, different – a book where I could build my own world and make up my own rules. I banished all note cards. I let my natural voice come out, even if it was kind of offbeat.
Instead of a 20-page plot outline, I had a 5-page list of ideas, one of which included "but little did they know, all the Shoney's are run by werewolves." Instead of following the rules, I broke a few. Instead of painstakingly writing over the course of a year, I giggled my way through the book and had a complete manuscript in five months.
The opening chapters did well in contests and caught the eye of an editor, who asked to see the whole thing. That same editor bought The Accidental Demon Slayer less than a week after I finished it. And then The Accidental Demon Slayer even made the New York Times bestseller list. But you know what the best part was? The relief that came with trusting myself to do what I love.
Now that I've learned to follow my instincts, I'm writing what I want to write and enjoying every minute of it. And the writing comes easier because I'm following that inner voice that tells me how the story needs to go.
Perfect example – in this second book, The Dangerous Book for Demon Slayers, my protagonist is really coming into her powers. The first book was funnier because she was thrust into this magical world with no preparation. Now, the second book has a darker edge because she's learning what that means to her.
As I was writing it, I thought, "Can I abandon some of the quirkiness? Will readers follow me on this journey?" The answers are, "yes," and "I sure hope so." I had to do it because in my heart I knew the story required it. The Dangerous Book for Demon Slayers can be both funny and serious.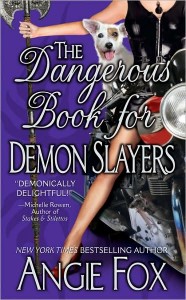 I'd like to give away a copy of The Dangerous Book for Demon Slayers today. And to do that, I've developed a highly un-scientific Are You Part Demon Slayer? quiz. Post your score below and enter to win. Also, if you post your score on my blog at www.angiefox.com, you could win a walk-on role in the next Accidental Demon Slayer book.
___________
How about that?
Contest is open to all and will run till Saturday midnight Pacific Time. The winner will be announced in our stash on Sunday. Good luck!
And a huge thank you to Angie for the amazing post and the cool giveaway!