Title: Spellspam
Author: Alma Alexander
Genre: Fantasy, Speculative Fiction, Young Adult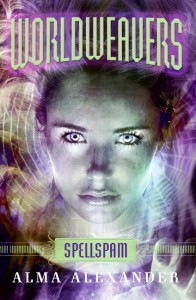 Publisher: Harper Teen
Publication Date: March 2008
Hardcover: 480 pages
Stand alone or series: Book 2 in the WorldWeavers trilogy
How did I get this book: Review copy from the author
Why did I read this book: I recently read and really enjoyed Gift of the Unmage, the first book in the Worldweavers trilogy by Alma Alexander. So, when Ms. Alexander graciously offered us copies of the full series (plus agreed to an interview and giveaway of her books), we were more than happy to accept!
Summary: (from HarperCollins.com)
What do you get when ordinary e-mail spam becomes infused with magic? Spellspam—and it's not supposed to exist. As far as Thea and her friends know, computers are meant to be inert vehicles for storing magic spells, not magical processors themselves. But all that seems to have changed as students at Wandless Academy find themselves the victim of practical jokes—with magical consequences—simply by opening an e-mail.
Now the spellspams are getting worse, and it's possible there's someone behind them who is not just bent on stirring up trouble but has a much scarier and more wide-reaching agenda. Until now, Thea has been the only person she's ever met who can reach through the computer using magic. But someone else is out there, and even her friends can't help her track down the source of the spellspam before it gets much, much worse.
This sequel to Worldweavers: Gift of the Unmage ups the ante on a fantasy world that is rich and nuanced, like our own, but with a core of wildly original magic.
Review:
It has been a few months since Thea has discovered her unique ability to use magic through the medium of a computer, finally proving (at least to herself, friends and intimate family) that she does have magical ability, fulfilling her destiny as a Double Seventh. But Thea is still remains at The Wandless Academy, hiding her talents from the outside world for fear of the Alphiri – a race of elven-like creatures who bargain for what they want tirelessly, and who will stop at nothing to gain Thea's unique abilities to weave worlds for their own if she is exposed. Things seem to be going well at the Academy during the school year until a rash of spam emails prove exceptionally harmful. Instead of just clogging up inboxes or causing computer viruses, these spam emails put spells on unsuspecting users – one glimpse of the email, and the poor user is afflicted with any number of spells and curses, from lycanthropy to tricksy faele wishes (which anyone whose ever read about the fey or genie wishes knows never go according to plan). The "spellspam" is wreaking havoc in not only the Wandless Academy, but also out in the wider world – but even more disturbing, especially to Thea, is the revelation that someone else can use computers to perform magic. Thea is not alone – and the Alphiri know it. Enlisted by the Federal Bureau of Magic (the FBM), Thea and her good friend, the computer genius Terry, are determined to get to the bottom of the spellspam epidemic, to find out who is behind the emails, and determine what he or she wants before the Alphiri do.
When I started this series with Gift of the Unmage, I wasn't really sure what to expect – and that first novel was so refreshingly different. I loved it. So, I had some lofty expectations for Spellspam, as Thea grows into her powers while she builds her friendships. Spellspam left me with some mixed feelings. For one thing, the novel begins somewhat awkwardly. It beings shortly after Thea and her friends have banded together to defeat the Nothing, and throws us right back into the mix as Thea witnesses spellspam at work. But there's little in the way of reintroduction to the characters or memory jogging (I never thought I'd say this, but I miss the repetitive re-introductions! I'm not saying it has to be Sweet Valley Twins style – "Elizabeth was born 4 minutes before Jessica, and they were identical from their size 6 figures down to the dimples in their left cheek" or whatever – but a little recap helps!). Even more jarring, though, was how Spellspam barely referred to Thea's Anasazi learnings and magic at all in the early chapters, focusing instead on a new forum of magic through technology. In itself, this isn't a bad thing, but the technology Ms. Alexander uses feels incredibly simplistic. I love the concept of truly deadly, malicious spam as a means of conveying deathly curses, but I wish there was more technical know-how in the execution of this idea. Even Thea's magic, as she uses a computer to create alternate realities and worlds boils down to something so simple as a few sentences in a word doc, which isn't very convincing.
Still, despite these misgivings, Spellspam manages to pick up by about midnovel, switching back to the spirit magic from the first book. By integrating those older elements with the new email-heavy story, Spellspam finally gets going, and pulls together in a smart, enjoyable way. In terms of characters especially, Thea grows incredibly from the first novel. No longer the sullen, depressed girl who hates how much she disappoints her parents, Thea has some room to become a young woman. As a heroine, this is incredibly endearing – it's a rare thing to find characters that truly grow and change as a story progresses, and in this Worldweavers trilogy, Thea comes a very long way. Yeah, there's a whole lot of Harry Potter to her (lonely, magically marked, ever-devoted to her friends and those she cares for), but this is a good thing. Though there's less time spent on her close crew of friends (Magpie, Tess and Ben hardly get any screen time), we do get to know Terry much more in this book, which is cool (especially since he's my favorite of the bunch, besides Thea!) – there's also a bit more Cheveyo and Grandmother Spider, as well as that trickster Corey. Also, there's a bevy of cool new secondary characters and new elements that we are introduced to, compensating for the lack of older ones. Harvey May from the FBM in particular is a mentor-character that is one to look out for. I also very much enjoyed the aristocratic de los Reyes family and their strange elemental house. The second act of the novel is much stronger than the first, and as Ms. Alexander delves into family histories and the buried secrets of the de los Reyes home, I found myself transfixed.
Though Spellspam has its share of weaknesses and beings slowly, it picks up all of that slack by the latter portion of the book – and I ended it wanting more. And isn't that the ultimate test of a good book?
Notable Quotes/Parts: From Chapter 1:
To: person@thisaddress.com
From: Claire S.Kin <Claireskin@whatyouaskfor.com>
Subject: Have the clearest skin you can possibly imagine!

Having trouble keeping your skin blemish-free? Troubled by zits, lines, old scars? Try our incredible product for 30 days for FREE! We guarantee that we will leave your skin clearer than you could ever have dreamed of...

The first hint of serious trouble came, as trouble always does, unlooked for, stealthily, catching everyone by surprise. It was the day that LaTasha Jackson suddenly turned into an Anatomy Teacher's Aid.

Things came to a head during a free-study hour, individual work done in the comfortable, plush silence of the school library, each student to his or her own cubicle, doing whatever work felt most pressing or pleasing. For some, that meant finishing homework due for the very next class; others were reading college textbooks on chosen subjects, way beyond what the Academy was supposed to be covering. Still others sat furtively hunched over their desks, with loose hair covering contraband earphones, trying to hide a music-player-shaped bulge in their pocket. One or two, bored, drew cartoons or wrote snatches of deathless prose which they fondly imagined would turn into a novel someday. The incorrigible chatterboxes found a way to whisper and giggle softly to one another from adjoining cubicles, or pass notes with the occasional rustle of tearing and a scritch of pencils on paper.

But, on the whole, everything was quiet, and Thea liked it that way. She wasn't doing anything particularly scholastic, but that wasn't because she was goofing off—she usually managed to have most of her work done in reasonable time, and hardly ever needed to resort to trying to write an essay five minutes before it was due. What she used her free study periods for was simply reading. She would meander down the library stacks at the beginning of the hour, pulling out a book here and there to check it out as a title caught her eye, and finally settle on something that interested her. Her reading tastes were wide-ranging—the books that found their way to her cubicle ranged from almost pristine art history hardcovers to dog-eared fat fantasy novels that had passed through many hands.

She was engrossed in a book about the social customs of chimpanzees when a bloodcurdling scream rent the air from the coveted north corner of the library, where the bank of library computers slated for student use were situated. Thea jumped, dropping her book on the desk with a thump and losing her place, pushing her chair back on its castors to peer around the edges of her cubicle. Dozens of other heads were popping out from other cubicles, and they were all in time to watch in appalled horror as something ghastly leaped back from a computer screen, overturning the chair and sending it flying into a bookcase which staggered under the impact, and raced down the length of the library and out through the double doors at the far end.
You can read the first NINETY pages of Spellspam for free online, thanks to Harper Collins' awesome "Browse Inside" feature:
Verdict: Perhaps Spellspam is not as memorable or unique as Gift of the Unmage, but it is still a strong novel, very much worth reading. Recommended for those who want something different in their YA fantasy!
Rating: 6 – Good
Reading Next: Cybermage by Alma Alexander
********************
Giveaway Details: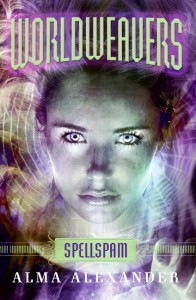 We are giving away ONE AUTOGRAPHED copy of Spellspam to a lucky winner! The contest is open to residents of the US, Canada & UK, and will run until Saturday, December 5 at 11:59 PM (PST). In order to enter, simply leave a comment here! One entry per person please – duplicate and/or multiple entries will be disqualified. Good luck!