"On The Smugglers' Radar" is a new feature for books that have caught our eye: books we heard of via other bloggers, directly from publishers, and/or from our regular incursions into the Amazon jungle. Thus, the Smugglers' Radar was born. Because we want far more books than we can possibly buy or review (what else is new?), we thought we would make the Smugglers' Radar into a weekly feature – so YOU can tell us which books you have on your radar as well!
On Ana's Radar
I came across Freaks by Annette Ccurtis Klause the last time I visited Foyles and the cover immediately caught my eye – so I bought it. I want to read this soon and I wonder if it is good: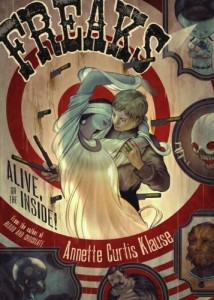 Abel Dandy feels all alone, a normal teenager who lives in Faeryland, where his parents perform with other "human oddities." His extended family includes dwarves, fat ladies, and Siamese twins, and his first kiss was with Phoebe the Dog-Faced Girl. Everyone has an act to perform, for in 1899 there are not many ways for these "freaks" to earn a living. But what can boring Abel do? Determined to seek adventure and find a girl without a beard to kiss, Abel runs away from home.

But Abel finds a harsh world outside of Faeryland. Nothing seems to go as planned and he is even more alone — except for a beautiful dancing girl who haunts his dreams and seems connected to his ancient Egyptian scarab ring. After misadventure and mishap (complicated by a little problem he thought he'd left behind), Abel stumbles upon a shabby traveling freak show run by the sinister Dr. Mink. It holds secrets that break his heart. Abel's grand adventure takes a dark and dangerous twist, but the dazzling girl of his dreams beckons him onward as does his own true soul.

Annette Curtis Klause has woven humor, adventure, history, and fantasy into this exhilarating epic. Step inside and see the show — if you dare. You will never be the same again!

Jennifer Echols' next book, Love Story comes out July 19th and the cover has been revealed last week: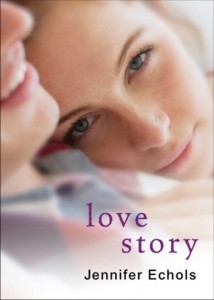 Erin Blackwell is headed to college in New York City to study creative writing and earn a living as a romance novelist. Her grandmother has other plans: she approves of the college, but she wants Erin to major in business and then come back home to Kentucky to run the family's famous racehorse farm. There is no way Erin will agree. Studying in New York and writing her way into a career is her escape from the farm and the family tragedy that happened there. So Erin's grandmother decides Erin really will live life as a starving artist. She takes Erin's future job running the farm, her inheritance, even her college tuition, and gives them all to Hunter Allen.

Hunter has lived on the farm for years. He's Erin's age, he's the stable boy, and he's the romantic dream of every girl in her high school. But he was involved in the family tragedy. Erin has always given him a wide berth. And he's a slick opportunist. She's furious that he fooled her grandmother into giving him Erin's birthright and sending him to Erin's college.

At least she's free of him in her creative writing class. So she pens a story that has haunted her lately, in which the horse farm heiress at the very first Kentucky Derby starts a forbidden affair with the lowly stable boy. Unfortunately for her, the day she's sharing this story with her New York classmates, Hunter walks in. He's switching to her class. And after reading about himself in Erin's story, he writes his own sexy assignments that lure Erin into dangerous fantasies about what could have been between them, and what might be.

The next one sounds interesting too: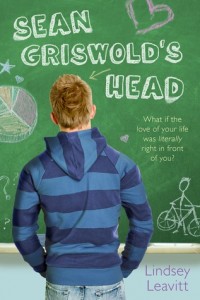 According to her guidance counselor, fifteen-year-old Payton Gritas needs a focus object—an item to concentrate her emotions on. It's supposed to be something inanimate, but Payton decides to use the thing she stares at during class: Sean Griswold's head. They've been linked since third grade (Griswold-Gritas—it's an alphabetical order thing), but she's never really known him.

The focus object is intended to help Payton deal with her father's newly diagnosed multiple sclerosis. And it's working. With the help of her boy-crazy best friend Jac, Payton starts stalking—er, focusing on—Sean Griswold . . . all of him! He's cute, he shares her Seinfeld obsession (nobody else gets it!) and he may have a secret or two of his own.

In this sweet story of first love, Lindsey Leavitt seamlessly balances heartfelt family moments, spot-on sarcastic humor, and a budding young romance.

Now, the next one, The Strange Case of Origami Yoda is a book I have seen at Foyles as well and have thought about buying it several times but never did. Now, it won a Cybils award and I SO wish I had it – will buy it soon.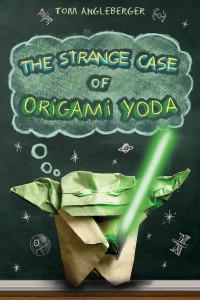 Tommy and his classmates narrate this middle grade mystery, each recounting an episode in which they received wise advice from a finger puppet of Yoda, perpetually worn on the finger of their classmate, Dwight, a loser who can't get anything right. Is this puppet really Yoda? Or is Dwight a bit more together than he seems?

I am yet to read a Courtney Milan book even though I heard nothing but awesome things about them. Perhaps now that her books are being issued in the UK, I will take the plunge?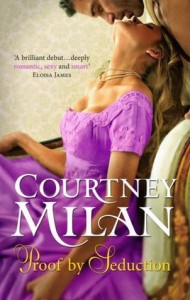 She was his last chance for a future of happiness…A gifted fortune-teller from a humble background, Jenny can make even the most sophisticated skeptic believe her predictions simply by batting her smoky eyelashes. Until she meets her match in Gareth Carhart, the Marquess of Blakely, a sworn bachelor and scientist.He just didn't know it yetBroodingly handsome, Gareth is scandalized to discover his cousin has fallen under the spell of "Madame Esmerelda," and vows to prove Jenny a fraud. But his unexpected attraction to the fiery enchantress defies logic. Jenny disrupts every facet of Gareth's calculated plan—until he can't decide whether to seduce her or ruin her. Now, as they engage in a passionate battle of wills, two lonely souls must choose between everything they know…and the boundless possibilities of love.

On Thea's Radar
The cover for the next book in Moira J. Moore's Heroes series is out! And although it's still a little weird (Taro looks confused…or constipated…or something), it's lightyears better than the prior two cover images. Thank GOODNESS.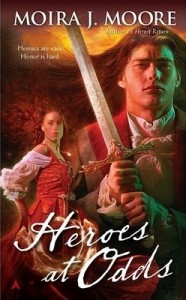 I saw this cover over at Angie's and even though I'm a little wary, Mette Ivie Harrison is a wonderful writer, so I'm totally in. Here's the unofficial synopsis (via goodreads):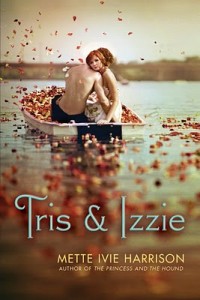 A modern retelling of the German legend "Tristan and Isolde", "Tris and Izzy", is about a young witch named Izzie who is dating Mark King, the captain of the basketball team and thinks her life is going swimmingly well. Until– she makes a love potion for her best friend Brangane and then ends up taking it herself accidentally, and falling in love with Tristan, the new guy at school.

Light, contemporary romantic fantasy for teens.
AND the excerpt for Chapter 1 is available HERE.



This book looks and sounds absolutely fantastic.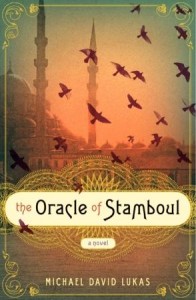 An elegantly crafted, utterly enchanting debut novel set in a mystical, exotic world, in which a gifted young girl charms a sultan and changes the course of an empire's history

Late in the summer of 1877, a flock of purple-and-white hoopoes suddenly appears over the town of Constanta on the Black Sea, and Eleonora Cohen is ushered into the world by a mysterious pair of Tartar midwives who arrive just minutes before her birth. "They had read the signs, they said: a sea of horses, a conference of birds, the North Star in alignment with the moon. It was a prophecy that their last king had given on his deathwatch." But joy is mixed with tragedy, for Eleonora's mother dies soon after the birth.

Raised by her doting father, Yakob, a carpet merchant, and her stern, resentful stepmother, Ruxandra, Eleonora spends her early years daydreaming and doing housework—until the moment she teaches herself to read, and her father recognizes that she is an extraordinarily gifted child, a prodigy.

When Yakob sets off by boat for Stamboul on business, eight-year-old Eleonora, unable to bear the separation, stows away in one of his trunks. On the shores of the Bosporus, in the house of her father's business partner, Moncef Bey, a new life awaits. Books, backgammon, beautiful dresses and shoes, markets swarming with color and life—the imperial capital overflows with elegance, and mystery. For in the narrow streets of Stamboul—a city at the crossroads of the world—intrigue and gossip are currency, and people are not always what they seem. Eleonora's tutor, an American minister and educator, may be a spy. The kindly though elusive Moncef Bey has a past history of secret societies and political maneuvering. And what is to be made of the eccentric, charming Sultan Abdulhamid II himself, beleaguered by friend and foe alike as his unwieldy, multiethnic empire crumbles?

The Oracle of Stamboul is a marvelously evocative, magical historical novel that will transport readers to another time and place—romantic, exotic, yet remarkably similar to our own.

I hadn't heard about this book, and received a copy this week. Despite the rather direct title, I am intrigued. (Killer bunnies rabbits? Warcraft? I'm in.)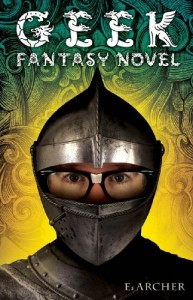 What happens when a science geek and magic collide?

Be careful what you wish for. Really. Because wishes are bad. Very bad. They can get you trapped in fantasy worlds full of killer bunny rabbits, evil aunts, and bothersome bacteria, for example. Or at least that's Ralph's experience. He's been asked to spend the summer with his strange British relatives at their old manor house in order to set up their Wi-Fi network. But there's much more to it than that, of course. It's just that nobody told Ralph. He's a gamer, sure. But this game is much stranger–and funnier–than anything to be found on his xbox.

He is a geek. This is his story.

Have I posted about this before? I probably have, but I came across an alternate (international?) cover, so I'm posting again! Cannot wait for this spinoff series.
Strange things are happening in Maya's tiny Vancouver Island town. First, her friend Serena, the captain of the swim team, drowns mysteriously in the middle of a calm lake. Then, one year later, mountain lions are spotted rather frequently around Maya's home—and her reactions to them are somewhat . . . unexpected. Her best friend, Daniel, has also been experiencing unexplainable premonitions about certain people and situations.

It doesn't help that the new bad boy in town, Rafe, has a dangerous secret, and he's interested in one special part of Maya's anatomy—her paw-print birthmark.

And finally, there's this book, which I picked solely because of its title (yes, the story sounds very derivative, but the Asimov and BSG fan in me CANNOT RESIST):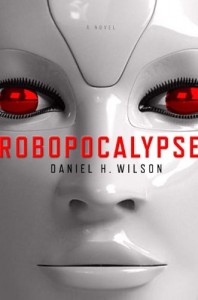 They are in your house. They are in your car. They are in the skies…Now they're coming for you.

In the near future, at a moment no one will notice, all the dazzling technology that runs our world will unite and turn against us. Taking on the persona of a shy human boy, a childlike but massively powerful artificial intelligence known as Archos comes online and assumes control over the global network of machines that regulate everything from transportation to utilities, defense and communication. In the months leading up to this, sporadic glitches are noticed by a handful of unconnected humans – a single mother disconcerted by her daughter's menacing "smart" toys, a lonely Japanese bachelor who is victimized by his domestic robot companion, an isolated U.S. soldier who witnesses a 'pacification unit' go haywire – but most are unaware of the growing rebellion until it is too late.

When the Robot War ignites — at a moment known later as Zero Hour — humankind will be both decimated and, possibly, for the first time in history, united. Robopocalypse is a brilliantly conceived action-filled epic, a terrifying story with heart-stopping implications for the real technology all around us…and an entertaining and engaging thriller unlike anything else written in years.

DANIEL H. WILSON earned a Ph.D. in robotics from Carnegie Mellon University. He is the author of such nonfiction works as How to Survive a Robot Uprising. Wilson lives in Portland, Oregon with his wife and daughter.

And that's it from us! What books do you have on YOUR radar?