"On The Smugglers' Radar" is a new feature for books that have caught our eye: books we heard of via other bloggers, directly from publishers, and/or from our regular incursions into the Amazon jungle. Thus, the Smugglers' Radar was born. Because we want far more books than we can possibly buy or review (what else is new?), we thought we would make the Smugglers' Radar into a weekly feature – so YOU can tell us which books you have on your radar as well!
On Thea's Radar:
I saw this advertised a while back and I really, really want it. Apparently, Ridley Scott has already optioned this title for film (my, my that's a popular trend these days) – I cannot wait to get my hands on a copy.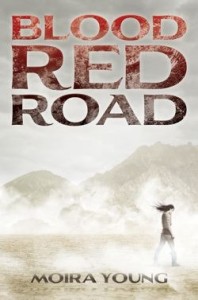 Saba has spent her whole life in Silverlake, a dried-up wasteland ravaged by constant sandstorms. The Wrecker civilization has long been destroyed, leaving only landfills for Saba and her family to scavenge from. That's fine by her, as long as her beloved twin brother Lugh is around. But when a monster sandstorm arrives bearing four cloaked horsemen, Saba's world is shattered. Lugh is captured, and Saba embarks on a quest to get him back.

Suddenly thrown into the lawless, ugly reality of the world outside of desolate Silverlake, Saba is lost without Lugh to guide her. So perhaps the most surprising thing of all is what Saba learns about herself: she's a fierce fighter, an unbeatable survivor, and a cunning opponent. And she has the power to take down a corrupt society from the inside. Teamed up with a handsome daredevil named Jack and a gang of girl revolutionaries called the Free Hawks, Saba stages a showdown that will change the course of her own civilization.

Blood Red Road has a searing pace, a poetically minimal writing style, violent action, and an epic love story. Moira Young is one of the most promising and startling new voices in teen fiction.
Plus, you can read an excerpt online HERE.

Next, there's this Angry Robot book with a really pretty cover: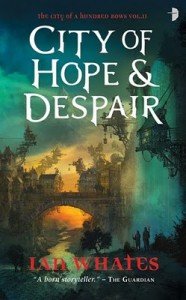 A SECOND VISIT TO THAIBURLEY: THE CITY OF DREAMS, THE FABLED CITY OF A HUNDRED ROWS.

Dark forces are gathering in the shadowy depths, and the whole city is under threat. The former street-nick, Tom, embarks on a journey to discover the source of the great river Thair, said to be the ultimate power behind all of Thaiburley. Accompanying him are the assassin Dewar and the young Thaistess Mildra. It soon becomes evident that their journey has more significance than any of them realise, as past secrets catch up with them and unknown adversaries hunt them… to the death!

These two covers for the same title are interesting (UK and US, respectively), and I've been meaning to read the Green Rider books for ages now…
The long-awaited sequel to Green Rider, First Rider's Call, and The High King's Tomb.

Once a simple student, Karigan G'ladheon finds herself in a world of deadly danger and complex magic, compelled by forces she cannot understand when she becomes a legendary Green Rider-one of the magical messengers of the king. Forced by magic to accept a dangerous fate she would never have chosen, headstrong Karigan has become completely devoted to the king and her fellow Riders.

But now, an insurrection led by dark magicians threatens to break the boundaries of ancient, evil Blackveil Forest-releasing powerful dark magics that have been shut away for a millennium.

Next up, check out this AWESOME reissued cover for Peter and Max, a standalone novel by Bill Willingham and illustrated by Steve Leialoha, set in the Fables universe (we did a joint review of the book HERE):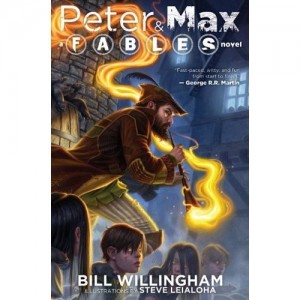 Here's the full artwork: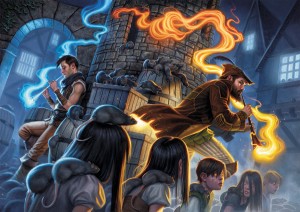 Gorgeous. I'm temped to buy another copy to have this one on my shelf!

And then there's this title, which I've recently seen reviewed and now, consequently, I want.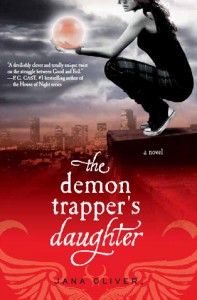 Riley Blackthorne just needs a chance to prove herself – and that's exactly what the demons are counting on…

Seventeen-year-old Riley, the only daughter of legendary Demon Trapper, Paul Blackthorne, has always dreamed of following in her father's footsteps. The good news is, with human society seriously disrupted by economic upheaval and Lucifer increasing the number of demons in all major cities, Atlanta's local Trappers' Guild needs all the help they can get – even from a girl. When she's not keeping up with her homework or trying to manage her growing crush on fellow apprentice, Simon, Riley's out saving distressed citizens from foul-mouthed little devils – Grade One Hellspawn only, of course, per the strict rules of the Guild. Life's about as normal as can be for the average demon-trapping teen.

But then a Grade Five Geo-Fiend crashes Riley's routine assignment at a library, jeopardizing her life and her chosen livelihood. And, as if that wasn't bad enough, sudden tragedy strikes the Trappers' Guild, spinning Riley down a more dangerous path than she ever could have imagined. As her whole world crashes down around her, who can Riley trust with her heart – and her life?

Finally, here's the second book in the Body Finder series – I still need to read the first one, but I have this one on the list, too: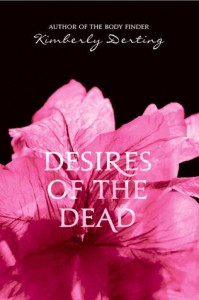 The missing dead call to Violet. They want to be found.

Violet can sense the echoes of those who've been murdered—and the matching imprint that clings to their killers. Only those closest to her know what she is capable of, but when she discovers the body of a young boy she also draws the attention of the FBI, threatening her entire way of life.

As Violet works to keep her morbid ability a secret, she unwittingly becomes the object of a dangerous obsession. Normally she'd turn to her best friend, Jay, except now that they are officially a couple, the rules of their relationship seem to have changed. And with Jay spending more and more time with his new friend Mike, Violet is left with too much time on her hands as she wonders where things went wrong. But when she fills the void by digging into Mike's tragic family history, she stumbles upon a dark truth that could put everyone in danger.

On Ana's Radar:
I overheard someone talking about this on Twitter and I think it sounds great: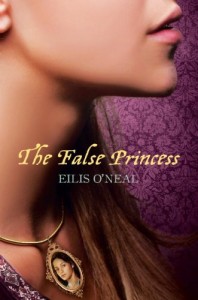 Princess and heir to the throne of Thorvaldor, Nalia's led a privileged life at court. But everything changes when it's revealed, just after her sixteenth birthday, that she is a false princess, a stand-in for the real Nalia, who has been hidden away for her protection. Cast out with little more than the clothes on her back, the girl now called Sinda must leave behind the city of Vivaskari, her best friend, Keirnan, and the only life she's ever known.

Sinda is sent to live with her only surviving relative, an aunt who is a dyer in a distant village. She is a cold, scornful woman with little patience for her newfound niece, and Sinda proves inept at even the simplest tasks. But when Sinda discovers that magic runs through her veins – long-suppressed, dangerous magic that she must learn to control – she realizes that she can never learn to be a simple village girl.

Returning to Vivaskari for answers, Sinda finds her purpose as a wizard scribe, rediscovers the boy who saw her all along, and uncovers a secret that could change the course of Thorvaldor's history, forever.

A dazzling first novel, The False Princess is an engrossing fantasy full of mystery, action, and romance.

A.S. King, author of one of my favourite books last year (Please Ignore Vera Dietz) revealed the cover for her next book ("About a teenage boy who, as he struggles to cope with a relentless bully, mysteriously communicates with his long-lost POW grandfather still missing in action in Vietnam.")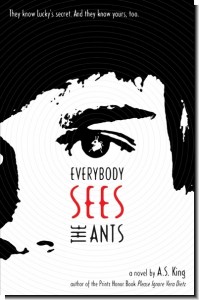 I LOVE the cover of the next book, but I am honestly not sure about the premise.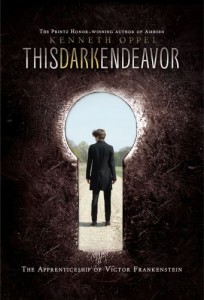 Victor and Konrad are the twin brothers Frankenstein. They are nearly inseparable. Growing up, their lives are filled with imaginary adventures…until the day their adventures turn all too real.

They stumble upon The Dark Library, and secret books of alchemy and ancient remedies are discovered. Father forbids that they ever enter the room again, but this only peaks Victor's curiosity more. When Konrad falls gravely ill, Victor is not be satisfied with the various doctors his parents have called in to help. He is drawn back to The Dark Library where he uncovers an ancient formula for the Elixir of Life. Elizabeth, Henry, and Victor immediately set out to find assistance in a man who was once known for his alchemical works to help create the formula.

Determination and the unthinkable outcome of losing his brother spur Victor on in the quest for the three ingredients that will save Konrads life. After scaling the highest trees in the Strumwald, diving into the deepest lake caves, and sacrificing one's own body part, the three fearless friends risk their lives to save another.

I received an ARC of Long Lankin and I think it looks great: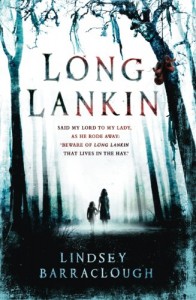 A chilling, beautiful debut novel inspired by a haunting folk song about murder, witchcraft and revenge. Beware of Long Lankin, that lives in the moss …When Cora and her little sister Mimi are sent to stay with their elderly aunt in the isolated village of Bryers Guerdon, they receive a less than warm welcome, and are desperate to go back to London. But Auntie Ida's life was devastated the last time two young girls were at Guerdon Hall, and now her nieces' arrival has reawoken an evil that has lain waiting for years. A haunting voice in an empty room …A strange, scarred man lurking in the graveyard …A mysterious warning, scrawled on the walls of the abandoned church …Along with Roger and Peter, two young village boys, Cora must uncover the horrifying truth that has held Bryers Guerdon in its dark grip for centuries – before it is too late for Mimi. Intensely atmospheric and truly compelling, this is a stunning debut.

Buzz is building for Department 19 in the UK shores. I think it sounds ok but good grief, I find the cover atrocious: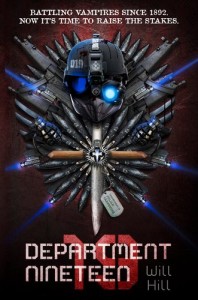 In a secret supernatural battle that's been raging for over a century, the stakes have just been raised — and they're not wooden anymore. When Jamie Carpenter's mother is kidnapped by strange creatures, he finds himself dragged into Department 19, the government's most secret agency. Fortunately for Jamie, Department 19 can provide the tools he needs to find his mother, and to kill the vampires who want him dead. But unfortunately for everyone, something much older is stirring, something even Department 19 can't stand up against!

And that's it for us! What books do you have on your radar?