"On The Smugglers' Radar" is a feature for books that have caught our eye: books we have heard of via other bloggers, directly from publishers, and/or from our regular incursions into the Amazon jungle. Thus, the Smugglers' Radar was born. Because we want far more books than we can possibly buy or review (what else is new?), we thought we would make the Smugglers' Radar into a weekly feature – so YOU can tell us which books you have on your radar as well!
On Ana's Radar:
I saw this book on NetGalley last week and OH MY GOD, the blurb touches on many of my favourite things!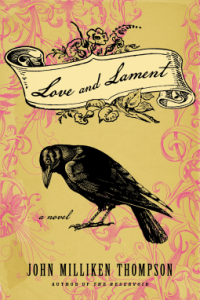 A dauntless heroine coming of age at the turn of the twentieth century confronts the hazards of patriarchy and prejudice, and discovers the unexpected opportunities of World War I

Set in rural North Carolina between the Civil War and the Great War, Love and Lament chronicles the hardships and misfortunes of the Hartsoe family.

Mary Bet, the youngest of nine children, was born the same year that the first railroad arrived in their county. As she matures, against the backdrop of Reconstruction and rapid industrialization, she must learn to deal with the deaths of her mother and siblings, a deaf and damaged older brother, and her father's growing insanity and rejection of God.

In the rich tradition of Southern gothic literature, John Milliken Thompson transports the reader back in time through brilliant characterizations and historical details, to explore what it means to be a woman charting her own destiny in a rapidly evolving world dominated by men.

This new book from Sarah Beth Durst sounds like it can be loads of fun. And after loving Vessel so much, reading this is a no-brainer.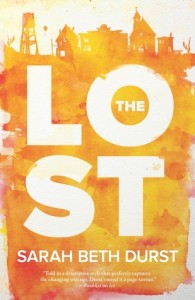 Lost your way? Your dreams?

Yourself?

Welcome to Lost.

It was supposed to be a small escape. A few hours driving before turning around and heading home. But once you arrive in Lost…well, it's a place you really can't leave. Not until you're Found. Only the Missing Man can send you home. And he took one look at Lauren Chase and disappeared.

So Lauren is now trapped in the town where all lost things go-luggage, keys, dreams, lives-where nothing is permanent, where the locals go feral and where the only people who don't want to kill her are a handsome wild man called the Finder and a knife-wielding six-year-old girl. The only road out of town is engulfed by an impassable dust storm, and escape is impossible….

Until Lauren decides nothing-and no one-is going to keep her here anymore.

This MG Fantasy series came highly recommended to me and I am intrigued, I even bought the first book already. Anyone read this?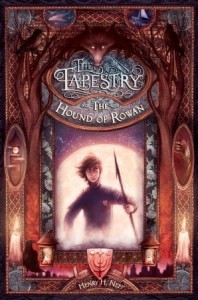 MAX MCDANIELS LIVES a quiet life in the suburbs of Chicago, until the day he stumbles upon a mysterious Celtic tapestry. Many strange people are interested in Max and his tapestry. His discovery leads him to Rowan Academy, a secret school where great things await him.

But dark things are waiting, too. When Max learns that priceless artworks and gifted children are disappearing, he finds himself in the crossfire of an ancient struggle between good and evil. To survive, he'll have to rely on a network of agents and mystics, the genius of his roommate, and the frightening power awakening within him.

Ok, so. DEEP BREATHS. I hate the tagline on the cover – it sounds super cheesy and I will put it down to a marketing choice because the blurb, the fact that this is Norse Mythology AND the author make me want to give it a try.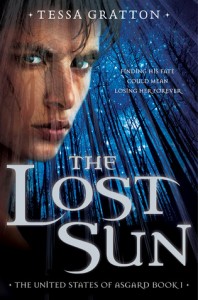 Fans of Neil Gaiman's American Gods and Holly Black's The Curse Workers will embrace this richly drawn, Norse-mythology-infused alternate world: the United States of Asgard.

Seventeen-year-old Soren Bearskin is trying to escape the past. His father, a famed warrior, lost himself to the battle-frenzy and killed thirteen innocent people. Soren cannot deny that berserking is in his blood–the fevers, insomnia, and occasional feelings of uncontrollable rage haunt him. So he tries to remain calm and detached from everyone at Sanctus Sigurd's Academy. But that's hard to do when a popular, beautiful girl like Astrid Glyn tells Soren she dreams of him. That's not all Astrid dreams of–the daughter of a renowned prophetess, Astrid is coming into her own inherited abilities.

When Baldur, son of Odin and one of the most popular gods in the country, goes missing, Astrid sees where he is and convinces Soren to join her on a road trip that will take them to find not only a lost god, but also who they are beyond the legacy of their parents and everything they've been told they have to be.

On Thea's Radar:
I feel like it has been a while since we've done one of these! OK. So first up, a psychological thriller that sounds pretty good: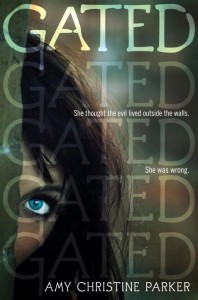 She thought the evil lived outside the walls.

She was wrong.

In the Community, life seems perfect. The members of this isolated suburban development have thrived under Pioneer, the charismatic leader who saved them from their sad, damaged lives.

Lyla Hamilton and her parents moved here following the 9/11 terrorist attacks, looking to escape the evil in the world. Now seventeen, Lyla knows certain facts are not to be questioned:

Pioneer is her leader.
Will is her Intended.
The end of the world is near.

Like Noah before him, Pioneer has been told of the imminent destruction of humanity. He says his chosen must arm themselves and prepare to fight off the unchosen people, who will surely seek refuge in the compound's underground fortress-the Silo.

Lyla loves her family and friends, but given the choice, she prefers painting to target practice. And lately she'd rather think about a certain boy outside the development than plan for married life in the Silo with Will. But as the end of days draws near, she will have to pick up a gun, take a side, and let everyone know where she stands.

Then there's this historical mystery novel about the spread of cholera (and a book with a truly wonderful subtitle – "A Mystery of London, the Blue Death, and a Boy Called Eel"):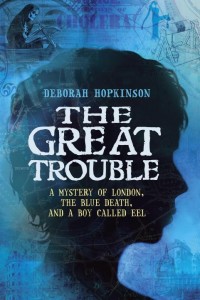 Eel has troubles of his own: As an orphan and a "mudlark," he spends his days in the filthy River Thames, searching for bits of things to sell. He's being hunted by Fisheye Bill Tyler, and a nastier man never walked the streets of London. And he's got a secret that costs him four precious shillings a week to keep safe.

But even for Eel, things aren't so bad until that fateful August day in 1854-the day the Great Trouble begins. Mr. Griggs, the tailor, is the first to get sick. Soon it's clear that the deadly cholera-the "blue death"-has come to Broad Street.

Everyone believes that cholera is spread through poisonous air. But one man, Dr. John Snow, has a different theory. As the epidemic surges, it's up to Eel and his best friend Florrie to gather evidence to prove Dr. Snow's theory-that cholera is spread through water-before the entire neighborhood is wiped out.

Next up, a Victorian ghost story: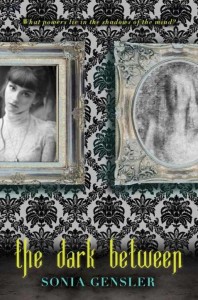 A supernatural romance about the powers that lie in the shadows of the mind, perfect for fans of Sarah Rees Brennan, Alyxandra Harvey, and Libba Bray.

At the turn of the twentieth century, Spiritualism and séances are all the rage-even in the scholarly town of Cambridge, England. While mediums dupe the grief-stricken, a group of local fringe scientists seeks to bridge the gap to the spirit world by investigating the dark corners of the human mind.

Each running from a shadowed past, Kate, Asher, and Elsie take refuge within the walls of Summerfield College. But their peace is soon shattered by the discovery of a dead body nearby. Is this the work of a flesh-and-blood villain, or is something otherworldly at play? This unlikely trio must illuminate what the scientists have not, and open a window to secrets taken to the grave-or risk joining the spirit world themselves.

Of course, what would a radar post be without at least one YA dystopian SFF novel? I've been meaning to try Anna Jarzab's writing for a while now: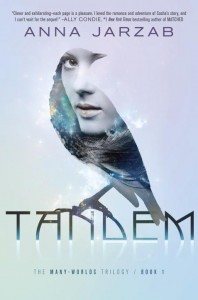 Fans of Matched, Across the Universe, and The Hunger Games will love this captivating tale of rebellion and romance that spans parallel worlds.

Everything repeats.
You. Your best friend. Every person you know.
Many worlds, many lives-infinite possibilities.
Welcome to the multiverse.

Sixteen-year-old Sasha Lawson has only ever known one small, ordinary life. When she was young, she loved her grandfather's stories of parallel worlds, inhabited by girls who looked like her but led totally different lives. Sasha never believed such worlds were real-until now, when she finds herself thrust into one against her will.

To prevent imminent war, Sasha must slip into the life of an alternate version of herself, a princess who has vanished on the eve of her arranged marriage. If Sasha succeeds in fooling everyone, she will be returned home; if she fails, she'll be trapped in another girl's life forever. As time runs out, Sasha finds herself torn between two worlds, two lives, and two young men vying for her love-one who knows her secret, and one who believes she's someone she's not.

And look! The new book in Rachel Caine's ongoing Revivalist series has a cover!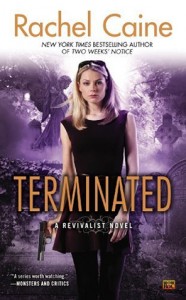 In New York Times bestselling author Rachel Caine's latest Revivalist novel, Bryn Davis's problems quickly turn from dead to worse…

Already addicted to the pharmaceutical drug that keeps her body from decomposing, Bryn has to stop a secretive group of rich and powerful investors from eliminating the existing Returné addicts altogether. To ensure their plan to launch a new, military-grade strain of nanotech, the investors' undead assassin—who just happens to be the ex-wife of Bryn's lover Patrick—is on the hunt for anyone that stands in their way.

And while Bryn's allies aren't about to go down without a fight, the secret she's been keeping threatens to put those closest to her in even more danger. Poised to become a monster that her own side—and her own lover—will have to trap and kill, Bryn needs to find the cure to have any hope of preserving the lives of her friends, and her own dwindling humanity…

Zombies x Werewolves x Wes Craven comparison = SOLD.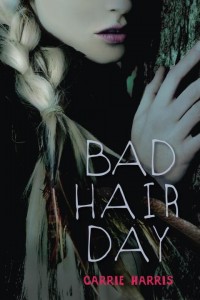 Kate Grable is geeked out to shadow the county medical examiner as part of her school's premed program. But after he's arrested for murder, she's left with the bodies. And when Kate's brother, Jonah, stumbles upon a dead gamer girl, Kate realizes that the zombie epidemic she cured last fall was only the beginning of the weirdness taking over her town. Someone-or something-is murdering kids. Something really hairy. And strong. Possibly with claws.

Could it be werewolves, like Jonah and his dorktastic friends think? Kate's supposed to be a butt-kicking, zombie-killing genius…but if she can't figure out what's behind the freakish attacks, the victims-or what's left of them-are going to keep piling up.

"Readers will get a kick out of this book that reads like a Wes Craven movie. The plot may be a little far-fetched, but the ride is so much fun it doesn't much matter… what's not to love?"-Kirkus Reviews

"Kate combines the smarts of Veronica Mars with the attitude of Buffy… a fast-paced read."-School Library Journal

"Entirely enjoyable."-Publishers Weekly

And that's it from us! What books do you have on YOUR radar?