"On The Smugglers' Radar" is a new feature for books that have caught our eye: books we heard of via other bloggers, directly from publishers, and/or from our regular incursions into the Amazon jungle. Thus, the Smugglers' Radar was born. Because we want far more books than we can possibly buy or review (what else is new?), we thought we would make the Smugglers' Radar into a weekly feature – so YOU can tell us which books you have on your radar as well!
On Ana's Radar:
Oh Internets, there are SO MANY books on my radar, it is not even funny. (Goodreads, I hate you.) (NO, I LIE, I LOVE YOU, COME BACK.)
Ahem.
The next two books I saw over at Lurv a La Mode and I think they look great: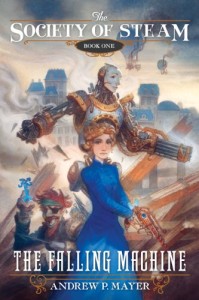 In 1880 women aren't allowed to vote, much less dress up in a costume and fight crime. But nineteen year-old socialite Sarah Stanton still dreams of becoming a hero. Her opportunity arrives in tragedy when Dennis Darby, the leader of the Society of Paragons—New York's greatest team of gentlemen adventurers—is murdered right before her eyes. To uncover the truth behind the assassination, Sarah joins forces with Darby's greatest creation; the amazing mechanical man known as The Automaton. Together they begin to unmask a conspiracy at the heart of the Paragons that reveals the world of heroes and high-society is built on a crumbling foundation of greed and lies. But it is only when Sarah comes face to face with the megalomaniacal villain behind the murder that she will discover if she has the courage to sacrifice her life of privilege and truly become the hero she has always wanted to be.

I think this cover is AWESOME: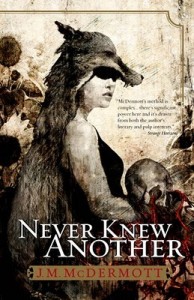 Fugitive Rachel Nolander is a newcomer to the city of Dogsland, where the rich throw parties and the poor just do whatever they can to scrape by. Supported by her brother Djoss, she hides out in their squalid apartment, living in fear that someday, someone will find out that she is the child of a demon. Corporal Jona Lord Joni is a demon's child too, but instead of living in fear, he keeps his secret and goes about his life as a cocky, self-assured man of the law. The first book in the Dogsland Trilogy, Never Knew Another is the story of how these two outcasts meet.

I have known about the next Libba Bray book for a while but now we have the full blurb and the cover and OMG! Lost! I need this NOW! Can someone please HELP ME GETTING A COPY? I will do anything you want! < << How is that for my obscure Lost moment?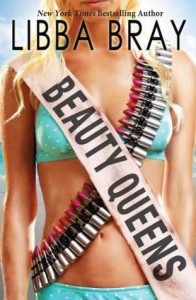 From bestselling, Printz Award-winning author Libba Bray, the story of a plane of beauty pageant contestants that crashes on a desert island.

Teen beauty queens. A "Lost"-like island. Mysteries and dangers. No access to emall. And the spirit of fierce, feral competition that lives underground in girls, a savage brutality that can only be revealed by a journey into the heart of non-exfoliated darkness. Oh, the horror, the horror! Only funnier. With evening gowns. And a body count.

Neesha Meminger has a new book out. Enjoyed Shine, Coconut Moon and am looking forward to this one as well: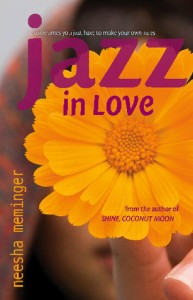 Jasbir, otherwise known as Jazz, has always been a stellar student and obedient, albeit wise-cracking, daughter. Everything has gone along just fine–she has good friends in the "genius" program she's been in since kindergarten, her teachers and principal adore her, and her parents dote on her. But now, in her junior year of high school, her mother hears that Jazz was seen hugging a boy on the street, and goes ballistic. Mom immediately implements the Guided Dating Plan, which includes setting up blind dates with "suitable," pre-screened Indian candidates. There's only one problem: the new boy at school, the very UNsuitable hottie, is the one who gets Jazz's blood boiling. When Jazz makes a few out-of-the-ordinary decisions, everything explodes, and she realizes she'll need a lot more than her genius education to get out of the huge mess she's created. Can Jazz find a way to follow her own heart, and still stay in the good graces of her parents?

Julia Quinn's next book Just Like Heaven FINALLY features one of the Smythe-Smith girls. I have been waiting for their happy endings for aaaaages. This is the Uk cover: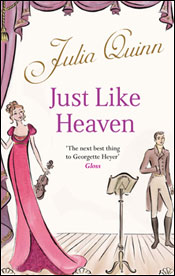 I find the next one interesting-sounding too: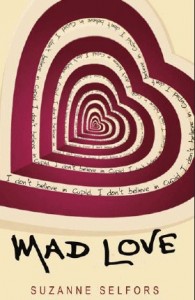 When you're the daughter of the bestselling Queen of Romance, life should be pretty good. But 16-year-old Alice Amorous has been living a lie ever since her mother was secretly hospitalized for mental illness. After putting on a brave front for months, time is running out. The next book is overdue, and the Queen can't write it. Alice needs a story for her mother—and she needs one fast.

That's when she meets Errol, a strange boy who claims to be Cupid, who insists that Alice write about the greatest love story in history: his tragic relationship with Psyche. As Alice begins to hear Errol's voice in her head and see things she can't explain, she must face the truth—that she's either inherited her mother's madness, or Errol is for real.

Now, this one looks and sounds OUT THERE. So, obviously I want.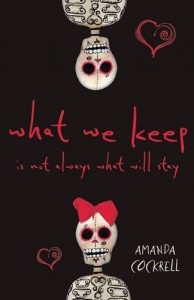 Fifteen-year-old Angie never used to think much about God—until things started getting weird. Like the statue of St. Felix, her secret confidante, suddenly coming off his pedestal and talking to her. And Angie's mother, who's busting up her third marriage for no apparent reason. Then there's Jesse Francis, sent home from Afghanistan at age nineteen with his leg blown off. Now he's expected to finish high school and fit right back in. Is God even paying attention to any of this?

Against the advice of an increasingly vocal St. Felix (who knows a thing or two about war), Angie falls for Jesse—who's a lot deeper than most high school guys. But Jesse is battling some major demons. As his rages start to become more frequent and unpredictable, Angie finds herself losing control of the situation. And she's starting to wonder: can one person ever make things right for ?someone else?

On Thea's Radar
I was perusing the interwebs and saw THIS and had to alugh. Cthulhu, the Erotic. Amazing.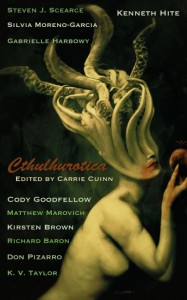 What is Erotica?

Erotica [ih-rot-i-kuh] is literature or art intended to arouse sexual desire. It is not pornography, which is understood to have sexual arousal as its main purpose. Erotica includes a sexual aspect but it is only one part of the larger aesthetic. In other words, writing erotica is not about graphic descriptions of people having sex, it's about making your reader want to have sex. It's a tease, a flirt, a seduction …

Who is Cthulhu?

H.P. Lovecraft wrote smart, surreal, supernatural horror stories in the early 20th century. Cthulhu is one of several fictional creatures created by Lovecraft in the early 20th century. Lovecraft's stories, and some of the works of his followers, outline what we now call the "Cthulhu Mythos". Mythos characters include both the monsters and the men who discovered them.

Cthulhurotica is the place where sex and madness meet.

On a more serious note, here are upcoming January releases that I am going gaga over. First up, this title sounds wonderful and has already garnered attention on Amazon: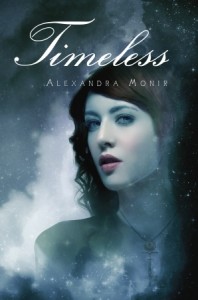 When tragedy strikes Michele Windsor's world, she is forced to uproot her life and move across the country to New York City, to live with the wealthy, aristocratic grandparents she's never met. In their old Fifth Avenue mansion filled with a century's worth of family secrets, Michele discovers a diary that hurtles her back in time to the year 1910. There, in the midst of the glamorous Gilded Age, Michele meets the young man with striking blue eyes who has haunted her dreams all her life – a man she always wished was real, but never imagined could actually exist. And she finds herself falling for him, into an otherworldly, time-crossed romance.

Michele is soon leading a double life, struggling to balance her contemporary high school world with her escapes into the past. But when she stumbles upon a terrible discovery, she is propelled on a race through history to save the boy she loves – a quest that will determine the fate of both of their lives.

This one sounds interesting as well (and released on the same day):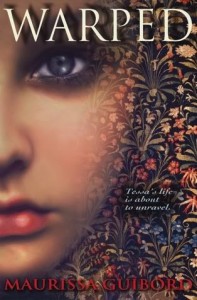 Tessa doesn't believe in magic. Or Fate. But there's something weird about the dusty unicorn tapestry she discovers in a box of old books. She finds the creature woven within it compelling and frightening. After the tapestry comes into her possession, Tessa experiences dreams of the past and scenes from a brutal hunt that she herself participated in. When she accidentally pulls a thread from the tapestry, Tessa releases a terrible centuries old secret. She also meets William de Chaucy, an irresistible 16th-century nobleman. His fate is as inextricably tied to the tapestry as Tessa's own. Together, they must correct the wrongs of the past. But then the Fates step in, making a tangled mess of Tessa's life. Now everyone she loves will be destroyed unless Tessa does their bidding and defeats a cruel and crafty ancient enemy.

This one has a cool premise (and the cover is over the top in a good way):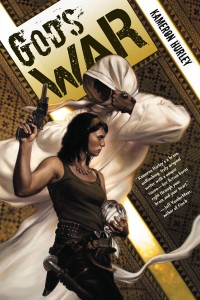 Nyx had already been to hell. One prayer more or less wouldn t make any difference…

On a ravaged, contaminated world, a centuries-old holy war rages, fought by a bloody mix of mercenaries, magicians, and conscripted soldiers. Though the origins of the war are shady and complex, there's one thing everybody agrees on–

There's not a chance in hell of ending it.

Nyx is a former government assassin who makes a living cutting off heads for cash. But when a dubious deal between her government and an alien gene pirate goes bad, Nyx's ugly past makes her the top pick for a covert recovery. The head they want her to bring home could end the war–but at what price?

The world is about to find out.

I *LOVE* this cover and really, really want this book.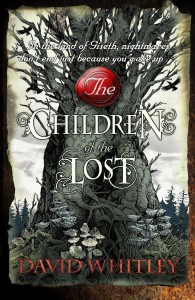 Cast out of the city of Agora where they were left at the end of The Midnight Charter, Mark and Lily must now survive in a dense forest. The strange villages, terrifying nightmares, and powerful witches they find there are even more frightening than Agora with all its slums and secrets. In an adventure that expands with every turn of the page, David Whitley delivers a novel as thrilling and horrifying as his characters' darkest dreams.

A dystopian with a meh cover, but I'm liking the water-centric themes that are popping up in the new wave of post-apocalyptic/dystopian fiction. Plus, I've wanted to read Candor from this author for a while now.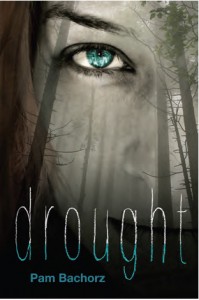 Ruby dreams of escaping the Congregation. Escape from slaver Darwin West and his cruel Overseers. Escape from struggling to gather the life-prolonging Water that keeps the Congregants alive–and Darwin rich. Escape from her certain, dreary existence, living as if it's still the early 1800s, when the Congregation was first enslaved. But if Ruby leaves, the Congregation will die without the secret ingredient to the Water: her blood. So she stays, and prays to their savior Otto, who first gave Water to the Congregants… and fathered Ruby before he vanished.

When the Congregants discover Ruby's forbidden romance with an Overseer, they beat Ford to stop her from running away with him. Ruby steals their store of Water to save Ford's life and is banished. Ruby has everything she's dreamed of: a modern life with Ford. But the modern world isn't what she thought it would be, and Ruby can't forsake the Congregation. Love and loyalty push Ruby to return and fight for her family's freedom…at a terrible price.

And finally, the coup de grace – Paolo Bacigalupi's first foray into fantasy! Both Bacigalupi and Tobias Buckell have written a book set in the same fantasy world. Both will be released in January. WANT.
Magic has a price. But someone else will pay. Every time a spell is cast, a bit of bramble sprouts, sending up tangling vines, bloody thorns, and threatening a poisonous sleep. It sprouts in tilled fields and in neighbors' roof beams, thrusts up from between street cobbles, and bursts forth from sacks of powdered spice. A bit of magic, and bramble follows. A little at first, and then more–until whole cities are dragged down under tangling vines and empires lie dead, ruins choked by bramble forest. Monuments to people who loved magic too much.

In paired novellas, award-winning authors Tobias Buckell and Paolo Bacigalupi explore a shared world where magic is forbidden and its use is rewarded with the axe. A world of glittering memories and a desperate present, where everyone uses a little magic, and someone else always pays the price.

What about YOU? Any books on your radar?