Welcome to Smugglivus 2010: Day 3
Throughout this month, we will have daily guests – authors, bloggers and publishers alike – looking back at their favorite reads of 2010, and looking forward to events and upcoming books in 2011.
Who: Catherynne M. Valente, fantasy author extraordinaire. We first became acquainted with Ms. Valente's work last year when a good blogging buddy recommended we give The Orphan's Tales: In the Midnight Garden a try (and holy crap, Thea loved it). Having read her work, and after Thea heard Cat read from her new book right before Comic Con, we *knew* we had to try to get her for a guest post this Smugglivus.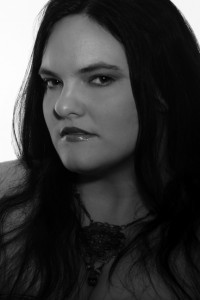 Recent Work: The brand spankin' new The Habitation of the Blessed, which Thea will review later today. Catherynne Valente is also the author of 2010 Hugo Finalist novel Palimpsest, 2009 Andre Norton Award winning The Girl Who Circumnavigated Fairyland in a Ship of Her Own Making, and the aforementioned Orphan's Tales duology.
Everyone, please give a warm welcome to Cat!

By far my favorite novel of 2010 was Charles Yu's How to Live Safely in a Science Fictional Universe. It gets to an emotional truth that few SF novels do, and takes time travel and treats it much as great fantasy writers do folklore–as both a real and thorny issue and as a way of talking about the world we actually live in. I adored it. I also enjoyed Mira Grant's Feed, which moves us into zombies 2.0, finally discussing a post-zombie world instead of making us all sit through another Dawn of the Dead rewrite, and giving bloggers the kind of serious mythic consideration Yu gives time travelers. Lastly, Nnedi Okorafor's Who Fears Death? was one of the most harrowing and beautiful books I've read in quite some time.
In 2011, I look forward to the sequel to Feed, Deadline, as well as the new Bordertown anthology (I'm in it, yes, but really, it's just going to be amazing) and Genevieve Valentine's Mechanique.
For myself, 2011 is the biggest year I've had to date–in March, Deathless, my Russian folktale set during the Stalinist era is released, followed in May by the gorgeous illustrated The Girl Who Circumnavigated Fairyland in a Ship of Its Own Making, and the sequel to this year's The Habitation of the Blessed, The Folded World, out in November. I also have my first short story collection coming out shortly, Ventriloquism. On top of all of that I'll be in the new Bordertown anthology and Datlow and Windling's Teeth anthology of vampire tales–I'm very proud of both stories.
Sleep? Sleep is for the dead.
About Cat:
Catherynne M. Valente was born on Cinco de Mayo, 1979 in Seattle, WA, but grew up in in the wheatgrass paradise of Northern California. She has three brothers and a sister. She graduated from high school at age 15, going on to UC San Diego and Edinburgh University, receiving her B.A. in Classics with an emphasis in Ancient Greek Linguistics. She then drifted away from her M.A. program and into a long residence in the concrete and camphor wilds of Japan.
She currently lives on a small island off the coast of Maine, with her partner, two dogs, and one recalcitrant cat, having tumbled back to America and the otherworldly New England coast.
You can read more about Cat on her blog and her website.

Thank you, Cat!
Make sure you stick around for Thea's review of The Habitation of the Blessed.