Today's guest is none other than Rick Yancey, the author behind the brilliant Monstrumologist books (The Monstrumologist and The Curse of the Wendigo). The Monstrumologist books are amongst Thea's current favorite series' – so when we were given the opportunity to have Rick Yancey over for Halloween week to talk about his Inspirations and Influences, we responded with Will Henry-esque alacrity.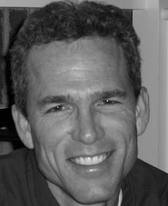 Ladies and gentlemen, ghouls and monstrumologists, please give a warm welcome to Rick Yancey!

The Monstrumologist began, appropriately enough, with a nightmare – a thirty-year-old nightmare from my childhood.
In it, some huge, faceless shadow is stalking me. It hasn't caught me, but I know it is only a matter of time before I am monster-meat. The memory of that dream still makes me shudder.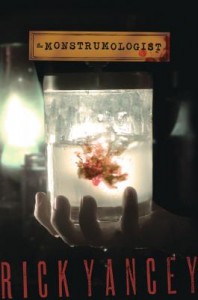 When I first began working on the idea for The Monstrumologist, I played around with using the "classic" creatures that are so ubiquitous right now: vampires, werewolves, zombies and the like. But something didn't feel right – and I think it had to do with the dream that was the germ of the series: this thing that was chasing me was not some supernatural creature . . . it was real.
That is the simple premise behind the series: What if monsters were real? To have my hero, Dr. Pellinore Warthrop, and his loyal chronicler, Will Henry, pursuing things like vampires would, to my mind, violate that premise and actually mitigate the horror by allowing readers to comfort themselves with the notion that these so-called monsters were products of my – or, rather, the collective – imagination.
So vampires and their ilk were out – but what was in? A monster-hunter has to hunt something. And, to be true to my premise, that something had to be believable. Believability does not preclude the bizarre or outlandish; there are plenty of creatures in the natural world that are wondrously bizarre and outlandish. Rather, believability means Warthrop's quarry had to be biologically viable and "actual" creatures from history – that is, they cannot be products of my imagination either.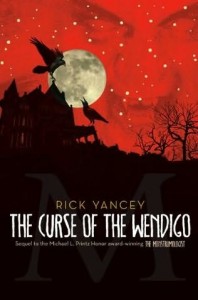 I searched long and hard for those creatures. Finally, I discovered the Anthropophagi, who seemed to fit the bill perfectly: written about since the fifth century B.C. (Herodotus, Pliny, Shakespeare, among others), cannibalistic (monstrumologists do not hunt cryptids like the shy Nessie or the reclusive Sasquatch), and, once I had made certain modifications to the original design, perfectly viable organisms that do not need to rely on supernatural powers to wreak havoc on the human population.
And wreak it they certainly did! In fact, the headless hominids were so terrifyingly "successful" in their monstrumological debut that I was hard-pressed to find a suitable creature for the second book. I was determined, however, to remain true to my concept: no supernatural creatures and nothing out of my own head.
Many fruitless hours followed. Nothing seemed right. Bigfoot? Overdone and probably a vegetarian. A descendent of a T. rex or maybe the progeny of the megladon – the prehistoric shark with the mouth large enough for three men to stand abreast inside it? During the course of my research, I stumbled upon the Native American stories of the Wendigo – a decidedly supernatural cousin to the vampire, a creature that starves even as it gorges itself on human flesh. I passed on him at first. He broke the first commandment of monstrumology: Thou shalt study no creature that violates the natural law. Using the Wendigo also violated, I felt, the integrity of my hero. Warthrop would never seriously consider pursuing it. Above all, he prided himself on being a scientist, a serious scholar in the field of aberrant biology.
But a question had been hovering around the series since its inception, a question brought up to me by readers of the first book, and one that I felt could not be simply ignored or brushed aside: Why don't monstrumologists study supernatural creatures?
The easy answer was We have enough vampire books, don't we? The more subtle dodge was the one I've already mentioned: Monstrumologist study biologically viable creatures. Supernatural creatures are not biological viable. Therefore, monstrumologists do not study supernatural creatures. This answer was better, but still not very satisfying. The stories take place, after all, in the nineteenth century, a time when the majority of people still accepted the notion of vampires and werewolves as entirely plausible. Why wouldn't a monstrumologist from that era feel the same?
And then, like the proverbial bolt from the blue, it hit me: But what if some monstrumologists did?
How would Warthrop ("I am a scientist") react if his colleagues decided to include the supernatural in the monstrumological canon? What if they actually claimed to have evidence of a Wendigo – an actual specimen? From that point, my story took off.

Since he was quite young, Rick knew he wanted to be a writer. After earning a degree in English from Roosevelt University in Chicago, Rick returned to his native Florida to pursue a career in the arts. While teaching part time and dabbling in the theater, he decided to take a job with the Internal Revenue Service, where he served as a revenue officer for over ten years. He continued to pursue his lifelong dream of being a full-time writer, however, finally leaving the IRS in 2004 upon the publication of his critically acclaimed memoir, Confessions of a Tax Collector.
To date he has published six novels in addition to his memoir. Confessions of a Tax Collector, was named by the Wall Street Journal as one of the five best books on taxes ever written. His Alfred Kropp trilogy for young adults has been published in seventeen countries and was nominated for the prestigious Carnegie Medal, as well as garnering numerous awards since its inception in 2005. He is also the author of the critically acclaimed Teddy Ruzak mystery series for adults.
In the fall of 2009, Simon & Schuster will launch his newest YA series, The Monstrumologist.
Rick is the proud father of three sons. He lives in Florida with his wife, Sandy.
You can read more about Rick online at his website, or follow him on Twitter and Facebook.