"Inspirations and Influences" is a series of articles in which we invite authors to write guest posts talking about their…well, Inspirations and Influences. The cool thing is that the writers are given free rein so they can go wild and write about anything they want. It can be about their new book, series or about their career as a whole.
We are thrilled to have guest author Andrew Fukuda over today to talk about his much buzzed about new novel The Hunt – a dystopian future in which humanity (or 'hepers') is a near-extinct species, and vampire-like creatures rule.
Please give a warm welcome to Andrew, folks!

The Hunt likely began while watching Adam Lambert's performance of Tears for Fears' Mad World on American Idol. The following lyrics made an impression, and stayed with me for days afterwards.
Went to school and I was very nervous
No one knew me, no one knew me
Hello teacher tell me what's my lesson
Look right through me, look right through me.
From those lyrics, a single image popped into my head: of a boy sitting in a classroom, desperately lonely despite the many students around him, wanting to be ignored. This boy had a secret, I came to see, one so awful that if it were ever made known his otherwise civil classmates would–in a split second–kill him. I pondered what that secret might be. When it came to me, I literally jumped out of my seat: the boy was the only surviving human in a world filled with vampire-like creatures. No existence could be lonelier or scarier than that.
From there, a hodgepodge of movies and books I've watched and read and loved over the years influenced the final form of The Hunt. These are listed below in no particular order.
Books:
The Long Walk by Stephen King (writing as Richard Bachman)
The Running Man by Stephen King (writing as Richard Bachman)
Never Let Me Go by Kazuo Ishiguro
The Hunger Games by Suzanne Collins
I am Legend by Richard Matheson
The Lord of the Flies by William Golding
Movies:
Planet of the Apes (original starring Charlton Heston)
Battle Royale
30 Days of Night
Daybreakers
Astro Boy
Gattaca
I am Legend
The Island
During the writing of The Hunt, I became quite interested in the works of Edward Hopper, a painter who once stated that he had a "propensity for solitude." His work Morning Sun was a painting I returned to time and again, especially during dry spells in my writing. Something about the stark loneliness of the woman on the bed despite (or because of) the sunlight captured the solitude and isolation with which I wanted to fill the pages of this book. I feel indebted to this painting for the way it spoke of loneliness in a manner that was both nuanced and powerful. Hopefully, this layered kind of loneliness came through in the protagonist Gene of The Hunt.

Born in Manhattan and raised in Hong Kong, Andrew Fukuda is half-Chinese, half-Japanese. After earning a bachelor's degree in history from Cornell University, Fukuda worked in Manhattan's Chinatown with the immigrant teen community. That experience led to the writing of Crossing, his debut novel that was selected by ALA Booklist as an Editor's Choice, Top Ten First Novel, and Top Ten Crime Novel in 2010. His second novel, The Hunt, the first in a new series, was bought at auction by St. Martin's Press and was published in May 2012. Before becoming a full time writer, Fukuda was a criminal prosecutor for seven years. He currently resides on Long Island, New York, with his family.
You can read more about Andrew Fukuda on his website and follow him on his blog.
Find out more about The Hunt on the US website, or through the UK Facebook page.
THE GIVEAWAY: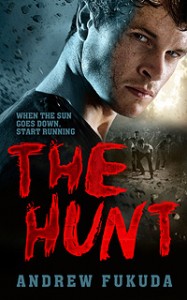 We have five copies of The Hunt (UK edition) up for grabs! The contest is open to addresses in the UK only, and will run until Saturday, May 19 at 11:59PM (EST). To enter, use the form below. Good luck!