Welcome, ladies and gentlemen, to the penultimate stop on the Official Mockingjay 13 District Blog Tour: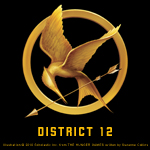 District 12
Despite this coal mining district's status as one of the poorest in all of Panem, District 12 has no shortage of guts or glory. For the first time since Haymitch Abernathy's win decades earlier in the 50th Games, for the first time since the inception of the annual Games District 12 has had not one, but TWO victors emerge from the Arena – Katniss Everdeen and Peeta Mellark.
And, while other districts have shed light on everything from music to the romantic entanglements of The Hunger Games books, we District 12 Tributes bring you a look at the reason why these books are so resonan. We're talking about the reason for the revolution, the symbol of defiance against the Capitol, the Mockingjay herself. We give you:
Katniss Everdeen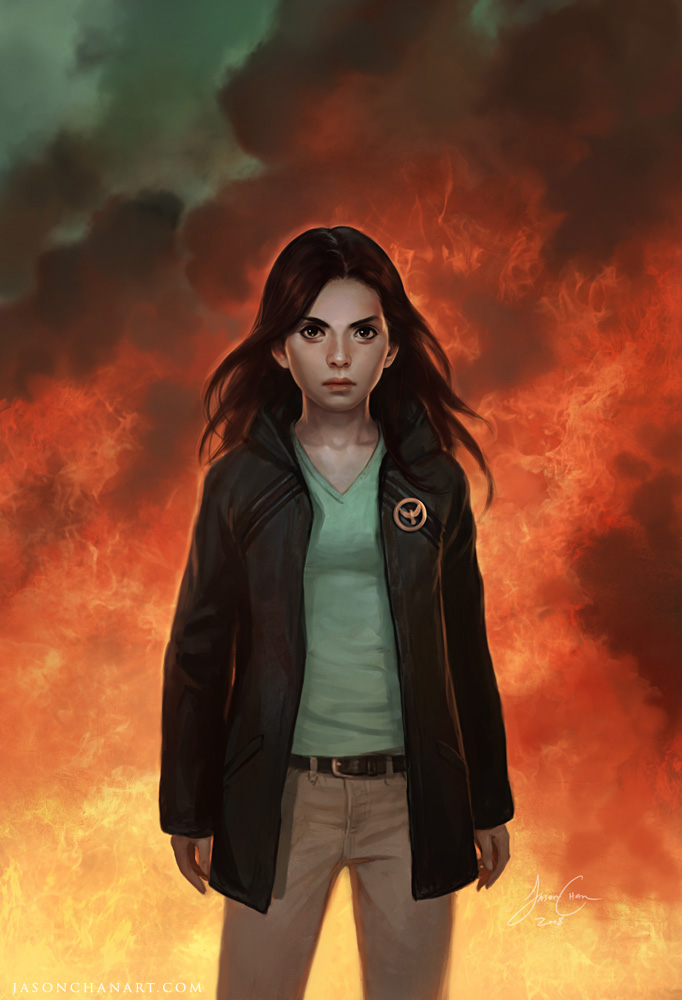 I am the mockingjay, The one that survived the Capitol's plans. The symbol of the rebellion.

~ Catching Fire
A child of the Seam – one of the most dangerous and poorest areas in one of the country's poorest districts – Katniss has had to fend for herself and for her loved ones from a young age. Following the death of her father in the coal mines and her mother's subsequent breakdown, Katniss was forced to provide for her family, or starve. At twelve years old, Katniss started to put her name into the dreaded reaping lottery in exchange for tesserae:
Say you are poor and starving as we were. You can opt to add your name more times in exchange for tesserae. Each tessera is worth a meager year s supply of grain and oil for one person. You may do this for each of your family members as well. So, at the age of twelve, I had my name entered four times. Once, because I had to, and three times for tesserae for grain and oil for myself, Prim, and my mother. In fact, every year I have needed to do this. And the entries are cumulative. So now, at the age of sixteen, my name will be in the reaping twenty times.

~ The Hunger Games
But even the meager tesserae was not enough to keep Katniss's family fed and warm. To survive, Katniss learned to become an expert with her bow and arrow, sneaking out beyond the district's fences to illegally hunt for food (and then to sell or trade some of that food for other goods on District 12's black market).
For the 74th Hunger Games, when Katniss's younger sister's, Prim Everdeen's, name was called at the Reaping as the female tribute from District 12, a horrified Katniss volunteered to take her younger sister's place in the Games. Alongside the male tribute, Peeta Mellark, Katniss defied the Capitol by surviving the Arena not once, but twice – managing to stir up a rebellion in her wake.
So, why do we love Katniss so much?
1. Because she's brave and stubbornly loyal – when her sister is called, Katniss steps in to take her place without a thought in her mind except to protect her family. Throughout the first book, her loyalty to her best friend Gale and her memory of her family is a driving force in the Arena.
2. Because she's badass – the only Tribute to receive a score of 11 out of a possible 12 using her skills with a bow and arrow, Katniss is has mad skills hunting and trapping. Her survival in the Arena – in the Quarter Quell and the first Games – is testament to that ability to survive, and her determination to fight.
3. Because she is cunning and utterly capable – Badassness only gets one so far, and in order to survive the Games and the Capitol's machinations, Katniss has not only had to be skilled; she's also had to be smart, even ruthlessly so, to keep herself and those she cares about alive. Whether that means putting on a girly facade, hiding quietly in the background, or even killing, Katniss does what needs to be done.
4. Because, underneath it all, she has grown from completely clueless, to empowered and in control – in The Hunger Games and to a certain extent in Catching Fire, Katniss was completely clueless of her own worth and effect on people. (See revolution.) But by Mockingjay, she comes full circle – acting for herself, and taking control of a life that has been out of her hands for so long.
Over the course of the two books, Katniss has gone from a girl struggling to keep food on her family's table to a Hunger Games tribute, victor, celebrity, and leader.
Regardless of where your loyalties lie concerning the romance, at least we can all agree on one thing: Katniss Everdeen is one awesome heroine. In a sea of bland, damsels in distress, existing simply to serve as arm candy for sparkly vampires, the calculating, defiant Katniss, bow and arrow in hand, stands triumphant.

"The question is, what are you going to do?"

It turns out the question that's been eating away at me has only ever had one possible answer. But it took Peeta's ploy for me to recognize it.

What am I going to do?

I take a deep breath. My arms raise slightly — as if recalling the black-and-white wings Cinna gave me — the come to rest at my sides.

"I'm going to be the Mockingjay."

~Mockingjay

About Mockingjay: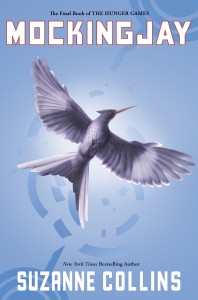 The next and final stop on the Official Mockingjay 13 District Blog Tour is at Beth Fish Reads on Monday, August 30th. Make sure to stop by for the chance to enter another awesome giveaway!
Also make sure to check out the official Hunger Games Facebook Page for more HG goodies, and for a list of the other stops on the blog tour to date. You can read our reviews of The Hunger Games HERE and Catching Fire HERE (a review of Mockingjay will be up shortly) – and for those diehard fans looking for what else to read now that the trilogy has come to a close, you can check out our post on Tor.com listing 10 helpful post-Mockingjay recommendations.
Finally, before the giveaway, we'd like to give a gentle reminder to every exuberant Hunger Games fan. Mockingjay officially hit stores on August 24th, and has begun receiving rave reviews. However, in all the excitement we'd like to remind everyone to please be respectful of your fellow readers – please remember to spoiler tag or refrain from spoilers altogether.

Giveaway Details: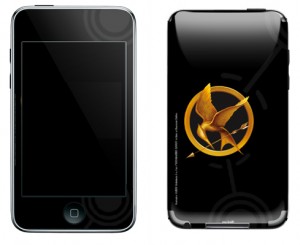 For our stop on the tour, we have twenty-five Mockingjay iSkins up for grabs! (Please note, these are just the skins – not the actual iPod/iTouch/iPhones) The contest is open to addresses in the United States only, and will run until September 1 at 11:59 pm (PST). To enter, leave a comment here telling us why YOU think Katniss is an amazing heroine. Only ONE entry per person, please! Multiple comments from the same I.P. address will be automatically disqualified. Good luck!
In order to avoid another site meltdown, we ask that all new entries complete the form below. The same rules apply, and earlier entries will be fed into the same spreadsheet to select a winner. Good luck!
THE CONTEST IS NOW CLOSED. THE WINNERS HAVE BEEN ANNOUNCED HERE.