Hello everybody!
Back in 2009, we read, loved and reviewed Give Up The Ghost by Megan Crewe. The book features a character-driven story about a girl who can communicate with ghosts better than with living people. It is a lovely story and we truly enjoyed it so when the author asked us if we were up to run a giveaway to celebrate its release in paperback this month, we were happy to accept.
So here we are, sharing the love!

The Book: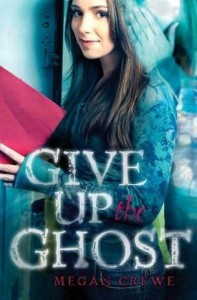 Genre: Contemporary/Paranormal YA
Publisher: Henry Holt & Co
Publication date First edition 2009/ Paperback: 2011
Paperback 256 pages
Cass McKenna much prefers ghosts over "breathers." Ghosts are uncomplicated and dependable, and they know the dirt on everybody…and Cass loves dirt. She's on a mission to expose the dirty secrets of the poseurs in her school.

But when the vice president of the student council discovers her secret, Cass's whole scheme hangs in the balance. Tim wants her to help him contact his recently deceased mother, and Cass reluctantly agrees.

As Cass becomes increasingly entwined in Tim's life, she's surprised to realize he's not so bad—and he needs help more desperately than anyone else suspects. Maybe it's time to give the living another chance….
Note: The new paperback edition includes bonus material that wasn't available with the hardcover, such as a couple of deleted scenes featuring two ghosts who didn't make the final cut for the finished book.
The Trailer:
The Giveaway: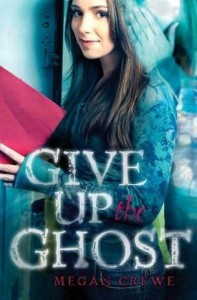 Courtesy of the author, we are giving away one SIGNED copy of Give Up The Ghost to one lucky winner. The contest is open to EVERYBODY and will run until Saturday, April 16, 2011 at 11:59 PM (PST). In order to enter, all you have to do is leave a comment here. Only ONE comment per person, please! Multiple entries and/or duplicate comments will be automatically disqualified. Good luck!