"On The Smugglers' Radar" is a new feature for books that have caught our eye: books we heard of via other bloggers, directly from publishers, and/or from our regular incursions into the Amazon jungle. This is how the Smugglers' Radar was born, and because there are far too many books that we want than we can possibly buy or review (what else is new?) we thought we could make it into a weekly feature – so YOU can tell us which books you have on your radar as well!
On Thea's Radar:
I just received a pretty awesome haul of books in the mail, and most of them I hadn't even heard of yet. Take, for example, this series from Janice Hardy: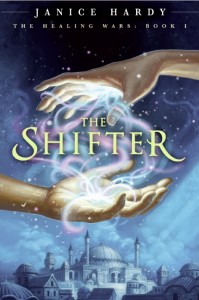 Nya is an orphan struggling for survival in a city crippled by war. She is also a Taker—with her touch, she can heal injuries, pulling pain from another person into her own body. But unlike her sister, Tali, and the other Takers who become Healers' League apprentices, Nya's skill is flawed: She can't push that pain into pynvium, the enchanted metal used to store it. All she can do is shift it into another person, a dangerous skill that she must keep hidden from forces occupying her city. If discovered, she'd be used as a human weapon against her own people.

Rumors of another war make Nya's life harder, forcing her to take desperate risks just to find work and food. She pushes her luck too far and exposes her secret to a pain merchant eager to use her shifting ability for his own sinister purposes. At first Nya refuses, but when Tali and other League Healers mysteriously disappear, she's faced with some difficult choices. As her father used to say, principles are a bargain at any price; but how many will Nya have to sell to get Tali back alive?
And here's the cover for Book 2 (unfortunately I have book 2 and not book 1, so there's something that must be done about this…):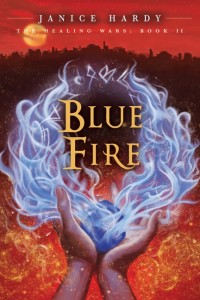 Then there's The Fisherman's Children series from Karen Miller (whom I haven't read yet, which makes me feel ridiculously embarrassed to admit):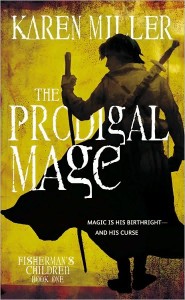 Some seventeen years have passed since the defeat of the sorcerer Morg and the destruction of Barl's Wall: the last great Mage War, as the conflict is now known. It has been a time of great change. In the immediate aftermath of the conflict, one small exploratory expedition set out to cross the mountains, its aim being to discover who lived on the other side. But contact was lost with those brave folk – and they never returned.

All these years later, Asher and Dathne are still living in Dorana City, with their children, Rafel and Deenie. The family is torn apart over the decision to cross the mountains or remain part of their insular society. Much to Asher's chagrin, Rafel defies him and sets out on the journey over the mountains. When his expedition also goes missing, Asher is once again brought into the midst of an epic struggle.
I only bring this up because, again, I got book 2 in the mail (and I need to get book 1!): (also, I love the color and styling of this cover)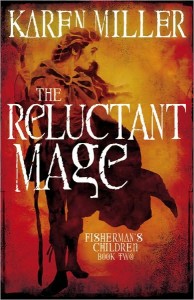 Nine months have passed since Rafel disappeared in the expedition over the mountains. Deenie, now eighteen, starts having disturbing dreams about her brother. She comes to believe he's not dead after all, but is in trouble and needs her help.

She enlists the aid of her friend Charis, and the girls hatch a plan to escape from Lur. They succeed and survive the hazardous journey round the coastline past the mountains. But to their dismay, they discover that the lands beyond Lur are blighted with lawlessness and chaos. The remnants of Morg's consciousness that survived his death splintered at his downfall and sought refuge in whatever bodies could be found to host them.

Throughout their travels and adventures they get some answers about the other lost expeditions, and keep hearing about one fearsome mage whose stronghold is in the blighted near-mythical land of Dorana. Deenie knows this is her brother – and that Rafel is not only in danger, but has become dangerous. If he's not stopped he could become a threat to the whole world. Perhaps even another Morg.

Also in the mail was The Cold Kiss by John Rector. It's more of a thriller novel – actually it sounds very cinematic! And. It. Looks. AWESOME.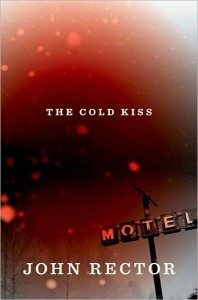 All Nate and Sara want is a new life in a new town, away from the crime and poverty of their past. So, after being approached at a roadside diner by a man offering $500 for a ride to Omaha, they wonder if their luck might be changing.

At first it seems like easy money, but within a few hours the man is dead.

Now, forced off the road by a blizzard and trapped in a run-down motel on the side of a deserted highway, Nate and Sara begin to uncover the man's secrets. Who he was, how he died, and most importantly, why he was carrying two million dollars in his suitcase.

Before they know it, Nate and Sara are fighting for their lives, and in the end, each has to decide just how far they are willing to go to survive.

The Cold Kiss is an everyman psychological thriller that pits a young couple against moral corruption, greed, betrayal, and love. More simply, for two characters who may have used up all their chances, it's the classic final trip down the dark tunnel that might lead to heaven, but drags them through hell. This is A Simple Plan meets The Getaway, with a pulse-pounding plot and a twist ending. John Rector is name that all thriller fans will come to know and love for years to come.

I've read Carrie Vaughn's Kitty Norville books with mixed feelings, but this new title – from her new home at Tor – sounds…well, AMAZING. I anticipate this one being pushed up the reading list immediately.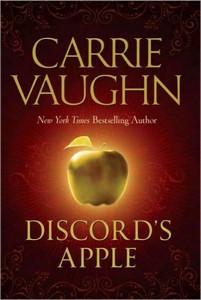 When Evie Walker goes home to spend time with her dying father, she discovers that his creaky old house in Hope's Fort, Colorado, is not the only legacy she will inherit. Hidden behind the basement door is a secret and magical storeroom, a place where wondrous treasures from myth and legend are kept safe until they are needed again.

Of course, this legacy is not without its costs: There are those who will give anything to find a way in.

With the help of her father, a mysterious stranger named Alex, and some unexpected heroes, Evie must guard the storeroom against ancient and malicious forces, and protect both the past and the future even as the present unravels. Old heroes and notorious villains alike rise to fight on her side or to do their best to bring about her defeat.

At stake is the fate of the world and the prevention of nothing less than the apocalypse.

From around teh internets: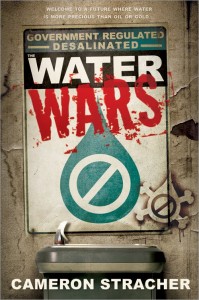 Welcome to a future where water is more precious than gold or oil-and worth killing for

Vera and her brother Will live in the shadow of the Great Panic, in a country that has collapsed from environmental catastrophe. Water is hoarded by governments, rivers are dammed, and clouds are sucked from the sky. But then Vera befriends Kai, who seems to have limitless access to fresh water. When Kai suddenly disappears, Vera and Will set off on a dangerous journey in search of him-pursued by pirates, a paramilitary group, and greedy corporations. Timely and eerily familiar, acclaimed author Cameron Stracher makes a stunning YA debut that's impossible to forget.

"Let us pray that the world which Cameron Stracher has invented in The Water Wars is testament solely to his pure, wild, and brilliant imagination, and not his ability to see the future. I was parched just reading it."-Laurie David, academy award winning producer of An Inconvenient Truth, and author of The Down to Earth Guide to Global Warming

And then Carrie Ryan has a cover to go with her final book in her trilogy: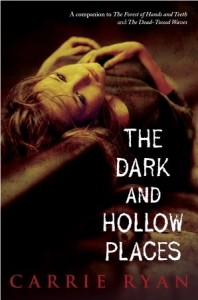 There are many things that Annah would like to forget: the look on her sister's face when she and Elias left her behind in the Forest of Hands and Teeth, her first glimpse of the horde as they found their way to the Dark City, the sear of the barbed wire that would scar her for life. But most of all, Annah would like to forget the morning Elias left her for the Recruiters.

Annah's world stopped that day and she's been waiting for him to come home ever since. Without him, her life doesn't feel much different from that of the dead that roam the wasted city around her. Then she meets Catcher and everything feels alive again.

Except, Catcher has his own secrets — dark, terrifying truths that link him to a past Annah's longed to forget, and to a future too deadly to consider. And now it's up to Annah — can she continue to live in a world drenched in the blood of the living? Or is death the only escape from the Return's destruction?
Anyone that reads this site KNOWS how much I love Carrie Ryan's beautiful writing. Although…I'm not so hot on these new covers. The original ones I think felt much more true to the story, and while these are pretty and moody, the eyeliner and general feel seems a bit too…contemporary to me. Also, I kind of wish more time was spent on Mary's story as opposed to these newer ones. But, still, excited as all get out. AND I love the title.

Last one, I promise.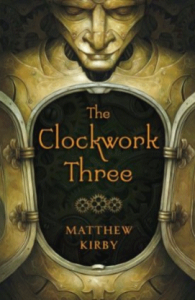 Three ordinary children are brought together by extraordinary events. . . Giuseppe is an orphaned street musician from Italy, who was sold by his uncle to work as a slave for an evil padrone in the U.S. But when a mysterious green violin enters his life he begins to imagine a life of freedom.

Hannah is a soft-hearted, strong-willed girl from the tenements, who supports her family as a hotel maid when tragedy strikes and her father can no longer work. She learns about a hidden treasure, which she knows will save her family — if she can find it.

And Frederick, the talented and intense clockmaker's apprentice, seeks to learn the truth about his mother while trying to forget the nightmares of the orphanage where she left him. He is determined to build an automaton and enter the clockmakers' guild — if only he can create a working head.

Together, the three discover they have phenomenal power when they team up as friends, and that they can overcome even the darkest of fears.

On Ana's Radar:
Speaking of awesome yet unexpected postal surprises, I received this one in the post and I want to read it so much: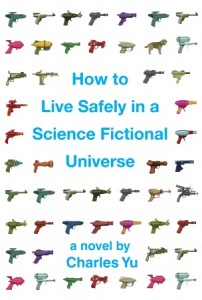 National Book Foundation 5 Under 35 Award-winner Charles Yu delivers his debut novel, a razor-sharp, ridiculously funny, and utterly touching story of a son searching for his father . . . through quantum space-time.

Minor Universe 31 is a vast story-space on the outskirts of fiction, where paradox fluctuates like the stock market, lonely sexbots beckon failed protagonists, and time-travel is serious business. Every day, people get into time machines and try to do the one thing they should never do: change the past. That's where Charles Yu, time travel technician—part counselor, part gadget repair man—steps in. He helps save people from themselves. Literally. When he's not taking client calls, Yu visits his mother (stuck in a onehour cycle, she makes dinner over and over and over) and searches for his father, who invented time travel and then vanished. Accompanied by TAMMY, an operating system with low self-esteem, and a nonexistent but ontologically valid dog named Ed, and using a book titled How to Live Safely in a Science Fictional Universe as his guide, Yu sets out, and back, and beyond, in order to find the one day where he and his father can meet in memory.

Wildly new and adventurous, Yu's debut is certain to send shock waves of wonder through literary space-time.

I love Goodreads. I love looking for covers and books on Goodreads. This week, I found the BEST LIST EVER: upcoming 2011 YA novels which has loads of upcoming books that sound and look awesome.
Like for example: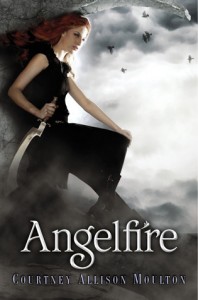 This debut, the first novel in a trilogy, is achingly romantic, terrifying, and filled with blistering action.

When seventeen-year-old Ellie starts seeing reapers – monstrous creatures who devour humans and send their souls to Hell – she finds herself on the front lines of a supernatural war between archangels and the Fallen and faced with the possible destruction of her soul.

A mysterious boy named Will reveals she is the reincarnation of an ancient warrior, the only one capable of wielding swords of angelfire to fight the reapers, and he is an immortal sworn to protect her in battle. Now that Ellie's powers have been awakened, a powerful reaper called Bastian has come forward to challenge her. He has employed a fierce assassin to eliminate her – an assassin who has already killed her once.

While balancing her dwindling social life and reaper-hunting duties, she and Will discover Bastian is searching for a dormant creature believed to be a true soul reaper. Bastian plans to use this weapon to ignite the End of Days and to destroy Ellie's soul, ending her rebirth cycle forever. Now, she must face an army of Bastian's most frightening reapers, prevent the soul reaper from consuming her soul, and uncover the secrets of her past lives – including truths that may be too frightening to remember.

Or, this one with a very striking cover: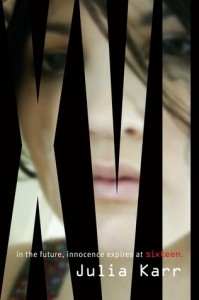 In the year 2150, being a girl isn't necessarily a good thing, especially when your sixteenth (read sex-teenth) birthday is fast approaching. That in itself would be enough to make anyone more than a little nuts, what with the tattoo and all – but Nina Oberon's life has taken a definite turn for the worse. Her mother is brutally stabbed and left for dead. Before dying, she entrusts a secret book to Nina, telling her to deliver it to Nina's father. But, first Nina has to find him; since for fifteen years he's been officially dead. Complications arise when she rescues Sal, a mysterious, and ultra hot guy. He seems to like Nina, but also seems to know more about her father than he's letting on. Then there's that murderous ex-government agent who's stalking her, and just happens to be her little sister's dad.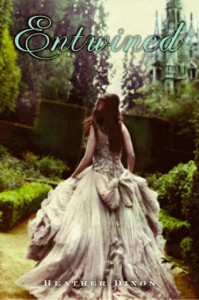 Azalea and her younger sisters dance in the mysterious silver forest every night, escaping from the sadness of the palace and their father's grief. What they don't understand—although as time passes they begin to get an inkling of the danger they are in—is that the mysterious and dashing Keeper is tightening his snare with deadly purpose. Luckily, Azalea is brave and steadfast. Luckily, a handsome young army captain also has his eye on Azalea. . . . Lush, romantic, and compelling, this debut novel by Heather Dixon will thrill fans of Shannon Hale, Robin McKinley, and Edith Pattou.

And I, too have a Carrie Vaughn novel on my radar, because it has a Girl-fencer and a pirate ship and time travel and and yes, I WANT: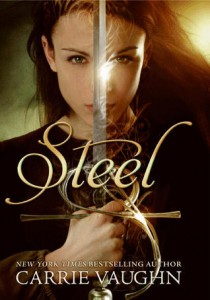 When Jill, a competitive high school fencer, goes with her family on vacation to the Bahamas, she is magically transported to an early eighteenth century pirate ship in the middle of the ocean.

Please tell me: isn't this cover freaky-yet-beautiful?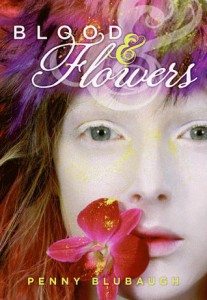 Three years ago, Persia ran away from her drug-addict parents and found a home with the Outlaws, an underground theater troupe. With time, this motley band of mortals and fey, puppeteers and actors, becomes the loving family Persia never had, and soon Persia not only discovers a passion for theater but also falls in love with one of the other Outlaws. Life could not be more perfect.

Until an enemy makes an unfair accusation against the group and forces them to flee their world and hide in the neighboring realm of Faerie. But in Faerie, all is not flowers and rainbows. With bloodthirsty trolls, a hostile monarchy, and a dangerous code of magic, the fey world is far from the safe haven the Outlaws had hoped for….

Following up her critically acclaimed Serendipity Market, Penny Blubaugh has created a beautiful and mysterious world where anything can happen—especially what you least expect.

and finally, a new novel by Lisa McMann: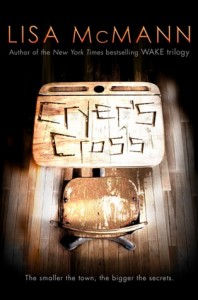 The small town of Cryer's Cross is rocked by tragedy when an unassuming freshman disappears without a trace. Kendall Fletcher wasn't that friendly with the missing girl, but the angst wreaks havoc on her OCD-addled brain.

When a second student goes missing – someone close to Kendall's heart – the community is in an uproar. Caught in a downward spiral of fear and anxiety, Kendall¹s not sure she can hold it together. When she starts hearing the voices of the missing, calling out to her and pleading for help, she fears she's losing her grip on reality. But when she finds messages scratched in a desk at school – messages that could only be from the missing student who used to sit there – Kendall decides that crazy or not, she'd never forgive herself if she didn't act on her suspicions.

Something's not right in Cryer's Cross – and Kendall's about to find out just how far the townspeople will go to keep their secrets buried.

And that's it from us! What's on your radar?