"On The Smugglers' Radar" is a new feature for books that have caught our eye: books we heard of via other bloggers, directly from publishers, and/or from our regular incursions into the Amazon jungle. This is how the Smugglers' Radar was born, and because there are far too many books that we want than we can possibly buy or review (what else is new?) we thought we could make it into a weekly feature – so YOU can tell us which books you have on your radar as well!
This week, we're doing something a little bit different. In honor of Book Expo America, which we both attended this week, we'd like to share the books that both of us picked up at the show that we haven't posted about before.
On Ana & Thea's Radar: The BEA Edition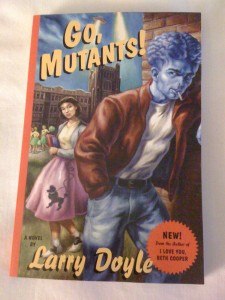 The author of I Love You, Beth Cooper returns with an ingenious contemporary satire set in an alternate universe populated by the aliens, mutants, and atomic monsters of B-movie legend.

It came to Earth . . . and now its spawn goes to high school.

Earth has survived repeated alien invasions, attacks by hordes of mutants, and the ravages of ancient beasts brought back to life. Now we're in the blissful future…for most.

J!m, the son of the alien who nearly destroyed the planet, is a brooding, megacephalic rebel with a big forehead and exceptionally oily skin. Along with Johnny, a radioactive biker ape, and Jelly, a gelatinous mass passing as a fat kid, J!m navigates a particularly unpleasant adolescence in which he really is as alienated as he feels, the world might actu-ally be out to get him, and true love is complicated by mis-understanding and incompatible parts. As harmless school antics escalate into explosive events with tragic consequences, J!m makes a discovery that will alter the course of civilization, though it may help his dating life.

Replete with all the rock 'n' roll, hot-rod racing, and heavy petting of classic teen cinema—and packed with famous film-monster cameos—Go, Mutants! is fun strapped to an atomic rocket, and Doyle's deadpan delivery and razor-sharp wit will have you laughing out loud before he even starts the ignition sequence.
The book sounds fantastic, we LOVE the cover, and it has an awesome website with killer nostalgia content. We will be reviewing this one very, very soon.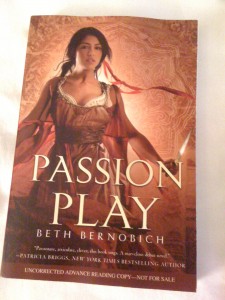 Ilse Zhalina is the daughter of one of Melnek's more prominent merchants. She has lived most of her life surrounded by the trappings of wealth and privilege. Many would consider hers a happy lot; but there are dark secrets, especially in the best of families. Ilse has learned that the way for a young woman of her beauty and social station to survive is to be passive and silent.

When Ilse finally meets the older man she is to marry, she realizes that he is far crueler and more deadly than her father could ever be. Ilse chooses to run. This choice will change her life forever.

And it will lead her to Raul Kosenmark, master of one of the land's most notorious pleasure houses…who is, as Ilse learns, a puppet master of a different sort altogether. Ilse discovers a world where every pleasure has a price and where there are levels of magic and intrigue she once thought unimaginable. She also finds the other half of her heart.

Lush fantasy. Wild magic. Intrigue, seduction, and treachery, with a kingdom at stake. Passion Play is the journey of a woman who must master her passions in order to win all that she desires.
This book (questionable title aside) has everything going for it – an awesome cover, a huge push from Tor, not to mention that the editor is the same wonderful lady that discovered Jacqueline Carey. Um…SOLD.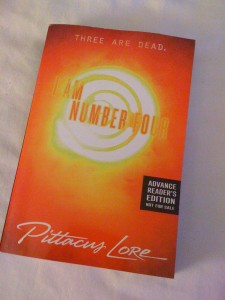 John Smith seems like an ordinary teenager, living an ordinary life in Paradise,
Ohio.

But John is not ordinary. He's one of nine aliens from the planet Lorien. John's in danger and he's always on the run, but this time he has more at stake than ever before—his girlfriend, Sarah, the only person he's ever allowed to get close to him, is also at risk.

The evil beings who are hunting him have killed Number One in Malaysia. Number Two in England. And Number Three in Kenya. John Smith is Number Four. And he is next.

As John struggles to outrun his past, discover his future, and live a normal life on Earth, he must choose between the legacy he was destined for and the love he never thought he would have.
This is another book whose buzz has preceded its release, and just like other BEA darling Justin Cronin with The Passage, I Am Number Four has already been optioned (and casted) for film. Aaaaand you can read more about it (including an excerpt) on the book's official site, HERE.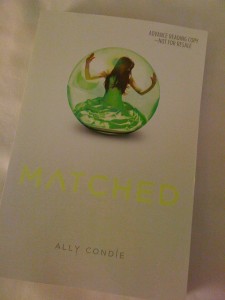 In the Society, Officials decide. Who you love. Where you work. When you die.

Cassia has always trusted their choices. It's barely any price to pay for a long life, the perfect job, the ideal mate. So when her best friend appears on the Matching screen, Cassia knows with complete certainty that he is the one . . . until she sees another face flash for an instant before the screen fades to black. Now Cassia is faced with impossible choices: between Xander and Ky, between the only life she's known and a path no one else has ever dared follow—between perfection and passion.

Matched is a story for right now and storytelling with the resonance of a classic.
To be honest, when we first heard the synopsis, we weren't super thrilled. BUT, after hearing the lovely, intelligent, funny Ally Condie talk about her book (on both the Dystopian and YA Buzz panels), we couldn't be more thrilled to read this book.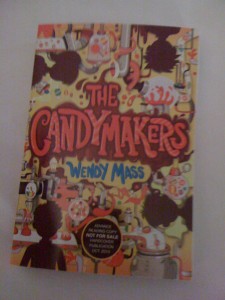 Four children have been chosen to compete in a national competition to find the tastiest confection in the country. Who will invent a candy more delicious than the Oozing Crunchorama or the Neon Lightning Chew? Logan, the Candymaker's son, who can detect the color of chocolate by touch alone? Miles, the boy who is allergic to merry-go-rounds and the color pink? Daisy, the cheerful girl who can lift a fifty-pound lump of taffy like it's a feather? Or Philip, the suit-and-tie wearing boy who's always scribbling in a secret notebook? This sweet, charming, and cleverly crafted story, told from each contestant's perspective, is filled with mystery, friendship, and juicy revelations.
Awesome Willy Wonka-style goodness. Hell yes. (Plus, they were giving away candy at the Little, Brown booth. Genius.)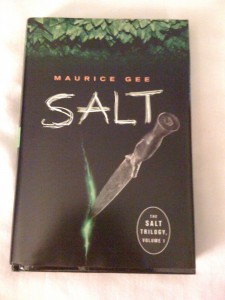 In a dangerous world, Deep Salt strikes terror into the heart of everyone. Hari lives in Blood Burrow, deep in the ruined city of Belong, where he survives by courage and savagery. He is scarred from fighting, he is dangerous and cruel, but he has a secret gift: he can speak with animals. When his father, Tarl, is taken as a slave and sent to the mine known as Deep Salt, from where no worker ever returns, Hari vows to save him. Pearl is from the ruling families, known as Company, which has conquered and enslaved Hari's people. Her destiny involves marriage that will unite her family with that of the powerful and ambitious Ottmar. It soon becomes clear that the survival of their people depends entirely upon the success of Pearl and Hari's mission.
This book, originally published in New Zealand, has already won a heap of awesome awards, earned various starred reviews, and is otherwise made of awesome. Cannot wait to finally dig into this one!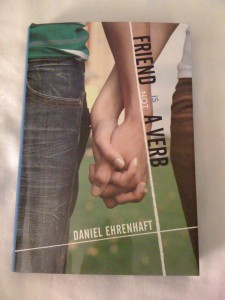 From the author of the Edgar Award–winning The Wessex Papers comes a hilariously offbeat novel about Henry "Hen" Birnbaum, a teenage boy who dreams of becoming a rock star despite a minor setback, namely: his girlfriend just dumped him and kicked him out of their band. Now his social life consists of night after night of VH1 marathons with his best friend and next-door neighbor, the neurotic Emma Wood.

Then there's the matter of Sarah, his sister, who mysteriously disappeared for a whole year and just as mysteriously returned. As the story unfolds, the reasons for her disappearance seem more unbelievable than Henry ever could have imagined. Maybe rock god status isn't too farfetched for Henry. After all, crazier things have happened.
We were standing in line for another book and saw this one in the table next to where we were and we looked at the line and the book looked really cool so we decided to get it. This is one of those last minute decisions that we hope will pay off.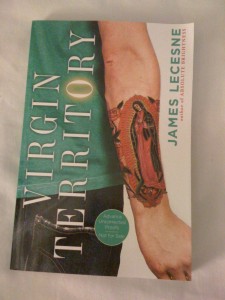 Dylan Flack never wanted to leave New York City for Florida, but his mother's death changed everything. Drifting further away from his father and losing sight of his future. Dylan stumbles through a hot summer as a caddy. But a sighting of the Blessed Virgin Mary brings hundreds of worshippers to town, including the beautiful and mysterious Angela, who leads Dylan to the life-changing realization that faith requires wanting something badly enough to take a risk.

When we were perusing the list of signings prior to BEA, we saw this one and wrote it down as an "Ana Book" and we got in line to get this one as well.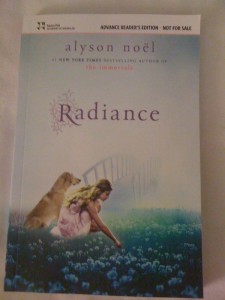 Riley has crossed the bridge into the afterlife—a place called Here, where time is always Now. She has picked up life where she left off when she was alive, living with her parents and dog in a nice house in a nice neighborhood. When she's summoned before The Council, she learns that the afterlife isn't just an eternity of leisure. She's been assigned a job, Soul Catcher, and a teacher, Bodhi, a possibly cute, seemingly nerdy boy who's definitely hiding something. They return to earth together for Riley's first assignment, a Radiant Boy who's been haunting a castle in England for centuries. Many Soul Catchers have tried to get him to cross the bridge and failed. But all of that was before he met Riley . . .
We didn't know about this book before BEA but we were walking past the Macmillan's booth and saw Alyson Noel signing Radiance which is the first in a Immortals' spin-off series. It looks pretty sweet so we got it!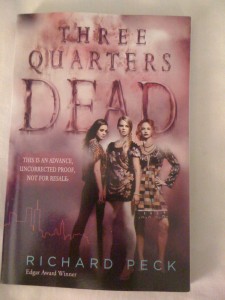 Kerry thinks life has finally begun when she is noticed by the three coolest girls in the school. For once she's in on the jokes and sitting at the right table, and she is willing to do whatever it takes to be part of their clique.

But how much will it take? And after her life with the popular crows starts to feel as cruel as death, what will she decide to do about it?

Exhilarating, nail-bitting suspense is crossed with a thought-provoking examination of peer pressure in Richard Peck's return to his contemporary teen – and ghost-story roots – a master author's smart, stylish, and fun take on paranormal.

First, there was the cover – the girls look at first, the usual Trio of Popular Girls until you look really closely and then they just look really scary, dead perhaps? Then there was the fact that this was written by a very prolific YA author, who is now in his 70s. We can't wait to see how this goes.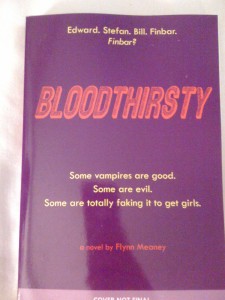 Awkward and allergic to the sun, sixteen-year-old Finbar Frame is the sensitive guy who never gets the girl. But when he notices that all the female students at his new school are obsessed with the vampire book Bloodthirsty, Finbar decides to exploit his lack of pigmentation and become a vampire. Or at least fake it…to get a date.

This one was part of a swag bag from Little,Brown and what can we say? The quote on the cover makes us want to read it RIGHT NOW: "Some vampires are good. Some are evil. Some are totally faking it to get girls". SOLD.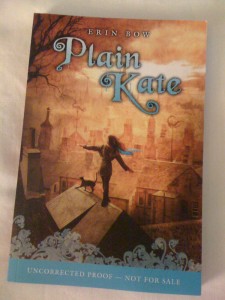 Plain Kate lives in a world of superstitions and curses, where a song can heal a wound and a shadow can work deep magic. As the wood-carver's daughter, Kate held a carving knife before a spoon, and her wooden talismans are so fine that some even call her "witch-blade": a dangerous nickname in a country where witches are hunted and burned in the square.

For Kate and her village have fallen on hard times. Kate's father has died, leaving her alone in the world. And a mysterious fog now covers the countryside, ruining crops and spreading fear of hunger and sickness. The townspeople are looking for someone to blame, and their eyes have fallen on Kate.

Enter Linay, a stranger with a proposition: In exchange for her shadow, he'll give Kate the means to escape the angry town, and what's more, he'll grant her heart's wish. It's a chance for her to start over, to find a home, a family, a place to belong. But Kate soon realizes she can't live shadowless forever — and that Linay's designs are darker than she ever dreamed.
Now, this one is special. Another one we didn't hear anything about before the convention but then we say the author at the YA Editors Buzz Panel and OH MY GOD. Not only does the author sounds like totally awesome (one of her favorite authors is Shannon Hale, for example) but the excerpt she read was very good and enticing. Then the way she talked about the book and writing it made us want to get in line at her signing later that day. THEN, we saw the cover – and we are completely in love with it. Quite possibly, this is the "surprise" book and the one we most want to read.

And that's it from us! What books do you have on your radar?