"Inspirations and Influences" is a series of articles in which we invite authors to write guest posts talking about their…well, Inspirations and Influences. The cool thing is that the writers are given free reign so they can go wild and write about anything they want. It can be about their new book, series or about their career as a whole.
Today we have the lovely Mira Grant (also known as Seanan McGuire) over. Mira is the author of the brand spankin' new Newsflesh trilogy; book 1, Feed was just released at the end of last month (you can check out Thea's review HERE). To celebrate the release of Feed, we decided to invite Mira Grant to talk about her new book and her Inspirations and Influences.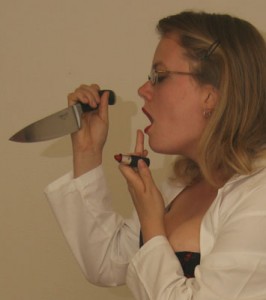 Please give it up for Mira Grant!

Hi, Ana and Thea! Thank you so much for inviting me to do an Inspirations and Influences post for you. I'm really excited. And not just because I haven't actually slept since December.
The question "where do you get your inspiration?" sort of drives me crazy, largely because my answer tends to drive everybody else crazy. I was literally once inspired to write a book by the combination of jetlag, a woman on the plane to London who was wearing a sweater the same color as mine, and trying to navigate the Tube system while I was so tired that my eyes were crossing. Another book—actually another series, but that's another story—basically grew out of listening to a Counting Crows song while half-asleep and commuting.
Okay. So a lot of my ideas start with sleep deprivation. But today, I'm going to talk about the inspirations for the Newsflesh Trilogy, and for Feed in specific.
I love horror movies. The first movie I consciously remember watching was Alien. I was three. When I was eight, my cat got a burr in her eye. After a midnight trip to the emergency vet to have the burr removed—the cat was fine, in case you were worried—we returned to the house, and my mother let me watch The Blob on Channel 20 to calm down before I went to bed. (I did not go to school the next day.) This has basically wired my adult brain to follow certain logical paths. Never say "Be careful" or "I'll be right back." Never go outside to see what that noise was, because it wasn't the wind. And never, never date a man named Johnny.
My passion for horror movies might just have resulted in my having a really weird DVD collection (which it did). Unfortunately for my mother's sanity, I went and combined it with a highly analytical mind, and a tendency to pick things to pieces. Why did the monster want to eat people? How did the vampires decide who to convert into their undying companions, and who to treat as a Happy Meal with legs? If King Kong had been eating women for years, what was it about the blonde chick that really got to him? The list went on, and drove most of the adults around me crazy. Even after I became an adult, it kept driving most of the adults around me crazy, as they were forced to sit through my analysis of the horror movie of the week as I twisted it to start, well…making sense.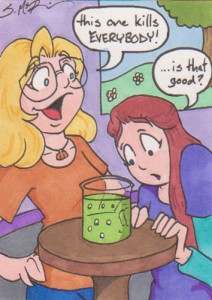 So I love horror. And I love things that make sense. That, more than anything, was the initial genesis of the Newsflesh Trilogy. What would it take to set up a classic horror movie apocalypse, and have it make sense? Real, solid, pick-it-apart sense? I started chewing on the question, and decided that the best apocalypse—where "best" is defined as "the most fun for me"—was the zombie apocalypse.
I love zombies. But I bet you guessed that part.
One of the most illogical things about your standard horror apocalypse is the way nobody in a horror movie has ever seen a horror movie. They hear the funny noise and they go running toward it. Their loved ones come shambling into the room with blood circling their mouths, and they hug, rather than aiming for the head. I know too many people with apocalypse plans and weapons in their closets to believe that things would go that bad, that fast. So what happens when you combine the apocalypse with a world that actually knows how to react? And how would those people share information in a fast, efficient manner?
Enter the Internet. Thanks to social media and the blogging community, a whisper is now capable of circling the globe in less time than it takes to shout. So say the Internet gets involved in the zombie apocalypse. How much difference will it really make? And what will the mainstream news media have to say about the things that are going on out there in the world? Probably nothing good.
So I started tinkering with my apocalypse. I spent, oh, about a year having a happy apocalypse party to which all my friends were invited, whether they wanted to be or not. It was the end of the world, and they knew it (many of them did not feel fine). And in the process of hashing out my apocalypse, I realized…I didn't want to write that. It's been done. By everybody. If you're going to tell a zombie story, you're going to tell the apocalypse. So screw it, I said. I'm not going to write the apocalypse.
I'm going to write what comes after.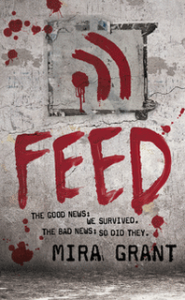 The Newsflesh Trilogy is about the world as it exists twenty years after the dead rose, the Internet mobilized, and we managed to come out on the other side still kicking. Everything has changed. Everything. The whole structure of society has shifted, because the threat of the dead isn't going away. The virus that caused the initial outbreak is still around, and everyone in the world is infected, making all of them quietly ticking time bombs just waiting to blow.
But that's setting. That's not story. Story arrived later, in my friend Michael's kitchen. I was complaining—okay, whining—about the fact that I had this fantastic world and nothing to set there. He looked at me, and asked, "Well, have you considered writing about a Presidential campaign?"
I'm pretty sure he was just trying to shut me up. That doesn't really matter, because the question had been asked, and the snowball was rolling down the hill, gathering speed as it went. Before dinner was over, I had a protagonist, Georgia Mason, named after George Romero—like half of her generation—with a serious yearning for the truth. I had her adopted brother, Shaun. Both of them were reporters, working in different facets of the Internet news media. And they were going to follow a man along the campaign trail, hoping for a crack at the truth.
Another friend of mine asked another question later in the process, this one about the way my zombies worked, and changed everything all over again. But that was two hundred pages in, and that's another story.
When will you rise?
About the Author: Seanan McGuire is the good twin. Mira Grant is the evil twin. One of them is planning to destroy the world one day, but no one's really quite sure which one it is, and nobody really wants to ask. When not plotting world domination or watching horror movies, Seanan writes semi-constantly, which explains how she's completing three books a year. The lack of sleep probably helps with that, too. She studied folklore in school, and continues to study zombies and pandemic disease as a hobby. She sometimes claims to be the lost Disney Princess of Halloweentown. There's a good chance that she's right.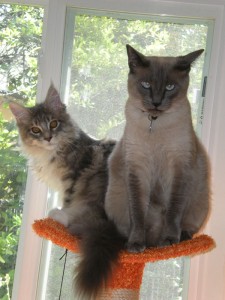 Mira's cats, whose (in the author's words) "disapproving demand for high-quality cat food really explains why I keep writing."
Seanan McGuire and Mira Grant live in the same body, and the body lives in Northern California, which has three seasons, Dry, Wet, and Actively On Fire. Feed is her third book, and the first published under the name Mira Grant.
Ana and Thea will now give things away. I appreciate this. They will not, however, give you a zombie army.
Sorry.

Thank you Mira/Seanan! And now, for the giveaway.
Giveaway Details: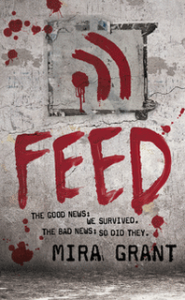 We are giving away ONE copy of Feed to a lucky reader! Entry is simple – just leave a comment here telling us what your favorite apocalyptic horror book/film/tv show/comic is. The contest is open to residents of the US and Canada only, and will run until Saturday, May 8 at 11:59 PM (PST). Only ONE comment per person, please! Multiple comments WILL be disqualified. Good luck!