Hello everyone, and welcome to our stop on the official Relic Master blog tour! Today we are thrilled to have YA author Catherine Fisher over to celebrate the re-release of the second book in her Relic Master quartet, The Lost Heiress.
Please give a warm welcome to Catherine Fisher!

The Book Smugglers: Thank you for the taking the time to chat with us, Catherine, and welcome to our blog! Your Relic Master series was actually published (as The Book of the Crow series) in Britain many years ago, but now has been brought to the United States on an exciting book-a-month release schedule. Can you tell us a bit about the transatlantic journey of this tetralogy? For example, did you have any say in the change in packaging/titles/release dates/etc?
Catherine: Hello Ana and Thea; many thanks for your questions, and for inviting me onto your blog. The Relic Master series was originally published in the UK and a few other countries but never in the US, so I was really thrilled that Dial wanted it. I was a little concerned about the changes in the names of the books, but they do make the series more accessible. I am very fond of one word, mysterious titles, (like The Interrex) but certainly The Lost Heiress is a bit more explanatory. I also knew the covers would be redesigned, and I was consulted on the designs – in fact I drew the original map, which Dial's artist has now turned into quite a masterpiece! (And I love the fact that it is hidden under the book wrappers.) I had no say in release dates etc, but the idea of a book a month is remarkably daring, and I like the fact that readers won't have to wait too long between episodes.
The Book Smugglers: The huge success of your newest duology, Incarceron and Sapphique, introduced readers to a strange new world where the remnants of high technology commingled with a decaying, almost medieval world. The same sort of sensibility applies to the setting of your Relic Master books, which blend fantasy elements with science fiction. As avid SFF fans that love the juxtaposition of high-technology in a low-tech society, can you tell us what inspired this sort of genre-mixing theme so prevalent in your work? Are there any other types of books, films, etc that inspired you, or that you would recommend for fans of this type of worldbuilding?
Catherine: It's true that both the Incarceron books and Relic Master have a mix of past and future. I like the fun of mixing incongruous elements- very obvious technology with historic things – especially in Relic Master where the society really is a medieval one, whereas in the Realm in Incarceron there is a certain amount of pretence.I'm sure there are books and films which do the same, but I can't think of any in particular that inspired me directly. As an avid reader there are probably too many to remember.
The Book Smugglers: In The Dark City, and throughout the Relic Master books, what we readers recognize as technological devices are perceived of by characters as magical – even religious – artifacts. Yet, at the same time, there are truly magical elements at work in these books, too. Can the two really coexist?
Catherine: I am interested in the idea that technology can seem miraculous, and yet if it has no power, it is useless. The keepers have the ability to tap into any remnants of power and channel that, using it to become part of the web of life that is Anara. So there are both religious and magical elements here. The idea of a religion based on relics of a lost colony is not new, but I was interested in the way it would grow, what scriptures it would generate. And what would happen if it was outlawed.
The Book Smugglers: In both your Incarceron/Sapphique duology and in the Relic Master series, you use epigraphs to introduce chapters, but these also serve another purpose as they tell a parallel story to the overarching plot at large – do you plan out these epigraphs as you are writing the main story? Can you tell us a little bit about your process for writing these often poetic introductions?
Catherine: The epigraphs tend to be written as the story develops- I don't write them all at the beginning or the end. They are very useful because they allow me different platforms or viewpoints to explain the story to myself, to work out past events and even comment on what happens in the current chapter. I like writing the poetry best, because I love poetry and it's a very different, more intuitive way of writing. So I just let my mind drift and write down the first thing I think of, and then just tinker with the rhyme and the sense until it works. They tend to have far more drafts than any other part of the books!
The Book Smugglers: For the eager US fans that you are now amassing, can you tell us if there are any plans to bring any more of your previously published works states-side? And, for your fans everywhere, can you tell us about any new projects you may be working on?
Catherine: Some of my other books will appear soon in the US. These are Crown of Acorns, a triple-time story set in the city of Bath, and Darkwater Hall,
a fantasy novel based around an old manor house in Cornwall. Each is a stand-alone novel, and a little different from the more sci-fi books.
Also due to come out is a three book set for slightly younger readers called The Glass Tower, which contains some of my early short novels.
As for new projects, I am working on what I hope will be the first of a four-part set, but at the moment it is still in development!
The Book Smugglers: As an author of Young Adult and Speculative Fiction, are you a big reader of either genre? Who are your favorite authors (of any age-audience) and/or most beloved books?
Catherine: I am fond of fantasy and sci-fi but don't get time to read much of it, as there is so much else to read. My favourite authors in the field are people like Christopher Priest, Robert Holdstock, and Alan Garner. (Try The Prestige, Mythago Wood, and Strandloper from these) I also love the early writers – William Hope Hodgeson, (The Night Land – flawed, but mind-blowing) Arthur Machen, (The Hill of Dreams, set near where I live) HG Wells, (The Invisible Man, etc) ER Edison. (The Worm Oroboros – crazy but I like it.) I enjoy that Edwardian- period mindset, where technology was new and a whole world of possibilities was opening up. I would also pay tribute to US writers like Poe and Lovecraft, who were amazing.
The Book Smugglers: We Book Smugglers are faced with constant threats and criticisms from our significant others concerning the sheer volume of books we purchase and read – hence, we have resorted to 'smuggling books' home to escape scrutinizing eyes. Have you ever had to smuggle books?
Catherine: I never smuggle books. I am an open addict!
Many thanks and I hope everyone enjoys the Relic Master set.
Catherine Fisher is the author of the New York Times bestselling duology Incarceron and Sapphique and in the Relic Master series has created a world equally as developed, dynamic and dangerous as that of Incarceron. Visit her at www.catherine-fisher.com.

About The Relic Master Quartet:

Welcome to Anara, a world mysteriously crumbling to devastation, where nothing is what it seems: Ancient relics emit technologically advanced powers, members of the old Order are hunted by the governing Watch yet revered by the people, and the great energy that connects all seems to also be destroying all. The only hope for the world lies in Galen, a man of the old Order and a Keeper of relics, and his sixteen-year-old apprentice, Raffi. They know of a secret relic with great power that has been hidden for centuries. As they search for it, they will be tested beyond their limits. For there are monsters-some human, some not-that also want the relic's power and will stop at nothing to get it.
The Relic Master set is a four book series. Each book will be released over four consecutive months this summer:
Book One: The Dark City, May 17
Book Two: The Lost Heiress, June 14
Book Three: The Hidden Coronet, July 12
Book Four: The Margrave, August 9
For more about The Relic Master books, make sure to check out the official website, or the official widget.

The Giveaway: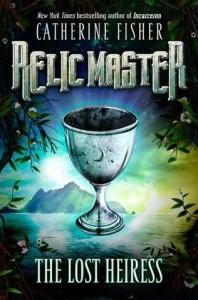 We are giving away ONE copy of The Lost Heiress to a lucky winner! The contest is open to residents in the US and Canada only, and will run until Saturday June 18 at 11:59pm (PST). In order to enter, simply leave a comment here letting us know the title of your favorite book that blends both fantasy and science fiction elements. Only ONE comment per person, please! Multiple comments will be automatically disqualified. Good luck, and make sure to stop by later today to check out our review of The Lost Heiress!