Our giveaway of Wherever Nina Lies by Lynn Weingarten has officially come to a close, and we've got THREE lucky giveaway winners to announce.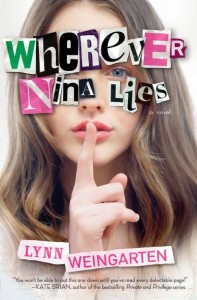 Nina was beautiful, wild, and adored by her younger sister, Ellie. But, one day, Nina disappeared. Two years later, everyone has given up home that Nina will return, but Ellie knows her sister is out there. If only Ellie had a clue where to look. Then she gets one, in the form of a mysterious drawing. Determined to find Nina, Ellie takes off on a crazy, sexy, cross-country road trip with the only person who believes she's got a chance—her hot, adventurous new crush. Along the way, Ellie finds a few things she wasn't planning on. Like love. Lies. And the most shocking thing of all: the truth.


And the lucky winners are:
Kasey Armstrong (comment #37)
Kimberly B. (comment #3)
Wendy Wallach (comment #39)
Congratulations to the winners! Now, you know the drill. Send us an email (contact AT thebooksmugglers DOT com) with your snail mail address, and we will get your winnings out to you as soon as possible!
Thank you to all that entered!