The second annual Book Blogger Appreciation Week will be taking place September 14-18. For those that don't know: last year, Amy from the blog My Friend Amy ran a fantastic event that attracted over 400 book blogs to celebrate books and reading, part of "an effort to recognize the hard work and contribution of book bloggers to the promotion and preservation of a literate culture actively engaged in discussing books, authors, and a lifestyle of reading".This year, there is a special webpage set up for the event and you can read more about it here. But this is the basic rundown: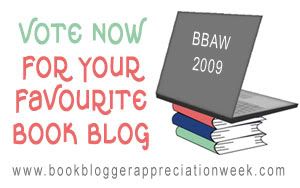 WHO Anyone who blogs about books is invited to participate. In fact, we want everyone who blogs about books and reading to be a part of this week!
WHAT A week where we come together, celebrate the contribution and hard work of book bloggers in promoting a culture of literacy, connecting readers to books and authors, and recogonizing the best among us with the Second Annual BBAW Awards. There will be special guest posts, daily blogging themes, and giveaways.
WHEN September 14-18, 2009
WHERE Here at the new Book Blogger Appreciation Week Blog! (Please note that this year there are three separate blogs and feeds—one for the main event, one for giveaways, and one for awards.)
WHY Because books matter. In a world full of options, the people talking about books pour hard work, time, energy, and money into creating a community around the written word. I, Amy, the founder of Book Blogger Appreciation Week love this community of bloggers and want to shower my appreciation on you!
We are taking active part in the festivities by being panelists for a couple of the categories for the Awards and we will do special posts and host giveaways during the week. We will also be interviewing (and being interviewed by) another blogger: Sheri from A Novel Menagerie. The event is a great way to get to know other book bloggers – and holy crapoles there are so many out there!
And of course, there are the Awards. The Nominations were announced this week and we have been nominated for an incredible 16 categories! (there was not a small amount of back and forth between us with several OMG OMG OMG AAAAAAAAAAAAAAAAA *DIES* and a few AWWWWWWWW, MAN *DIES*). These are the categories you nominated us for:
Niche Categories: (we can only effectively run ie be shortlisted for ONE of those)
Best General Review Blog
Best Romance Blog
Best Graphic Novel Review Blog
Best Speculative Fiction Blog
Best YA Blog
Everything Else( we can, potentially, be shortlisted for all of these):
Most Chatty (this one made us laugh and go: are we chatty? no. do you think we are chatty? I don't think so. do you? hummm, maybe. what about that post? THAT could be chatty. do you really think so. ok.)
Best Collaborative Blog
Most Eclectic Taste Blog
Most Humorous/ Funniest
Best Series or Feature for YA Appreciation Month (this one may or may not have made us cry)
Most Extravagant Giveaways (it's because of the Flash thing isn't it? Wait. That sounds dirty)
Best Reviews
Best Writing
Best Blog Name
Best Community Builder
Most Prolific Blog

Phew.
So what happens next? We have been asked to send links (which prompted another series of emailing back and forth with: no no no I think YOUR review of… is better. Shuddup dude, you know YOUR review of…rules. and so and so forth) to the panelists for each of the categories we have been nominated and they will decide whether we will be shortlisted or not. Then it's back to the public for voting. We have no idea if we will be shortlisted as there are so many wonderful blogs out there also nominated. But boy, are we glad for these nominations and to say that we are ecstatic is to put it VERY mildly. But we are, above all, thankful to all of you who nominated us: YOU RULE. Consider yourselves virtually hugged.