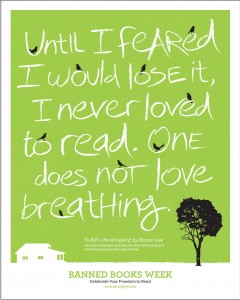 September 26 – October 3 marks Banned Books Week 2009. It's a week during which we celebrate our rights of intellectual freedom – our freedom to read, express, and explore ideas, even if such ideas are "unorthodox or unpopular." Every year, the American Library Association takes the last week of September to sponsor BBW, to raise awareness of censorship, and to celebrate the educators, librarians, and readers who have fought against book banning.
We Book Smugglers are taking this week to celebrate our intellectual freedoms, because we believe in the ALA's message and disagree with censorship and bigotry.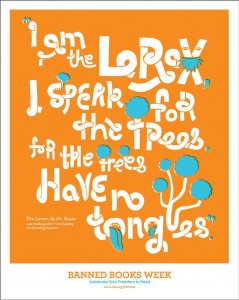 Here's a list of the Books Banned & Challenged in 2008-2009, which include:
A
Alexie, Sherman. The Absolutely True Diary of a Part?Time Indian.
Anaya, Rudolfo A. Bless Me, Ultima.
Anonymous. Go Ask Alice.
Avi. The Fighting Ground.
B
Bailey, Jacqui, and Jan McCafferty. Sex, Puberty, and All That Stuff: A Guide to Growing Up.
Barron, T. A. The Great Tree of Avalon: Child of the Dark Prophecy.
Berendt, John. Midnight in the Garden of Good and Evil: A Savannah Story.
Bowden, Mark. Black Hawk Down: A Story of Modern War.
Brannen, Sarah. Uncle Bobby's Wedding.
C
Chbosky, Stephen. The Perks of Being a Wallflower.
Colfer, Eoin. The Supernaturalist.
Collier, James Lincoln, and Christopher Collier. My Brother Sam Is Dead.
Comfort, Alex. The Joy of Sex.
Cox, Elizabeth. Night Talk.
Crutcher, Chris. Chinese Handcuffs.
D
de Haan, Linda, and Stern Nijland. King & King.
Drill, Esther. Deal With It!: A Whole New Approach to Your Body, Brain, and Life as a gURL.
Dubberley, Emily. Sex for Busy People: The Art of the Quickie for Lovers on the Go.
F
Follett, Ken. Pillars of the Earth.
G
Gardner, John C. Grendel.
Green, John. Looking for Alaska.
Grove, Vicki. The Starplace.
H
Harding, Kat. The Lesbian Kama Sutra.
Harris, Robie H. It's Perfectly Normal: A Book about Changing Bodies, Growing Up, Sex, and Sexual Health. Hartinger, Brent. The Geography Club.
Heinlein, Robert A. The Day After Tomorrow.
Holmes, Melisa, and Trish Hutchison. Hang?ups, Hook?ups, and Holding Out: Stuff You Need to Know about Your Body, Sex, and Dating.
Hosseini, Khaled. The Kite Runner.
Huxley, Aldous. Brave New World.
J
Jackson, Jon A. Dead Folks.
Jahn-Clough, Lisa. Me, Penelope.
K
Kaysen, Susanna. Girl, Interrupted.
L
Lee, Harper. To Kill a Mockingbird.
Lockhart, E. The Boy Book: A Study of Habits and Behaviors, Plus Techniques for Taming Them.
M
Maguire, Gregory. Wicked: The Life and Times of the Wicked Witch of the West.
Mason, Bobbie Ann. In Country.
Meyer, Stephenie H. Twilight Series.
Morrison, Toni. The Bluest Eye.
Myers, Walter Dean. Fallen Angels.
Myers, Walter Dean. Hoops.
Myracle, Lauren. ttfn.
Myracle, Lauren. ttyl.
N
Naylor, Phyllis Reynolds. Alice on Her Way.
Nixon, Joan Lowery. Whispers from the Dead.
O
Oh, Minya. Bling Bling: Hip Hop's Crown Jewels.
P
Picoult, Jodi. My Sister's Keeper.
Picoult, Jodi. Nineteen Minutes.
Pullman, Philip. The Golden Compass.
R
Rennison, Louise. Angus, Thongs and Full?Frontal Snogging: Confessions of Georgia Nicolson.
Richardson, Justin, and Peter Parnell. And Tango Makes Three.
Riley, Andy. The Book of Bunny Suicides: Little Fluffy Rabbits Who Just Don't Want to Live Anymore.
S
Salinger, J. D. The Catcher in the Rye.
Schreier, Alta. Vamos a Cuba (A Visit to Cuba).
Sebold, Alice. The Lovely Bones.
Seierstad, Åsne. The Bookseller of Kabul.
Silverstein, Charles, and Felice Picano. The Joy of Gay Sex.
Sittenfeld, Curtis. Prep: A Novel.
Stroud, Jonathan. The Amulet of Samarkand.
Stroud, Jonathan. The Golem's Eye.
Stroud, Jonathan. Ptolemy's Gate.
T
Tarbox, Katherine. A Girl's Life Online.
Taylor, Mildred D. The Land.
Tucker, Todd. Notre Dame vs. the Klan: How the Fighting Irish Defeated the Ku Klux Klan.
Twain, Mark [Samuel L. Clemens]. The Adventures of Huckleberry Finn.
W
Walker, Alice. The Color Purple.
Z
Zinn, Howard. A People's History of the United States.
(Items in RED denote books we have read)
Here's the list of the top 10 most frequently banned books of 2008.
Other items of note – you might want to check out the opinion piece that was in the Wall Street Journal last Friday, in which Mr. Mitchell Muncy argues that "censorship" is no longer present in the United States, and that Banned Books Week is in itself a form of censorship against concerned parents who seek to protect what their children read. He also argues that in the age of amazon, even if books are "banned" they are easily available with the click of the mouse.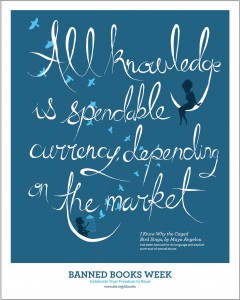 Once you're good and riled up over that, check out author Ellen Hopkins's response post at her blog. Ellen Hopkins is the bestselling author of young adult novels Crank and Glass (which are about a young girl's addiction to crystal meth) and was recently banned from speaking at a middle school in Oklahoma.
And for more information, take a look at the most recent statistics concerning book banning in the United States, by year and by reason (click to enlarge):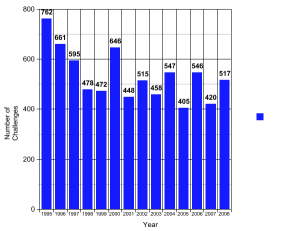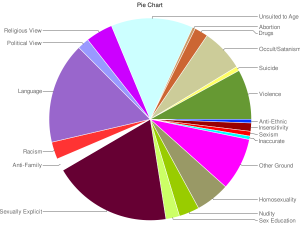 Then go forth and check out other bloggers who are celebrating Banned Books Week:
Angie of Angieville
Karen of Karen Mahoney
Katie(babs) of Babbling About Books, And More!
And finally, we leave you with a particularly memorable, and hilarious audio clip from Field of Dreams. You'll remember the PTA scene? I think Annie Kinsella says it best:
Annie Kinsella: They're talking about banning books again! Really subversive books, like "The Wizard of Oz"…"the Diary of Anne Frank"…
And of course:
Annie Kinsella: At least he's not a book burner, you Nazi cow.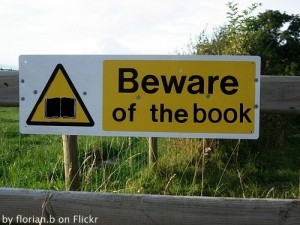 Beware! Knowledge lurks for those who seek it!