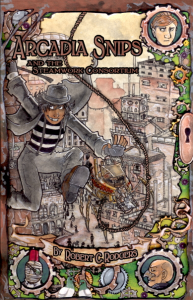 Title: Arcadia Snips and the Steamwork Consortium
Author: Robert C. Rodgers, illustrated by Todd Wills
Genre: Steampunk, Fantasy, Adventure, Comedy, Young Adult
Publisher: Steam-Powered Press
Publication Date: October 2009
Paperback: 288 pages
In an era of bygone anachronisms and steam-powered ambulatory engines, a sharp-witted street-thief with a heart of semi-precious metal finds herself locked in a battle of wits against a secret plot to bring the city she loves to its knees. Arcadia will need to enlist the help of a reformed mad scientist, a stern suffragette, and a persnickety pigeon to unravel the mysterious past of the Steamwork Consortium – and stop the cabal of sinister mathematicians who would use that past to destroy all of Aberwick. Arcadia Snips and the Steamwork Consortium is both a cautionary tale against reckless mathematics and an accurate historical account all rolled up into one. In fact, the story is so accurate that you might consider it more of a history lecture than an illustrated novel.
Stand alone or series: Stand alone novel
How did I get this book: Review Copy from the author
Why did I read this book: Though we mostly review books from larger publishers, we also like to share the love with independent/self/small-presses too – provided the book sounds like something we want to read. When we received a review query from the author of the book last year, I read the synopsis and first chapter online and was instantly hooked – and what better a time to review this novel than during Steampunk Week?
Review:
"Dear Madame," the letter read. "Although we remain appreciative of your continued attempts to bring a feminine touch to the world of aeronautics, the Royal Society of Aviation regrets to inform you that your design shall fly only once swine have taken to the skies."

The letter was framed and mounted on the dining room wall.
So begins Arcadia Snips and the Steamwork Consortium (henceforth Arcadia Snips), described quite aptly in its tagline as "Being A Wholly Accurate Historical Account Concerning Matters Of Steam, Skullduggery, And The Irresponsible Application Of Reckless Mathematics In The 19th Century." Of all the books I've read this week (so far), Arcadia Snips is by far the most traditionally Steampunkish (Steampunky?). Taking place in the late nineteenth century, the novel includes no shortage of creative machines, flying contraptions, and other steam-powered miscellanea. There's even political intrigue, a dash of romance, and Great Peril – all of this in spades. Alternating storylines between "the past" (twenty years in the past), in which an unlikely partnership forms between three far-sighted individuals, and the present, in which a thief named Arcadia finds herself in the employ of a powerful Count, as his consultant in the Watts and Sons Detective Agency's investigation of the murder of Basil Copper.
Arcadia Snips, the titled protagonist, is a delightfully quirky heroine in this delightfully quirky book. Just look at our initial introduction to her:
Beneath Arcadia Sinps' derby hat and short black curls was the face of a silver-fanged cherub — a mocha-toned antel with enough charm to sell a pack of matches to a man doused in lamp oil. But whenever she grinned, the very tip of that silver fang would tuck over the edge of her bottom tooth. It gave her a savage, frightful look.
It is also worth mentioning that we first meet Arcadia as she is shackled in prison (having escaped from jail twice, and about to accomplish this wriggling, lock-defying feat for the third time in a row). She's a thief, a wise-cracker, and, again, altogether delightful with her wit and verve. And while Arcadia on her own as a protagonist would be enough personality for this book teeming with silly cleverness, she also has a male counterpart in young William Daffodil, the son of two "mad scientists" (that greatly endangered the city of Aberwick in the past storyline) and a young man that is much more interested in the safety of mathematics than the perils of mad science. This pair…well, they just work.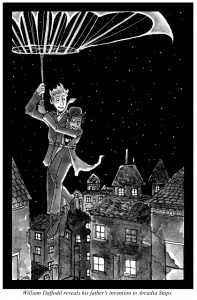 Beyond these protagonists, there are the "past" characters that are wonderful in and of themselves – Abigail Parsley, for example, has one of the best opening sequences in the book. We also get into the minds of villains, a most unique perspective.
What I loved the most about Arcadia Snips, beyond the characters, was the pure delight of reading the book entails. It's silly, to be sure, but so witty and absurdly fun, it's all the better for it. Dialogue between characters verges on the persnickety and crazed at times, but the authenticity and eminent readability of this novel make it all worth it. For every misstep, there's a gem like this:
The city of Aberwick was a topographical nightmare wrested from the laudanum-fueled fever dreams of half-mad cartographers. It was cradled in a yawning canyon of volcanic rock, with communities swelling up into massive heaps of brick and timber; the trains flowed aside, above, and even through these mounds.
As I said, truly wonderful stuff.
I also should mention that Arcadia Snips is an illustrated novel, with the visual stylings of artist Todd Wills. While I'm not a huge fan of the cover (a bit cartoony and a strange color scheme – does the cover version of Arcadia look like Calamity Jack to anyone else?), I do love the black and white illustrations within as they capture the book's mood perfectly.
I'm always a little bit scared of taking on independently or self-published books – but books like Arcadia Snips remind me of why I agree to do so in the first place. Every now and then a true undiscovered gem comes along, and I'm happy to say that this book is one of them.
Whole-heartedly recommended to all looking for a farcical, somewhat deranged (in a good way!) steampunk read. Arcadia Snips and the Steamwork Consortium is a delight.
BUT IS IT STEAMPUNK? Oh, hell yes. It's the most traditionally steampunk novel I've read this week!
Notable Quotes/Parts: From the introduction:
ACT 1

"In yet another example of tragically misapplied genius, the mysterious anarchist who calls himself Professor Hemlock has done it again—several of the Eastern Aberwick Bank's calculation engines have been crippled through the irresponsible application of reckless mathematics. The rogue chaotician claimed responsibility for the financial disaster in a letter delivered to the Isle Gazette (see page 9a), citing the company's cutthroat business tactics, support of imperialism, and rude bank tellers as justification. Authorities continue to investigate the anarchist's activities while urging all citizens to behave no differently during this time of fiscal duress. Meanwhile, one question lingers upon the lips of every man, woman, and child: Who is Professor Hemlock?"
—Front page of the Isle Gazette, 'PROFESSOR HEMLOCK STRIKES AGAIN'
Additional Thoughts: The coolest part about Arcadia Snips and the Steamwork Consortium? It's available in its totality for FREE online!
You can check out the book's website HERE and the illustrator's website HERE. To download a free PDF copy of the book, go HERE. You won't regret it.
Rating: 7 – Very Good
Reading Next: Boneshaker by Cherie Priest