Title: Raiders' Ransom (UK titles Reavers' Ransom/Flood Child)
Author: Emily Diamand
Genre: Speculative Fiction, Post-apocalypse, Dystopia, Young Adult
Publisher: The Chicken House (Scholastic) (US & UK)
Publication Date: July 2009 (UK) / December 2009 (US)
Hardcover: 352 pages
Stand alone or series: Book 1 of a planned series
How did I read this book: ARC from Publisher
Why did I read this book: We were sent an ARC for this title from the publisher, and one glance at the synopsis – a flooded, post-apocalyptic London overrun with pirates and danger – and I was sold. Game, set, match.
Summary: (from amazon.com)
It's the 22nd century and, because of climate change, much of England is underwater. Poor Lilly is out fishing with her trusty sea-cat when greedy raiders pillage the town–and kidnap the prime minister's daughter. Her village blamed, Lilly decides to find the girl. Off she sails, in secret. And with a ransom: a mysterious talking jewel. "If I save his daughter," Lilly reasons, "the prime minister's sure to reward me." Little does Lilly know that it will take more than grit to outwit the tricky, treacherous piratical tribes!
Review:
The year is 2216, and a thirteen-year old orphan named Lilly leaves the home she shares with her Grandmother on a morning like any other, searching the coastline in her small boat with her seacat (named Cat) for fish. When Lily returns home, however, her life is turned upside down – fearsome Raiders have invaded her village, abducting the Prime Minster's daughter, burning the village ships, and killing Lilly's Grandmother. The Prime Minister, furious at his seven-year old daughter's kidnapping and the cowering villagers who did nothing to prevent the abduction, turns his wrath on the townspeople, forcing all the men and boys into jails with the intent to execute them all as an example. With Lilly's best friend, Andy and his father among those captured and waiting to be put to death, Lilly decides to take matters into her own hands. Stealing a letter and a rather large, very precious jewel from the Prime Minister's sister, Lilly cuts off her hair and masquerades as a boy and makes way for Lunden to find the raiders and pay them ransom for Alexandra's return home. Along the way, Lilly grudgingly befriends a young Raider boy named Zeph – who happens to be the son of the Raider leader responsible for the kidnapping. As their two paths intertwine, Lilly and Zeph come to a crossroads and must decide with whom they will align themselves – especially when it turns out that the large jewel Lilly has taken for ransom is anything but a gem, and instead is something infinitely more precious. The ransom item is in fact a powerful, self-aware war-game computer; a relic from the time before "the Collapse" and the floods that have isolated and destroyed much of lower England. And even more troublesome is how desperately Greater Scotland – the dominating, more advanced nation to the north of the water-logged ten counties of England – wants the computer, and will go to any lengths to recover it.
Ms. Diamand's novel came to publication after Reavers' Ransom (the novel's original title in the UK) won the first ever London Times/Chicken House Children's Fiction Competition, and I have to applaud the judges' taste. Raiders' Ransom is a complete surprise of a novel – behind its bubbly, almost cartoonish exterior, it is a swashbuckling adventure and a cautionary post-ecologocial apocalypse thriller, narrated smartly by two different and genuinely likable protagonists. I say this is a "surprise" of a novel because I honestly wasn't expecting to like it nearly so much as I did – but once I got started with this book, I couldn't put it down. From its engaging, action-filled plot and its compelling, wholly believable characters, Raiders' Ransom is an incredible start to a very promising series, reminiscent of Philip Pullman's The Golden Compass or J.K. Rowling's Harry Potter and the Sorcerer's Stone. (Yeah, I just dropped those two comparisons. That's right.)
In terms of pure story and plotting, Raiders' Ransom is awesome in its depth and its simplicity. The novel is deceptively slim, and deceptively quick to read. The writing is such that middle grade readers should have no problems picking up this book – but don't mistake this for a dearth of sharp, carefully executed, hefty ideas. The simplicity of the book actually works to its favor – there's no excessive, boring rundown of HOW exactly things became the way they are, no data-dumps concerning humanity's demise into a sort of 18th century level of existence. That's not to say that the Collapse isn't exampined at all – but Ms. Diamand takes a much more clever route in examining humanity's demise, dropping tantalizing hints and delightful little easter eggs (one of the Raider tribes is from "Chell Sea", a Metallica t-shirt makes an appearance, and even Harry Potter rears his head in the novel). This also means that there's little to staunch the flood of action in the book – which is another point in Raiders' Ransom's favor. The pacing is impeccable; there's nary a dull moment in the book. Furthermore, the simplicity of the writing only strengthens the impressions that the narrating characters make on readers – adding an even stronger sense of genuineness to these two young teen protagonists.
Ms. Diamand's pose sparkles, as she has a gift for storytelling and first person narration – not only does she convincingly create a voice for a thirteen-year old fisher girl in a low-technology post-apocalyptic setting, she also manages to do it for an adolescent Raider boy as well. As each chapter alternates between Lilly's and Zeph's narratives, this easily could have been a confusing, jarring read – but Ms. Diamand creates such a distinct voice for each character, it's easy to discern who is narrating at any given time. Heck, even the dialects of both characters are distinct (and as both of them speak in a sort of derivative slang, this is a pretty big accomplishment). The dual narrators also add a broader understanding of this futuristic vision of a drowned Britain, as told from the clear eyes of two very different children of two very different backgrounds. Lilly, an orphan and fishergirl, reviles the idea of marriage (at thirteen, she should already be paired off and married), and instead of letting her best friend face execution or merely accepting her grim fate following her grandmother's death, she undertakes the dangerous task of rescuing Alexandra. She's headstrong and brash, but a truly compelling heroine – especially for young female readers.
Then, there's Zeph, the Raider boy who so desperately wants to impress his powerful father. The Raiders from Lilly's perspective re boogeymen – pirates that will eat their captives, and burn and pillage anything in their path. But Zeph offers a different insight to the cutthroat world of Raider Clans and lends a humanity to a group that Ms. Diamand could simply have boiled down to "Bad Guys." Zeph's struggles, his sibling rivalry with his older (but illegitimate and therefore lower ranked) brother, his attempts to get his father and his clan to take him seriously and see him as a man are very compelling character storylines. There is so much potential for growth and explication here with Ms. Diamand's characters; Raiders' Ransom gives me the feeling that she's only begun to scratch the surface of this compelling new world and her young characters. In this sense, the novel feels very similar to the world of Ms. Rowling's Harry Potter – with both first books, there's this sense of wonder and the possibility for so much to develop as the characters grow older and their adventures continue. And this, dear readers, is a rare, beautiful gift.
Notable Quotes/Parts: Lilly's dramatic decision:
When I get home, I hurtle about getting clothes, oilskins, a knife, extra rope, my rope splicing kit and what food I can find. Which turns out to be a bag of oats and some hard sea biscuits. Well I'll just have to catch the rest.

"I'm going on Mrs Denton's mission," I say to the empty dark house. Hoping Granny's there somehow, hoping she can hear me. "So I'll have to take the money from the jar."

I put my hand under Granny's bed and pull out a small jangling jar. Granny's savings jar, where she was hoarding every extra penny for the winter storms, when it's too rough to go fishing. The coins rattle out of the jar and I put them into Granny's purse, which hangs from a loop of leather. I put it round my neck, next to Granny's locket. It ent heavy, there ent many coins in it, but it should last me. After all, things can't cost much in London, can they?

I pat my shirt, where the bulge of the purse shows through. I reckon the purse should be safe from muggers, cos all that really shows of it is a bit of leather at my neck. But what about the jewel? All it'd take is one peek and any thief would be after me. After a bit of thinking, I take out my fishing belt. It's got plenty of pockets for stashing spare line and hooks and all the other stuff you don't want to go searching for when you're out.

I wrap the jewel in a dirty cloth, then I squeeze it into the largest pocket of my belt, where it just about fits. It looks bumpy, but I reckon it'll be safe. After all, who'd ever think there's a big jewel inside a fisher belt?

I've got my bag on my back, and I'm heading for the door, when I catch a glimpse of my reflection in the dark window; round brown face, dark brown eyes, bundled up in stained oilskins, long hair tied back in a ponytail. Girl's hair. But Mrs Denton said she was looking for a captain or a young lad to do her mission. I take the letter out of my bag, and carefully prise it open, trying not to tear the envelope too badly. I read down through her scrabbly writing, and all her fancy phrases. Halfway down are the words that matter.

"I commend this man to you. Please give him any aid you can."

This man! I ent a man! How will I explain that to Mrs Denton's London trader? What if he guesses I took the letter and the jewel? He'd never help me then.

And that's why I take out Granny's kitchen scissors, use the window as a mirror, and start to cut my hair. When I've finished, I look into the window and there's a boy looking back at me. I lift my hand to my short hair, and he does the same. I open my mouth at what I've done, and he opens his right back. I'm a boy now. A boy who Mrs Denton could have asked to go on a mission.
You can read more about Raiders' Ransom online at Emily Diamand's official website HERE.
Additional Thoughts: Check out the awesome Japanese covers for the book:
Awesome, no? Also, check out the upcoming sequel, Flood and Fire out in May 2010.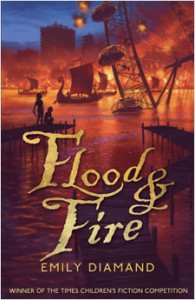 Flooded England, 2216 …

Lilly Melkun has outwitted the bloodthirsty reavers, who prowl the waters that cover most of England – and has escaped to Cambridge. But Lilly is far from safe, because still in her keeping is PSAI, the last hand-held computer in existence – a now malfunctioning treasure from the past.

Inside the jewel-like computer, is a sinister- looking chip with an unknown purpose. Worse follows, when the professors of Cambridge plug it into an ancient mainframe computer, setting in motion a fiery chain of events leading back to London.

A false anti-terrorist alert has been activated. Strange, out-of-control robots from a long-ago technological time threaten to use 'maximum force' to control everything in their way. Once again, it's up to Lilly, Zeph and friends to save the world from burning.
Verdict: If you couldn't tell – I loved the book. It will be a fun adventure for younger readers, but also has some surprising heft and depth that will satisfy older ones too (there are no easy bad or good guys – all of the adults in the book are of questionable motives and allegiances, in a very C.S. Lewis kind of way). Absolutely recommended, and I cannot wait for the next book in the series.
Rating: 8 – Excellent
Reading Next: Witch and Wizard by James Patterson & Gabrielle Charbonnet
**********
Giveaway Details: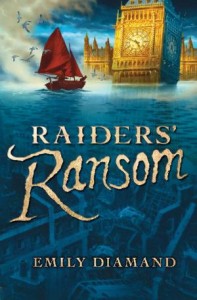 Hey, it's another giveaway! We have ONE copy of Raiders' Ransom to give away to a lucky reader. The contest is open to residents of the US only, and will run until Saturday December 19 at 11:59 pm (PST). To enter, leave a comment here letting us know what your favorite environmental (post) apocalyptic book or movie is. GOOD LUCK!