Title: Dull Boy
Author: Sarah Cross
Genre: Speculative Fiction, Superheroes, Young Adult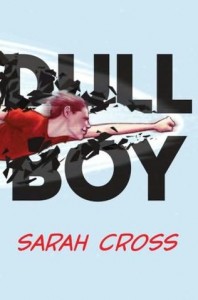 Publisher: Dutton Juvenile
Publication Date: May 2009
Hardcover:308 pages
Why did I read this book: I'd had my eye on Dull Boy since last year, and kept hearing wonderful things about it on the author blogs of Karen Mahoney, Carrie Ryan, and . I finally got my copy from Amazon, and was eager to dive right in.
Summary: (from SarahCross.com)
Sometimes I wish I didn't care what would happen if anyone knew the truth about me. But I do care. I have to keep this – super strength, flying – a secret. No one can know – not my parents, not my friends… It's just that it's getting harder to hide it.
Superpowers are awesome – unless you actually have them, like Avery does. There's only so much he can pass off as "adrenaline" before people start to get suspicious. Probably it's best to lie low, so guys in white lab coats don't come to carry him away, to find out what makes his freakish body tick. Who wants to be vivisected? But flying under the radar becomes a whole lot harder when you can actually fly. It's dangerous to be different, so for now he'll pretend to be normal, unremarkable Avery – a dull boy – anything to keep his secret safe.
What he doesn't expect is the horrifying truth about where his powers came from, who else might have them, and the madness of one villain's plan to turn this superpowered dull boy into something even more powerful and amazing.
Review:
Avery is your average fifteen-year old boy. Average grades, average friends, average looks. Except Avery is hiding a decidedly UN-average secret: he actually possesses superstrength and the ability to fly. The previous year, Avery saved a baby from being crushed by a car in a superhuman feat that others chalked up to adrenaline but in actuality was the unleashing of his Superman-like powers. Since then, he's been struggling to keep his powers secret (for fear of being relegated to a government laboratory for the rest of his days) and maintaining his average – dull, if you will – image. But it's hard to keep something so extraordinary under wraps, especially when you're a teen and want to explore the extent of your strange new talents – and Avery's friendships and relationships with his parents suffer as a consequence (getting pranked into waiting for a surprise party in a public coffee house while wearing pokemon decorations is no fun; neither is having to deal with the guilt of denting household appliances after dropping the washer and drier while juggling them).
But then, something even more extraordinary happens to Avery, who thinks he's seen it all…he discovers that he's not alone.
Under the leadership of a truly bizarre girl genius named Darla, Avery joins a hodgepodge team of heroes – including a pretty artsy gal with gecko-like powers named Sophie, a troubled walking vortex named Nicholas, and the reluctant, but totally awesome and eerily feline Catherine. Together, these five teens decide to put their powers towards the greater good, embarking on rescue missions and thwarting small time crooks. Of course, things are never so simple in the world of superheroes – and where there's a hero, there's almost always a villain. Enter the beautiful ice queen Cherchette, her frosty son Jacques, and Cherchette's shapeshifter sidekick Leilani. Cherchette contacts the teens, asking them to come away with her, promising to teach them how to control their powers – but Avery isn't sure. Darla's convinced that she's up to no good, but for the troubled Nicholas with his significant and destructive powers, Cherchette seems like the only real way he can control his powers.
Then, there's the question of why Avery and his friends have powers in the first place, and just how they received them. Together, the teens must uncover the mystery of their origins and whether or not to trust the mysterious Cherchette…
Dull Boy is one fantastic little book, and probably one of the best-kept secrets in blogland. It's a classic superhero origins story with a geeky twist; involving cool superpowers, wicked inventions like killer robots (in my opinion, there's a shocking dearth of killer robots books these days, and it's wonderful to see Ms. Cross bringing them back), and most importantly, wonderful characters. While Dull Boy is pretty standard fare so far as plotting is concerned, the characters are all-out fabulous and make this a book easily worth the hardcover price tag.
Narrated entirely in the first person present tense by so-called "dull boy" Avery, the voice is one of the greatest strengths of the novel. As regular readers of this blog know, I'm extremely discriminating when it comes to the dreaded first person present tense – it's a style that is extremely difficult to pull off, most often resulting in some lame-o Captain Kirk style cheese. But in Dull Boy, Avery's narration is pretty damn near flawless. As a hero (literally!), Avery is awesome – he's got this fantastic, hilarious internal monologue with a fun sense of humor that truly delights. For example, of his first encounter with Darla:
Anyway: so the open-mike thing starts, and the first person to bound up there is the geek-goth-punk-circus girl. Seriously, I don't know what she's supposed to be. Tack on a pirate patch and it might start to make sense.

No, it wouldn't. […]

Hmm. Maybe I judged this girl too harshly. I cross my arms over my chest, nod my tentative approval. This might be awesome. I hope it's about Optimus Prime.

She reads, complete with dramatic pauses and Shakespearean gestures[…] WTF kind of poem was that? That was horrible! It's worse than the limericks I wrote for our poetry unit in seventh grade. Plus, the whole time she was reading it, she kept looking at the angry floor-sweeping girl with these "meaningful" glances.

Wait – was that a lesbian crush poem?
LOVE Avery. But even more than Avery with his wonderful inner monologuing, there are the female characters in Dull Boy that steal the freaking show. First, there's Darla (said geek-goth-punk-circus-pirate girl, above). She's a RIOT. A genius with an impressive IQ but the social skills of a toddler, Darla is the brains of this Teen Titans style operation. She's the Xavier to their X-Men, the Oracle to their Birds of Prey, the Morpheus to their Matrix, the Splinter to their Ninja Turtles. Well, she's all of these things as well as being one brilliant, opinionated, hot-headed and completely hilarious chick. I loved her from first sight – from her brilliance with mad-scientist style inventions (boomerang bombs and awesome robots), contrasted sharply with her own sense of awkwardness and a deep-seated desire to belong.
Then, there's my favorite character in the whole book – the Selina Kyle-esque Catherine (minus the suavity & gorgeous looks part). With her super sharp claws, her messy brown hair, her feline sense of agility, speed and balance, Catherine is a Catwoman for the younger generation. Like any cat, Avery and Darla have to really work to get her trust and attention as she basically just wants to be left alone. She's fiesty, standoffish, and totally not interested in a thing Darla has to say to her…but this is part of Catherine's charm. Catherine too guards a secret and tries to keep people away in a manner resembling a defense mechanism – but when we finally learn her particular story, it's a moving thing.
The other three main characters are similarly well-drawn. There's Sophie (whom Avery has a crush on), with her less-spectacular powers of stickiness. Though she's of no interest to Cherchette (she's only interested in more impressive powers), Sophie is a strong female character in a way separate from Darla's brilliance and Catharine's take-it-or-leave-it attitude; she's milder mannered, softer, and more understanding of others. It's Sophie that brings Jacques into the team because of her ability to trust and accept. Her manga-drawing, Hello Kitty loving side just adds to her charm. Then, there's the tortured Nicholas – whose particular brand of uncontrollable superpowers can mean complete destruction to anyone unfortunate enough to be near him. I really felt for Nicholas reading this book – from his military father's gruff expectations, to his fear of harming everyone around him. He's very Rogue (of the X-Men), and I mean this in the best way. Finally, rounding out the team, there's Jacques – with lesser powers than his mother and completely ambiguous in his initial motivations and intentions to Avery. Jacques is a character that we learn about in layers; initially he seems untrustworthy, but by the conclusion of the novel, we finally know where he stands. It's expertly written by Ms. Cross, and I enjoyed the uncertainty of the character.
Speaking of uncertainty, what's a superhero book without a nefarious villain? Well, in Dull Boy, things aren't quite so dichotic. Cherchette of the questionable intentions and likely villain isn't so simply "good" or "evil" – like the best comic books, she's a layered character with her own convictions from a troubled past, and the revelation of her backstory is expertly done. It's an impressive feat, and Ms. Cross handles her characters with aplomb.
While Dull Boy isn't particularly groundbreaking or deep, it's a well written book, and so far as I can tell a hidden gem with massive crossover appeal. Young adults and adults alike can appreciate this superb story, and I'm already eagerly anticipating the sequel. In a world where so many whiney or wishy-washy heroines seem to prevail in teen literature – ahem! Twilight – Dull Boy is an exhilarating breath of fresh air. THIS is a book I want my ten year old sister to read, with complicated but unique heroines that don't rely on love interests to define them.
Absolutely positively recommended for all readers.
Notable Quotes/Parts: So many to choose from! As I've said above, Avery's narration is really top notch. I'll pick two – both dealing with the fabulous Darla. First, there's her dossier (on herself):
I refused to believe I was destined to lead the life of a lonely, eccentric hermit. All I had to do was put my mind to the problem and work out a solution. If I couldn't attract kids with my genius, I would infiltrate their playdates and bring my genius to them. Surreptitiously, of course.

So, in the pursuit of true friends (who I hoped would one day become kindred spirits), I willingly engaged in inane activities like dressing up Bratz dolls, and pretended that a jolly fat man squeezing down a chimney (with a sack of toys, no less) made logical sense. And all I asked for in exchange was a chance to play music from Wagner's Ring Cycle so I could teach them something about leitmotifs, which I thought were pretty awesome. Baby steps, right? But that sort of compromise was beyond the seven-year-olds in my neighborhood.
And then, there's more Avery humor that had me in giggles:
"I'm ready," I say.

"Fine. But this is a horrible idea," Darla mutters, hugging me tightly, a little too long. "We're not leaving you on your own. I'm going to come up with a plan, and I'll–"

"Please don't," Jacques says. "You have no idea what you are dealing with. You'll only make things worse."

Darla does something weird then — I mean weird even for her. She throws her arms around Jacques in this intense embrace, hands roaming across his back before she pulls away. I have to blink a few times to make sure I'm not delirious. That was like watching my dad French-kiss a raccoon — I feel violated on so many levels.
Additional Thoughts: Initially, I was planning on doing a Superhero day with a few titles centered on this theme – which there are a growing number of in the Young Adult genre. In addition to Dull Boy, I present two other superhero novels to entice the tastebuds:
Hero by Perry Moore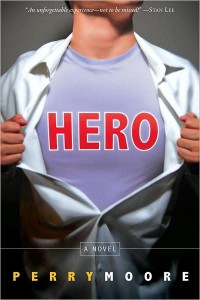 The last thing in the world Thom Creed wants is to add to his father's pain, so he keeps secrets. Like that he has special powers. And that he's been asked to join the League – the very organization of superheroes that spurned his dad. But the most painful secret of all is one Thom can barely face himself: he's gay.

But becoming a member of the League opens up a new world to Thom. There, he connects with a misfit group of aspiring heroes, including Scarlett, who can control fire but not her anger; Typhoid Larry, who can make anyone sick with his touch; and Ruth, a wise old broad who can see the future. Like Thom, these heroes have things to hide; but they will have to learn to trust one another when they uncover a deadly conspiracy within the League.

To survive, Thom will face challenges he never imagined. To find happiness, he'll have to come to terms with his father's past and discover the kind of hero he really wants to be.
Evil Genius by Catherine Jinks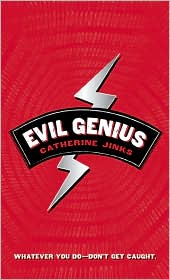 Cadel Piggott has a genius IQ and a fascination with systems of all kinds. At seven, he was illegally hacking into computers. Now he's fourteen and studying for his World Domination degree, taking classes like embezzlement, forgery, and infiltration at the institute founded by criminal mastermind Dr. Phineas Darkkon. Although Cadel may be advanced beyond his years, at heart he's a lonely kid. When he falls for the mysterious and brilliant Kay-Lee, he begins to question the moral implications of his studies. But is it too late to stop Dr. Darkkon from carrying out his evil plot?
Because of time constraints, I wasn't able to review these two (YET), but I recommend checking them out at the very least!
Verdict: With a plot that zips along faster than a speeding bullet, characters more powerful than a locomotive, and a narrative ability to leap tall buildings in a single bound, Dull Boy completely delights from start to finish. Absolutely recommended.
Rating: 8 Excellent
Reading Next: Tender Morsels by Margo Lanagan