Lisa Mantchev is a YA debut author, writer of the recently published Eyes Like Stars – an absolutely fabulous, fun book which became one of Ana's favorite reads this year (reviewed here). We invited Lisa to write a guest post for our YA Appreciation Month and she came up with something….different.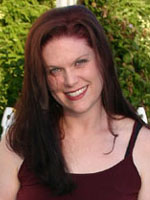 Ladies and Gentlemen, please welcome Lisa Mantchev and part of the cast of Eyes Like Stars (and of Shakespeare's A Midsummer Night's Dream), the fairies Moth, Cobweb, Peaseblossom and Mustardseed:
__________
(LISA sits down at the desk in Bertie's Bedroom Set,, boots up her trusty laptop, and cracks her knuckles.)
MOTH: (Interrupting) Whatcha doin'?
(LISA jumps, nearly upsetting the cappuccino she just procured from the Patisserie Set. The rest of the fairies flit in to land atop the keyboard. MUSTARDSEED jumps repeatedly up and down atop the "Q" key, while PEASEBLOSSOM attempts to delete the extra letters.)
LISA: I'm going to write a guest blog for The Book Smugglers Young Adult Appreciation Month–
COBWEB: I appreciate YA. I appreciate it lots.
MOTH: Oh, really. (Giving him a shove) You don't even know what YA is.
COBWEB: (Returning the shove and adding a kick to the shins) I do! We have tons of YA stuff in the theater.
MOTH: (Folding his arms) I am not YA, just because I am a fairy.
COBWEB: Not you. (Careening Stage Left and jabbing a finger at The Book.) Look in The Complete Works of the Stage. Lots of young adult material either started as plays or was produced onstage.
PEASEBLOSSOM: Peter Pan.
MUSTARDSEED: Mary Poppins.
COBWEB: Alice in Wonderland.
MOTH: Why does so much of it end up as musicals and pantomimes?
LISA: Because young audience members like singing. And jazz hands. And spirit fingers.
PEASEBLOSSOM: You really should have included more musical numbers in your novel.
LISA: Bertie was of the opinion that one musical number was one musical number too many. Where is she, anyway?
PEASEBLOSSOM: She pilfered some Wicked Green dye from the Wardrobe Department and locked herself in the Ladies' Chorus loo.
MOTH: (He hops about for a moment, trying to vocalize his next question.) So is children's theater mostly turn-of-the-century British material? Pip pip, cheerio!
LISA: (With a laugh.) Not just that. The Stinky Cheese Man is newer–
MUSTARDSEED: Oh, I like him!
LISA: –and tons of innovative stuff gets done with puppetry. Plus quite a lot of Neil Gaiman's work has been produced recently, like Wolves in the Walls.
COBWEB: But why kid's books? Why not big dreary novels?
LISA: (Leaning one elbow on Bertie's desk and trying to pretend she doesn't have a cupcake sequestered in the jewelry box for safekeeping.) Because of the level of imagination involved. It's great fun to costume and build sets for imaginary lands and fantastic creatures…
MUSTARDSEED: Plus that's what has lots of Box Office draw. (He pauses and sniffs the air.) Does anyone else smell chocolate?
(Three other fairies' noses sniff the air.)
LISA: (Trying to distract them) The classics, too, though. Don't you think that most of Shakespeare's stuff can be done for kids?
MOTH: Why not? Well, maybe not the blood-and-guts bits, but Taming of the Shrew is actually way more tame than some of the Punch & Judy shows that were around a few years back.
COBWEB: I dunno when children got so precious that would couldn't show them a good beheading. (Disdainful noise.)
PEASEBLOSSOM: And fairies are not all happy jam sandwiches, either. We are mean and vicious, I tell you!
LISA: It's hard to take you seriously when you're covered in that much glitter.
PEASEBLOSSOM: (Looking down) Oh, dear.
LISA: I like that children's theater isn't just limited to the stage. When I was teaching English, I used drama a lot in the classrooms… very effective for young students and reluctant readers when you trade books for scripts. That's called Reader's Theater, and it can be used for classic novels, multicultural projects, and historical studies.
MOTH: Oh-hoo, look who sounds all knowledgeable and stuff. (Jabs at her with a toothpick) I swear I smell chocolate–
MUSTARDSEED: So what would it take to bring Eyes Like Stars to the stage, you think? Besides four people small enough to play us?
LISA: A big budget and a visionary creative team, I think. Plus figuring out how to flood the auditorium without doing any actual water damage. (She laughs.) The great thing is how much YA material out there today would make spectacular plays. Instead of producing Alice in Wonderland, maybe a theater company should consider The Looking Glass Wars. Some of the realistic young adult novels published in the last few years would do really well as stage plays.
COBWEB: Lots of strong character work going on in those sorts of books, that's for certain.
MOTH: (Managing to wrest open the jewelry box.) Hey, there's a cupcake in here!!!
(When the others rush to investigate, LISA slams the lid closed and adds a strip of duct tape as insurance.)
LISA: You surely aren't your mama's pixie-dust fae. In the stage version of ELS, you four will be played by evil, sugar-high hummingbirds.
CURTAIN
Lisa Mantchev grew up in the small Northern California town of Ukiah and can pinpoint her first forays into fiction to the short stories she thumped out on an ancient typewriter. She now makes her home on the Olympic Peninsula of Washington state with her husband Angel, her daughter Amélie, and four hairy miscreant dogs. When not scribbling, she can be found on the beach, up a tree, making jam or repairing things with her trusty glue gun. Eyes Like Stars (Feiwel & Friends) is her debut novel, and the first in the Théâtre Illuminata trilogy.
A big cheerio to Lisa and Cobweb, Peaseblossom, Mustardseed and Moth (you could have left a cupcake for me, though).
Giveaway details: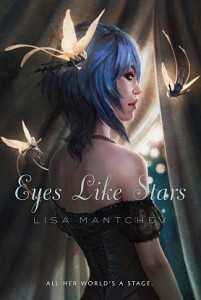 We have one copy of Eyes Like Stars to giveaway. The contest is open to anyone, and will run until Saturday August 1st 11:59pm (PST). To enter, simply leave a comment here. Good luck!