Welcome to Smugglivus – Day 32!
Hey, it's the New Year! Woohoo! Happy freakin' New Year!
And in light of the fact it's 2010, we are offering, you guessed it, another Flash Giveaway*. The New Year Edition. Up for grabs we have a mixed bag of genres. Only ONE batch this time:
You know the drill! The contest is open to mailing addresses in the UNITED STATES ONLY, and will run until Saturday January 2 at 11:59 PM (PST). In order to enter, simply leave a comment here. ONE comment per person, please! Multiple or duplicate comments will be disqualified. Good luck!
And from us Book Smugglers to you…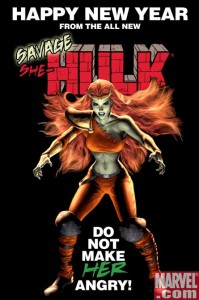 HAPPY NEW YEAR!!!!
*Ok, so we couldn't find a Flash New Year picture, so technically this is the Savage She Hulk New Year Giveaway. So sue us! Just don't make us angry. You wouldn't like us when we're angry…