Title: Once Dead, Twice Shy
Author: Kim Harrison
Genre: Young Adult, Urban Fantasy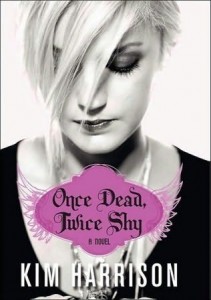 Publisher: Harper Teen
Publication Date: May 2009
Hardcover: 240 pages
Stand alone or series: Book 1 in the Madison Avery series, though there is a preceding short story/novella "Madison Avery and the Dim Reaper" in the anthology Prom Nights From Hell.
Why did I read this book: It's no secret that I am a HUGE Kim Harrison fangirl – her adult urban fantasy series, The Hollows, is hands down my favorite currently running UF series. When I heard that Ms. Harrison would be dabbling in an entirely new series – in the YA genre no less! – I was ecstatic.
Summary: (from HarperTeen.com)
My name is Madison Avery, and I'm here to tell you that there's more out there than you can see, hear, or touch. Because I'm there. Seeing it. Touching it. Living it.
Madison's prom was killer—literally. For some reason she's been targeted by a dark reaper—yeah, that kind of reaper—intent on getting rid of her, body and soul. But before the reaper could finish the job, Madison was able to snag his strange, glowing amulet and get away.
Now she's stuck on Earth—dead but not gone. Somehow the amulet gives her the illusion of a body, allowing her to toe the line between life and death. She still doesn't know why the dark reaper is after her, but she's not about to just sit around and let fate take its course.
With a little ingenuity, some light-bending, and the help of a light reaper (one of the good guys! Maybe . . . ), her cute crush, and oh yeah, her guardian angel, Madison's ready to take control of her own destiny once and for all, before it takes control of her.
Well, if she believed in that stuff.
Review:
Madison Avery has been having a rough year. First, she goes to prom with a cute, popular guy from school only to find out she was a pity date (set up by her dad). Then, when she meets a cute, mysterious stranger at the dance and leaves with him, he intentionally kills her – turns out, he's a powerful dark reaper. Through guts and tenacity, Madison is able to steal his amulet (the source of any reaper's power) and remain on earth, maintaining an illusion of life – but the fact remains that she is dead. Trying to get the hang of being a corporeal entity, Madison trains with a Light Reaper named Barnabas, attempting to perform tasks that she should be able to manage with her newly claimed amulet. Unfortunately, Madison's progress is less than satisfactory, as Barnabas continues to become frustrated with her unsuccessful efforts. But after helping Barnabas thwart the efforts of another Dark Reaper, Nikita, in a close boating accident, Madison learns that her stolen amulet isn't from just any reaper but from one of two very powerful entities. With the help of Barnabas and her Guardian Angel (nicknamed Grace), Madison tries to harness her new powers and protect her old prom date, Josh. Of course, things are never as simple as they seem, and Madison's amulet holds implications of universal proportions.
I have to admit that though I was excited to read Once Dead, Twice Shy, some lackluster reviews across blogland were a deterrent. Thankfully, my apprehension was unwarranted – Once Dead, Twice Shy is an exhilarating, fantastic read. As always, Ms. Harrison writes a briskly paced novel without a single dull moment; this is another book I finished in a single sitting, unable to put it down. Ms. Harrison departs from her established urban fantasy setting of the Hollows, trading pixies, witches and vamps for a world eerily similar to our own – except with celestial seraphim overlooking while dark and light reapers are locked in an eternal battle for dominance in the mortal realm. In this universe, Dark Reapers intervene in order to make sure that the strings of Fate remain intact, while the Light Reapers triumph Free Will, stepping in only when Dark Reapers try to kill mortals whom they believe will threaten Fate's ultimate design. Ms. Harrison handles these age old themes (Fate versus Free Will; Inevitability versus Choice) flawlessly, applying them in a way that is immensely entertaining and thought provoking through her intelligent, sassy heroine.
Speaking of heroines, Madison is fantastic – she has some wicked cool fashion sense (edgy and punkish – love the yellow tights), a snarky sense of humor, and a big ol' impulsive streak. While she does share a number of similar traits to Hollows heroine Rachel Morgan, Madison is decidedly her own character. Brave, sarcastic and creative, especially when it comes to understanding her unique powers, Madison is an easy character to like. Josh, her companion in this novel, is similarly likable and sympathetic as a character – though he is initially (and understandably) disbelieving of Madison's story, the trust between the two of them grows as he realizes that his own life is in danger, and that this strange girl with purple tipped hair is more than just "Mad Madison." The other standouts to me were Grace, Madison's first level cherub, assigned as her Guardian Angel (a very Jenks-like character) and Nikita, a viciously unflinching Dark Reaper (similar to Ivy, on reflection).
I loved the twists and plot developments in Once Dead, Twice Shy – Madison's fate (or free will, as it may be) is much more complicated than she ever could have imagined. One thing I adore about Ms. Harrison's writing is how in each of her books, her stories traverse such broad, unexpected territory, and Once Dead, Twice Shy is no exception. Madison's journey is far reaching, and as the novel ends, it's clear she's got quite a job ahead of her. I absolutely loved it, and I cannot wait to read the next chapter in Madison's exciting, ongoing story.
Notable Quotes/Parts: As always, check out Harper Teen's Browse Inside feature for an in-depth look at Once Dead, Twice Shy:
Additional Thoughts: Make sure to stick around, as Kim Harrison stops by to share her thoughts on writing Young Adult lit. Plus, we'll also be giving away a copy of Once Dead, Twice Shy!
Verdict: Absolutely fantastic – Madison Avery just might be my new favorite YA Urban Fantasy heroine. An engaging, original read and easily a notable read of 2009. Highly recommended.
Rating: 8 Excellent
Reading Next: Kiss of Life by Daniel Waters