Title: Bound By Your Touch
Author: Meredith Duran
Genre: Historical Romance
I need to get this off my chest. I detest this cover. It does a disservice to such a brilliant, sophisticated novel. It screams of unoriginality, it reeks of cheap thrills when what is inside is NOT that at all.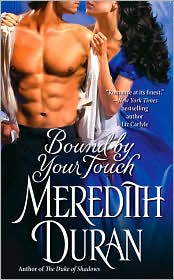 Publisher: Pocket
Publishing Date: June 30, 2009
Paperback: 368 pages
Stand Alone or series: Stand Alone (but there is a secondary character who is getting a book of his own)
Why did I read the book: Meredith Duran's first book, The Duke of Shadows was on my top 10 of 2008 and I was waiting for her second book with not a small amount of anxiety.
Summary: Silver-tongued Viscount Sanburne is London's favorite scapegrace. Alas, Lydia Boyce has no interest in being charmed. When his latest escapade exposes a plot to ruin her family, she vows to handle it herself, as she always has done. Certainly she requires no help from a too-handsome dilettante whose main achievement is being scandalous. But Sanburne's golden charisma masks a sharper mind and darker history than she realizes. He shocks Lydia by breaking past her prim facade to the woman beneath…and the hidden fire no man has ever recognized. But as she follows him into a world of intrigue, she will learn that the greatest danger lies within — in the shadowy, secret motives of his heart
Review:
Meredith Duran's debut work, The Duke of Shadows was one of my favourite reads of 2008: it had an unfamiliar setting (India circa 1857) and an unusual pair of protagonists with a very nurturing hero and a heroine suffering from post-traumatic stress disorder. Those, coupled with Meredith Duran's beautiful writing are the reason why The Duke of Shadows is such a memorable book.
Bound by Your Touch is the author's sophomore effort and I am glad to report, equally as good and memorable – but in different ways. If The Duke of Shadows took the story and reader to uncharted waters, Bound by Your Touch sits firmly within familiar territory. The story takes place in London and the two main characters are Household Romantic figures: the Rake and the Bluestocking Reformer. But this is as far as convention – if we can call it convention, the characters NEED to be something – goes. Because the writing is utterly, amazingly sophisticated and quite frankly, spectacular so that what would be otherwise ordinary, becomes extraordinary.
Lydia Boyce is the plain, stiff, spinster daughter of a famous Egyptian scholar. In the prologue we learn that Lydia was once in love with her now brother-in-law and mistakenly thought he was love with her as well – but he had been in fact wooing her beautiful sister all along. The sense of betrayal is something that Lydia still carries inside and is a wench in the two sister's relationship. Now, years later, Lydia sense of self-worth in a society where women are married or not, comes from working for her father in England, looking for financial support for his expeditions and organising the import of his findings. She does some scholarly work as well and can tell a fake piece from a genuine. Which is exactly what she does when she first meets James Durham.
The disreputable rake, son of the Earl of Moreland bursts into one of her lectures to tease his father with what he thinks is a genuine stela (he will do anything in his power to make his father's life miserable) only to be proven wrong by Lydia and in public. This first encounters sets the story nicely as James then decides to investigate further and finds out that the fake has been brought to England by Lydia's own father. Lydia is adamant that her father is innocent and asks for James' help (because he has nothing better to do with his time) in proving this.
And their relationship obviously expands from there – at first they are both very accusing. James thinks she is stiff. Lydia points to him that his life is all about being bored, being useless by choice and being fuelled by his worthless aristocratic consequence. Lydia's speech is imbued with a sense of unfairness that leaps from the page: she had no place in society because she is a single woman (who was expected to live off one of her sister's charity and become the auntie) , he is respected simply because he was a man. Regardless of the fact that what she perceives about James t is not entirely true as we learn later in the book , it is still all about perception when they first meet. As they carry on, their perception change.
And that perception starts to change in what I think is one of the best scenes I read this year ,when James and Lydia are in the a rooftop and Lydia observes:
"How had he acquired such confidence? His birth had given him privileges, of course, and so had his sex. But there was more to it than that. Eyes were always on him. The newspapers dissected his smallest shenanigan. Yet he bore such attentions as though they hardly concerned him. She could not imagine him hesitating on the threshold of a room for fear he'd be judged and found wanting. If someone tried to cut him, he would only laugh. To live a life of such bold assurance, never caring what others thought….why, it must be another species of living, entirely. No uncertainty. Invulnerable to jibes and slanders. What could one not do, when so free?"
And in that rooftop, she decides to experience a moment of abandon and freedom. Even if she is "always afraid of something" because she is a woman. Unbeknownst to her, the same urge affects James: so if she feels the freedom to experience sensations he has a freedom of speech. They both say to each other things that they wouldn't say – they are both unguarded. She admits fear. He admits he plays a role. It is an incredibly poignant, touching scene, where the characters are first deeply revealed to the reader and to each other.
I find it ironic that the title of the book carries the word "bound" when the feel I got from reading it, is quite the opposite. They are, at first bound, yes. By the roles they play in society for example. She is bound by her blind devotion to her father. He is bound by his utter contempt by his. In fact, her admiration to her father is directly opposite to his utter revolt against his own. Her faith is freely given and he doesn't understand that although he does understand devotion for his sister (which is what moves and directs his rage against his father). It is the need to be free from these bounds that allows for them falling in love with each other and making concessions by doing so.
What I think is fascinating though –is how the two don't undergo a change of character, it is first their perception of each other that changes and then Lydia becomes a little less stiff and James a little less lax. What changes is their choice of role to play in society – and the freedom of finally leaving the roles they play behind. At least (and always) with each other.
There are quite a few, incredibly romantic scenes in Bound by Your Touch – including their first kiss and the final scene. Or how James is completely undone by the realisation that all that devotion that Lydia feels for her father can and will be directed at him as well.
In short: the romance itself and the writing are superb – and to me, Meredith Duran has joined that pantheon of Romance Goddesses and sits right up there with the likes of Loretta Chase and Julia Quinn.
Notable Quotes/Parts :
"Every person was his own country she thought, governed by a private language, a personal reason and custom. She was still discovering herself but she thought she might use him as a guide, Whatever passed through his mind, whatever drove him to kiss her like this he kissed her as earnestly as a prayer – it was right and good. And all of it, the complex curious intricacies of James Durham, were here, bound by muscle and warm flesh, in the span of her hands"
Verdict:Sophisticated, beautifully written and utterly romantic.
Rating: 8 excellent and one of my top reads so far, this year
Reading Next: What Happens in London by Julia Quinn