Title: A Skinful of Shadows
Author: Frances Hardinge
Genre: Fantasy, Young Adult
Publisher: Macmillan / Amulet
Publication date: September 2017 / October 2017
Hardcover: 416 pages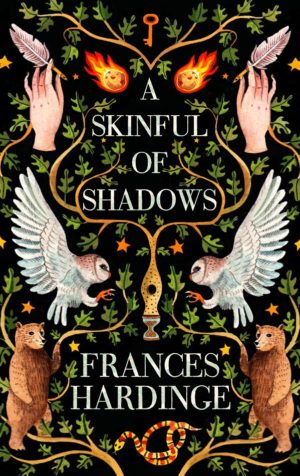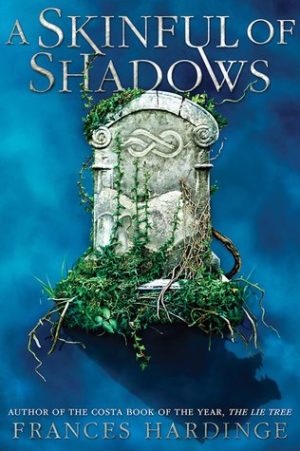 This is the story of a bear-hearted girl . . .

Sometimes, when a person dies, their spirit goes looking for somewhere to hide.
Some people have space within them, perfect for hiding.

Twelve-year-old Makepeace has learned to defend herself from the ghosts which try to possess her in the night, desperate for refuge, but one day a dreadful event causes her to drop her guard.

And now there's a spirit inside her.

The spirit is wild, brutish and strong, and it may be her only defence when she is sent to live with her father's rich and powerful ancestors. There is talk of civil war, and they need people like her to protect their dark and terrible family secret.

But as she plans her escape and heads out into a country torn apart by war, Makepeace must decide which is worse: possession – or death.
Stand alone or series: Stand alone
How did I get this book: Review copy from the publisher
Format (e- or p-): Print
Review
Over the years, I have made no secret of my adoration for the novels of Frances Hardinge. I wait for every single one of them with bated breath, knowing that wherever the author decides to take me, it will be a journey worth following.
So here we are, with a new release, fresh off the presses, straight into my greedy hands. And just like every one of her books before this, I was transported into a world of wonders.
A Skinful of Shadows is the story of a girl. The story of a country in the throes of Civil War. The way these two stories intersect and diverge from one another. It's a story about a brother and a sister, a mother and a daughter, a girl who needs to grow up. It has a unique found family, one bear, female spies, ghosts and terrible villains. It is above all, a story about trust and having faith in people.
Makepeace grew up with a dutiful but demanding mother in the house of her aunt's family. Of her father she never knew anything, except for a heritage she never asked for and which her mother fled away from.
You see, Makepeace has a space within her where ghosts can find a new home. All her life, she has been trained to avoid possession, driven to despair by her mother who locked up her in cemeteries where the ghosts were plentiful and merciless. But keeping them at bay she did – until the day when after a fight, her mother tragically dies and full of guilt and grief, Makepeace makes herself open to the spirit of a… bear.
Now inside of her, Bear causes havoc – and Makepeace often loses track of her mind and her whereabouts. Unable to cope, her family seeks her father's family – the Fellmotes, an ancient, powerful family – and Makepeace is taken away to the place where people know exactly what to do with someone with a power such as hers. And it's not pretty.
And for the next three years or so, she will try to escape – with the help of a brother she never knew she had, but whose shared heritage brings them together. But the Fellmotes will not make it easy for them – for the two kids are needed for the very survival of their powerful household. The problem is: their bodies may be indispensable because of their power but who they are – or at least what makes them them – is effectively expendable.
Just like The Lie Tree, A Skinful of Shadows feels like a less extravagant and less fantastical novel because it is deeply rooted in the history of our world. Whereas Hardinge's earlier novels were firmly set in secondary world fantasies, The Lie Tree was a Victorian mystery and A Skinful of Shadows, a story set in the beginning of the British Civil War.
This doesn't mean that the fantasy aspects are less significant though – and in here, the side of fantastical is no less elaborate: in fact, it serves the larger plot and it is essential in the formation of Makepeace's arc. The former lies in the way that the fate of the Fellmotes is intermingled with that of the country and how their actions play a part in the dispute between Parliament and the King. The latter, in how Makepace's character develops, grows, transforms herself into a courageous young woman. If there is one thing that connects all of the author's works is this: the principled, strong-willed, dynamic and fierce heroines she creates. Makepeace might not know whose side should be victor in this war, but she never wavers from righting wrongs and she will fight tooth and … claws to save the life of her brother and the lives of those she thinks deserve a second chance.
This goes deep into the character in other ways too: does she deserve a second chance? She doesn't know but she knows she wants to live. That principle, the urge to live, shapes other characters' motivations too and the cost can be high. To some is death. To other, losing something far more precious. The allure of power to those who don't usually have it is looked at with down-to-earth lenses and over and over, Makepeace decides to trust people and to believe them.
She traverses her world – from one camp to another in the midst of one of the worst, most bloody moments in British history with villains chasing her, spies helping her, with fear at her back and hope at her core but always moved by:
"We believe in second chances, for the people who don't usually get them."
A Skinful of Shadows is yet another beautiful, multi-layered novel by one of the brightest stars in the YA sky. Highly, highly recommended.
Rating: 9 – Damn Near Perfect
Buy the Book: