Title: To Beguile a Beast
Author: Elizabeth Hoyt
Genre: Historical Romance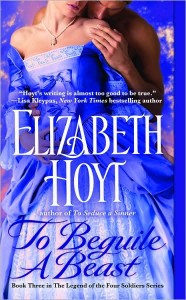 Publisher: Forever
Publishing Date: May 1, 2009
Paperback:368 pages
Stand Alone/Series: Book 3 in the Legend of the Four Soldiers series. It can be read as a stand alone though.
Book one – To Taste Temptation
Book two – To Seduce a Sinner
Summary:CAN A WOUNDED BEAST . . .
Reclusive Sir Alistair Munroe has hidden in his castle ever since returning from the Colonies, scarred inside and out. But when a mysterious beauty arrives at his door, the passions he's kept suppressed for years begin to awaken.
TRUST A BEAUTY WITH A PAST . . .
Running from past mistakes has taken legendary beauty Helen Fitzwilliam from the luxury of the ton to a crumbling Scottish castle . . . and a job as a housekeeper. Yet Helen is determined to start a new life and she won't let dust-or a beast of a man-scare her away.
TO TAME HIS MOST SECRET DESIRES?
Beneath Helen's beautiful façade, Alistair finds a courageous and sensual woman. A woman who doesn't back away from his surliness-or his scars. But just as he begins to believe in true love, Helen's secret past threatens to tear them apart. Now both Beast and Beauty must fight for the one thing neither believed they could ever find-a happy ever after.

Why did I read the Book: oh, because I LOVED the first two in the series.
Review:
Beauty and the Beast stories are right up there amongst my favourite romance tropes. To have a scarred hero who doesn't believe he can be loved and the heroine that will prove him wrong and the building anticipation for that ONE moment when the heroine will touch him and show him with actions or words that he is wrong, wrong , wrong and then to be witness to that instant in time when the hero realises that she loves him for who he is? That is a major win in the romance department for me. And if the trope is wrapped up with good writing, good story execution and good characters, all the better.
When I first encountered Sir Alistair Monroe in the previous books of this series (both really good), I knew his story would be a Beauty and the Beast one and I had been waiting for To Beguile a Beast anxiously. Our hero is a naturalist who travelled to the colonies to collect information about fauna and flora and who was one of the survivors of the massacre at Spinner's Falls. Half of his face is horrendously scarred, he has only one eye and three fingers in his right hand. Wherever he goes women and children scream in horror and Alistair decided that it would be best for everybody if he just retired to his decrepit castle in Scotland and there he spends his days, alone and bitter without ever thinking about the future with only his books and his dog for company.
Until a bloody interfering female, the wife of his friend and fellow Spinner's Falls survivor Jasper Vale decides he needs a housekeeper and one night, the most beautiful woman (of course) he has ever seen knocks on his door with her two children and his life as he knew it, comes to an end.
Helen Fitzwilliam is on the run from her former lover and father of her children, the Duke of Lister and she needs to find a place to hide. The dirty, derelict castle is her only choice and even though the beastly, brooding Sir Alistair is not exactly welcoming, she will do anything to keep her children safe. Even if it means taking over the duties of a servant.
Except…..Sir Alistair is not really a beast. He may be scarred, silent and gruff but he is actually a very kind soul. His decision for a private life rests on his need to avoid scaring people and making them uncomfortable. He is also consumed by the fear that letting anyone in – women, friends – would mean a world of hurt to him, when they decide that he is not worthy. But he cannot avoid the attraction to this woman, nor can he prevent his growing attachment to the children. In fact, the slow but surely budding relationship between Alistair and the two kids, James and Abigail, is a pleasure to read: heart-warming and aw-inducing.
Alistair is undoubtedly the star of this show but unfortunately the way-too-fast attachment between Alistair and Helen lacked that tense build-up and when that happens in a book, I am prone to pay heed to things I would not otherwise and therefore everything else in To Beguile a Beast failed to capture my attention and most importantly, my heart.
Alistair and Helen's had the potential to be a wonderful love story but the way the plot was constructed, the manner in which the secondary story arcs were presented marred my enjoyment. For example: Helen has been the mistress of a Duke for 14 years. It was a decision she made when she was young and one she has to live with till the day she dies. At first glance, this is quite a bold choice for a heroine in a historical novel. However, even though Helen is presented as a kept mistress, she is not really one for the Duke hasn't slept with her in years. I felt this was a cop-out, and I wonder if this was an attempt of the author to appease the more traditional romance readers. It also made me think: WHY in the world, would a Duke keep a mistress, with all the expenses it entailed and NOT take advantage of that? Especially considering how beautiful Helen was. It just didn't make sense: as it didn't make sense how he was furious that Helen has left him and his point of view was typical of a cartoonish villain who kept repeating how they were HIS property and she would suffer the consequences. Again, I ask WHY then, if he felt this way, he hardly ever visited Helen and the kids and why would a Duke even bother with them?
Similarly, Helen was a strange character – she did have a lot of potential to start with, but again, the writing of this character didn't make much sense: she was at times a product of her own time, historically accurate and at others so anachronistic that it made me gasp. For instance: before leaving the Duke she only saw her children at determined times and they spent the day with servants. Once she leaves him, she becomes a full time parent and has to deal with it. I thought this was great: not only yes, this is the way parenthood probably would have been back in the 18th century but also the challenge her new situation presented would be an interesting arc to read about with a lot of potential for character growth. BUT, the adaptation to her new circumstances was far too easy and I felt, merely glossed over. And then she speaks of her reasoning for leaving the Duke: he never loved them, he never loved the children, he never spent time with them. He was a man, a Duke, who had an official heir (and a spare), who had NO friendship or love for Helen so why would he care about his bastards and why would she expect him to? I go back to the "it doesn't make sense" : not within the story itself (as a mother who lived with the children and hardly ever saw them) , not, as far as I am aware, within the time the story is set. I know it may sound as nitpicking, but I refer you back to the early paragraph where I mention that since the love story did not work very well for me, I was not involved enough to be able to let this go.
Then, another major obstacle to my enjoyment was that we had not only Helen's, Alistair's and the Duke's POV but also, Abigail's and even though I really liked the kid, there wasn't enough love here for me to want to read her POV.
I am arriving to the conclusion. But not before mentioning that, two of the great strengths of this series, in my opinion, are the mystery surrounding the massacre at Spinner's Falls and well, the scorching hot sex scenes. But To Beguile a Beast came short in both fronts: there was hardly any further investigation re Spinner's Falls and I couldn't , for the life of me, take the sex scenes seriously this time, mainly because the hero was so endowed as to, every time they had sex, it was with a monstrously erect penis. I don't know about you, but to have a word such as "monstrously" flashed when referring to a sex act is not particularly appealing – it is actually frightening. Quite frankly, I thought it was ludicrous and I am becoming increasingly frustrated with these heroes and their huge, monstrous penises.
And because I don't want to end this review with the line above, I need to be fair and to say that To Beguile a Beast is not a bad book especially if you consider the hero. It is just not a particularly good one either. I do have high hopes that the next one, To Desire a Devil, will be as good as the previous ones: the excerpt at the end of Beguile….. well, that was all kinds of awesome.
Notable Quotes/ Parts: all scenes between Alistair and the children.
Verdict: The hero is the one good thing in an ocean of average. Not quite what I have come to expect from this series.
Rating: 5. Meh.
Reading Next: Always a Scoundrel by Suzanne Enoch.