Title: Frederica
Author: Georgette Heyer
Genre: Romance – Regency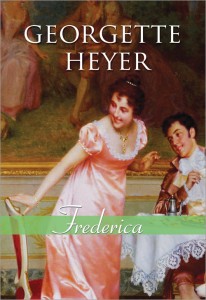 Publisher:Sourcebooks Casablanca
Publishing Date:Reprint edition – January 1, 2009
Paperback:448 pages
Stand Alone or series: Stand alone
Summary: When Frederica brings her younger siblings to London determined to secure a brilliant marriage for her beautiful sister, she seeks out their distant cousin the Marquis of Alverstoke. Lovely, competent, and refreshingly straightforward, Frederica makes such a strong impression that to his own amazement, the Marquis agrees to help launch them all into society.
Lord Alverstoke cant resist wanting to help her
Normally wary of his family, which includes two overbearing sisters and innumerable favor-seekers, Lord Alverstoke does his best to keep his distance. But with his enterprising – and altogether entertaining – country cousins getting into one scrape after another right on his doorstep, before he knows it the Marquis finds himself dangerously embroiled…
Why did I read the Book: I was contacted by Sourcebooks Casablanca asking me if I wanted to read one of their Heyer releases and since I always wanted to read one of her books, I said yes!
Review:
I am quite possibly a few years (maybe decades) late with reading Georgette Heyer. Writer of dozens of Regencies, the author is, according to Wikipedia, the grandmother of the current historical romance (the great- grandmother is obviously, Jane Austen. I wonder where Barbara Cartland falls into this genealogical tree) , I had meant to read her books before but never got around to it. I live in the UK and her books are everywhere. All book shops store bucket loads of them – even book shops that do not sell Romance. When I received the email from Sourcebooks Casablanca, I thought it was a Sign and said yes , please.
What I did not know was how popular she is over here and to prove my point: everyday, on my lunch break, you can find me in the meeting room, reading. Usually my colleagues look at the books I read and say nothing: mostly because they are from US publishers and they have never heard of them. BUT when I was reading Frederica, everybody stopped for a chat and to say they love her books. Even my director, the perfect English Gentleman said to me: "I have all Georgie's books, they are terribly romantic" .
And so it is. I opened the book without really knowing what to expect and was immensely pleased that I managed to pick a book that had a Reformed Rake story – my favourite romance trope.
The hero is the Marquis of Alverstoke (his given name is Vernon. VERNON. I shall ignore this because the only other Vernon I know, is Harry Potter's uncle Vernon, and let me tell you, so NOT the image you want to have in your mind when you are picturing a romance hero) , who is 37 years of age, a confirmed bachelor , the rake that has his fair share of liaisons and who cares for nothing, no one , especially not his family (they seem to be only concerned about his money and influence). Alverstoke is also , as many rakes before – or rather, AFTER him – bored. Bored with the parties of the ton, bored with the mamas after his hand for their daughters. He even manages to be bored before the fact – one of the reasons why he never married is because he believes his wife will bore him to death.
Enter Frederica – a non-nonsense , honest and witty distant cousin who asks for his help in sponsoring her sister Charis into Society. Charis is one of the most beautiful young women he has ever seen (although a bit of a nitwit) and he says yes, at first to unsettle his own sisters but later, it becomes known that he had other reasons behind it. He becomes friends with Frederica whom he can have real conversations with, whilst growing, to his utter dismay, strangely attached to Friederica's younger brothers, Felix and Jessamy .
The thing with this book is: even though the title is Frederica, the main character really is the Marquis. We have more of his point of view than of Frederica which was a good thing because nothing warms my heart faster than the musings of a previously, cold and collected man, falling head over heels in love with a woman who is by no means, the prettiest of them all, but who is the smartest and the one who shares things in common with him.
But do you know what the BEST thing about this reformed rake story? He is and remains unapologetically cynical. He does not redeem himself in his family's eyes, he does not become a softer version of himself , changed by his love for Frederica. He finds in Frederica a similar soul (yet kinder) who understands him and laughs with him. I loved how , as soon as he realised his love for her, he is bent on trying to make her life easier. How he wished to help her and unburden her but ONLY her. Like, for example in this short piece:
"if the affair proved to be more serious than he supposed, and Frederica was troubled by it, he would intervene ,and without compunction. His lordship in fact, previously ruthless on his own behalf, was now prepared to sacrifice the entire human race to spare his Frederica one moment's pain. "
If we get to know the Marquis quite well but the same cannot be said about Frederica – oh, we do know that she sees herself as being in the shelf (she is 24!!) , as a plain woman in comparison with her sister (which is fine with her) and how she was determined to do the best for her family. But we hardly ever see her side of falling in love with the Marquis. This short time spent with the heroine wouldn't have bugged be so much if it wasn't for the countless pages where everybody else – bothers, sisters, matrons, suitors, secretaries – got their moment in the spotlight.POV kept moving around and I , at one point wondered if the dog, would too get his 15 minutes of fame (a couple of scenes with the dog were so funny though). I read somewhere that Georgette Heyer is known for the detailed background on Regency customs and yes, this is most true. Although interesting for most of it, I have to say I was a bit bored with some of the overly clunky passages and wished we could just have more of the Marquis and Frederica or of her brothers.
Speaking of brothers – they were absolutely delightful and funny and their relationship with the Marquis was deliciously ludicrous and a pleasure to read about. As pleasurable was the overall experience I had with this novel. I will definitely be back for seconds.
Notable quotes/ Parts: every time Frederica and the Marquis were talking and laughing together. Funny repartee, how I love thee.
Verdict: delightful repartee, a good Hero and crazy kids as secondary characters = win. I just wish there were more of the amazing scenes between Frederica and the Marquis.
Rating: 7 very good.
Reading Next: The Demon's Lexicon by Sarah Rees Brennan