Firstly, let's all celebrate together because my Thea-Bear has returned!! Woohoo! She will be back to smuggling full time this week.
Meanwhile, we have some business to take care of:
Rewriting Monday giveaway: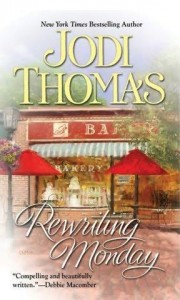 The winner of a signed copy of Rewriting Monday by Jodi Thomas and a tote bag is:

I Heart Book Gossip
Congratulations IHBG! Please send us your snail mail address to contact AT thebooksmugglers DOT com .
This Week On The Book Smugglers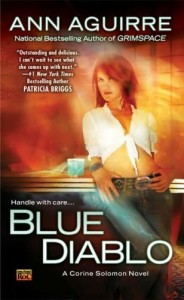 On Monday, a joint review of Blue Diablo by Ann Aguirre which releases this Tuesday.
On Tuesday, Ann Aguirre will be stopping here on her Virtual Tour and you can learn about her Inspiration and Influences for this new series. Plus a chance to win a copy of Blue Diablo.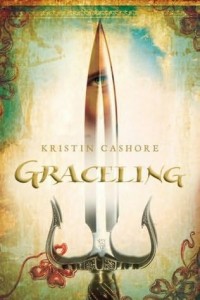 Thea reviews YA novel Graceling by Kristin Cashore on Wednesday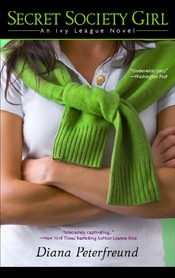 followed by Secret Society Girl by Diana Peterfreund on Thursday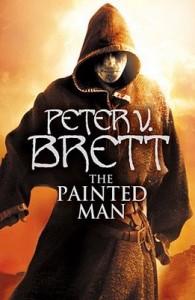 on Friday Ana reviews Fantasy novel Painted Man by debut writer Peter V. Brett – isn't the UK cover absolutely stunning?
And speaking of UK covers, lookie wha we found:

New Cover: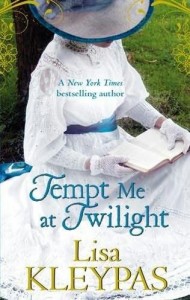 Lisa Kleypas' upcoming Tempt me at Twilight (Hathaway Sisters, book 3) has an official UK cover and a blurb:
Engaged to the very sensible Michael Bayning, Poppy Hathaway is content with her lot – having longed for a life of normality. That is, until she meets a mysterious hotel owner, Harry Rutledge – the most complicated and dangerous man she has ever met. Harry is wealthy and powerful, a collector of secrets, with hobbies more dangerous than Poppy could imagine. What Harry wants, Harry gets – and Harry wants Poppy, like he has never wanted a woman in his life. So when Michael breaks off their engagement and Harry makes his move, Poppy quickly learns that her life is destined to be anything but normal – filled with wild, passionate days and steamy nights …
Can we say:  WANT IT NOW?
We couldn't find anything for the US just yet though.
On the Internets: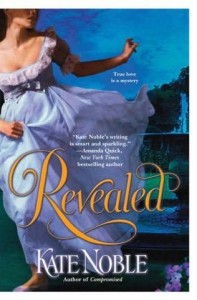 Ana recently reviewed Revealed by Kate Noble and really, REALLY like it. And you have a chance to win a signed copy at the author's website. Run because the contest ends today, but you still have time!
From the series – Books Ana Must Get or DIE: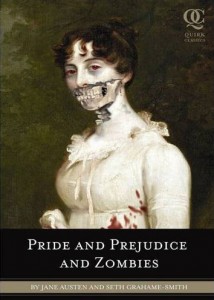 Blurb: Pride and Prejudice and Zombies features the original text of Jane Austen's beloved novel with all-new scenes of bone-crunching zombie action. As our story opens a mysterious plague has fallen upon the quiet English village of Meryton and the dead are returning to life! Feisty heroine Elizabeth Bennet is determined to wipe out the zombie menace but she's soon distracted by the arrival of the haughty and arrogant Mr. Darcy. What ensues is a delightful comedy of manners with plenty of civilized sparring between the two young lovers and even more violent sparring on the blood-soaked battlefield as Elizabeth wages war against hordes of flesh-eating undead. Complete with 20 illustrations in the style of C. E. Brock (the original illustrator of Pride and Prejudice) this insanely funny expanded edition will introduce Jane Austen's classic novel to new legions of fans.
Seriously: If there was ever a book written FOR the Book Smugglers' girls, this one is it. We will review it soon.
And, one of Ana's favorite writers of both Historical and Contemporary romance, Victoria Dahl, has two books coming out later this year:
in July, contemporary Start Me Up: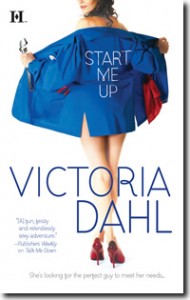 and in August, one of Ana's most anticipated Historical releases of 2009: One Week as Lovers which features the Viscount of Lancaster who first made an (awesome) appearance in the excellent A Rake's Guide to Pleasure.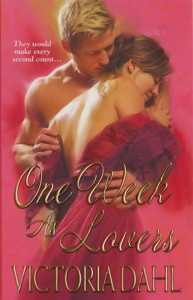 This is what the author has to say about the cover and how it works for her book:
When I saw the cover I got choked up. Why? Because it's perfect. Look at them. They look like they're in love!!! And this is my story that features characters who are actually in love. Not falling in love through the course of the book. Not mad with lust. But really in love from very early on. They're in love and they can't be together. It's impossible. All they have is this one week. *sigh* Look how protective he is. Look at her happy, peaceful face.
*Ana says GAAH and disappears into the horizon in the hopes that August will be here pretty soon*
That's it for today: May you have a most excellent week, dudes! See you around.