Title: The Painted Man (UK) / The Warded Man (US)
Author: Peter V. Brett
Genre: Fantasy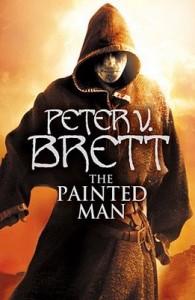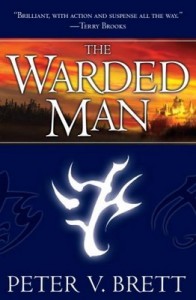 Publisher: HarperVoyager (UK) / Del Rey (US)
Publishing Date: April 2, 2009 (UK) / March 10, 2009 (US)
Paperback560 pages (UK) / Hardcover: 432 pages (US)
Stand Alone or series: Book one in the Demon Trilogy
Why did I read the book: This book received nothing but good reviews and praise from pretty much all fantasy blogs.
Summary: Mankind has ceded the night to the corelings: demons that rise up out of the ground each day at dusk' killing and destroying at will until dawn' when the sun banishes them back to the Core. As darkness falls' the world?s few surviving humans hide behind magical wards' praying that the magic will see them through another night.
As years passed' the distance between each tiny village stretched farther and farther. It seems that nothing can stop or harm the corelings' and nothing can unite the dwindling populations.
Born into these isolated hamlets are three children: A Messenger teaches 10?year?old Arlen that it is fear' rather than the demons' which has crippled humanity. When she is only 13 summers old' Leesha?s perfect life is destroyed by a simple lie' and she is reduced to gathering herbs for an old woman more fearsome than the demons at night. And young Rojer?s life is changed irrevocably when a travelling minstrel comes to his town and plays his fiddle.
But these three children all have something in common. They are all stubborn' and know that there is more to the world than what they?ve been told' if only they can risk leaving their safe wards to find it.
Review:
A long, long time ago, in the Age of Ignorance, humanity shared the world with demons that rise form the ground (or the core) in the night time. Because they did not know how to fight them , humanity would build things in the day only to see them destroyed in the night. Until one day, humans discovered writing and with writing came the knowledge that Wards could keep the demons away. Until someone one day discovered that wards could be for attacking, not only for protection and the war against the demons turned furious. Then, came a man known as The Deliverer, sent by the Creator and with him to lead humans, they started to win the war. Demons went away and humanity progressed. Then came the Age of Science, and humans lived in big cities and knew about medicine and machines but they forgot all about the magic that would protect them from the demons. Then, the demons returned and all the great nations fell, cities burned, people went back to living off farming in small hamlets. Only a few people knew about Wards and only the ones for protection. Now, years later, humans live in fear, hiding when the night fall as they wait for the Deliverer to return once more.
It's 319 A.R (After the Return) and 11 year Arlen is a boy living with his family in a small hamlet called Tibbet's Brook. Night after night, he and his family hide away from demons but they keep coming and people keep on dying when their Wards don't work. When tragedy strikes his own family, Arlen says NO MORE. He has a special gift for Warding and that gives him strength to go away and follow his own path, imbued with the need to fight, not hide.
13 year old Leesha has her life pretty much set: she is going to inherit her father's business and get married soon to her promised fiancée. But a lie and the actions of her slutty mother change her mind and she becomes an Herb Gatherer's apprentice.
Rojer is only 3 years old when his own family is decimated by demons – henceforth, corelings – and he is taken by a Jongleur who becomes his master and father figure. Rojer has a gift for music and the music he makes is a surprising weapon against the corelings.
These three are the three main characters in The Painted Man and their stories run in parallel as we follow their coming of age tales. From children to young adults, Arlen, Leesha and Rojer represent each on his own way, humanity's promise of a future without the corelings. All of them are stereotypical Fantasy characters, the embodiment of the Hero, the Wise Woman and the Jongleur (or sidekick) all with dark, tragic events in their past that shape and move them.
When they finally meet, close to the end of the novel, all pieces come together as their strength and gifts combined are the most effective way of fighting corelings. But that does not come with easily, nor does their journey to adulthood is an easy one – all of them lose something precious on the way and all of them make costly decisions.
The Painted Man is in its core (no pun intended) a character piece whilst the three protagonists discover their roles in life. And as such, the novel is a strong, effective story even if fairly within the staple fare of Fantasy.
The concept of corelings that rise in the night and attack humans who hide behind Wards; the Messengers who are the only ones who dare to cross the distances to bring messages and goods for exchange and are always accompanied by a Jongleur are what make the book unique in my opinion and the fact that there is an interesting world building around the premise and how the characters each react to their reality in different ways but all reach the same conclusion : to fight or to die.
However, for all its strengths, the novel is a strange mix of clear and vague.
The description of the day-to-day life in the hamlets and in the few remaining big cities with their guilds, political system and stratified society are extremely rich and vivid- reminiscent of a Medieval society, all the more pungent for its contrast to what once was.
But there quite a few things that are extremely vague. There is a religious system that reminds of Christian beliefs but it's not very clear if it is so. The Wards and how they work are never truly explained and the corelings themselves don't come with a detailed description. To the point where the strange meanders of my mind made me wonder about hidden messages: the corelings rise from the ground and they are listed as Wood, Wind, Fire, Rock demons. Is this nature rising from the ground to punish humans for their scientific progress and lack of concern for the Old Ways? Is the author making a statement: progress = bad. Nature = good. And if you don't pay attention to nature it will come back to bite you in the ass? If so, I am afraid to say, Al Gore does a better job at it. In any case, this is the conspiracy theorist in me showing its ugly head and this impression of mine, is in no way indicative of the quality of the novel or the writing.
But the way women are portrayed, is. In this world, they actually are rather empowered. The most powerful women are the Herb Gatherers (because of their curative gifts – but most of them if not all, are single women with no family) OR they are respected mostly when they are Mothers. Because you know, the human race is disappearing and they must make babies. In the big cities, the women who are Mothers are actually VERY powerful. Even in the hamlets they have some power. HOWEVER most of the women we get to know more closely are either devastated because they are not Mothers (which is ok, it makes sense within the confines of the world building) , are dead or are cheating sluts.
Why can't women be empowered and strong without either being whores, dead or bent on being virgins? What's wrong with being strong AND liking sex without being cheating sluts? I fully understand that this portrayal is standard fantasy fare and in all honesty, I was even able to let it go after breathing in and out for a couple of times but mostly because the story diverges from these descriptions at one point.
Then the main female character ,Leesha, who is a herb gatherer who has kept her "flower" (yes, he uses the word flower) because it is a matter of honor but also because she wants to choose, is raped by three robbers, one of them a giant mute who is really abusive. It is a horrible situation, she is beaten, raped, left in a near catatonic state -emotionally and physically devastated. Then one of the two male protagonists somewhat rescues her and in less than one week she is ok, so ok as to all of a sudden, completely out of the blue, she wants to have sex with him. She never wanted to have sex with no one to that point, but then she decides it is ok now because he is the hero? I hardly think a woman would recover this fast and be ready (physically: as in REALLY wet. I am not going to say anything about being emotionally ready) to have sex with a stranger no matter how much she feels connected to him. Sorry, I just don't believe it would happen this way. Yes, it is fantasy, but the woman is still a human. This was almost a deal breaker for me as I tend to take this issue VERY seriously.
Having said that, it is testament to the strengths of the novel, that it wasn't a deal breaker.
Still, for all the rave reviews The Painted Man received all over the blogs, I expected a lot more. I was not awed by it as I hoped to be. It is a good debut novel with interesting premise, solid character building and cool action sequences. But is also clearly a "first in a series" as the story in here is set up for things to come. There is a smallish cliffhanger in the end that makes me want to read the next one as soon as it comes out but The Painted Man unfortunately is not the best thing since sliced bread.
Notable Quotes/ Parts: I really liked the fighting scenes and how wonderfully DANGEROUS they were. People stood to lose a lot when fighting corelings and not once does the author back away from this reality.
Verdict: Good debut with a mix of strengths and weaknesses.
Rating: 6 Good
Reading Next: I feel like reading another debut fantasy novel which received a lot a praise last year just to see how it compares to The Painted Man. Next, I am reading The Name of the Wind by Patrick Rothfuss.