Title: Impossible
Author: Nancy Werlin
Genre: Fantasy, Young Adult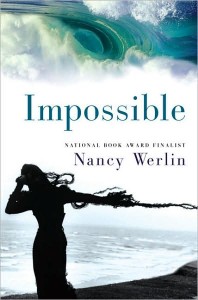 Publisher: Dial Books (Penguin)
Publication Date: September 2008
Hardcover: 384 pages
Stand alone or series: Stand alone novel.
Why did I read this book: I had been eying this book for a while, but hadn't been in the mood for another YA faerie-curse story, so I kept pushing it aside…but after Christmas, I had received a number of bookstore gift cards, so I decided to finally give this novel a try.
Summary: (from Amazon.com)
Lucy has nine months to break an ancient curse in order to save both herself and her unborn daughter.
Inspired by the ballad "Scarborough Fair," this riveting novel combines suspense, fantasy, and romance for an intensely page-turning and masterfully original tale.
Lucy is seventeen when she discovers that the women of her family have been cursed through the generations, forced to attempt three seemingly impossible tasks or to fall into madness upon their child's birth. But Lucy is the first girl who won't be alone as she tackles the list. She has her fiercely protective foster parents and her childhood friend Zach beside her. Do they have love and strength enough to overcome an age-old evil?
Review:
I've been hitting something of a hot streak with my book choices as of late–instantly falling into each story and devouring them in single sittings. Such was my experience with the eerie Impossible.
Lucinda Scarborough, Lucy or Luce to her friends, is a normal seventeen year old girl. She has good friends, foster parents that love her, and a date to the prom. The lone raincloud in Lucy's life is the increasing presence of her birth mother, Miranda. For as long as Lucy can remember, Miranda has been mentally unstable, refusing help and escaping from treatments, living on the streets as a bag lady and always singing a strange version of "Scarborough Fair" to herself. Miranda has always been in the background, but as a manageable nuisance; Lucy has never even told her best friend that the creepy bag lady is her real mother. Shortly before the prom, however, Miranda starts showing up at Lucy's school and track practices more often, babbling nonsense warnings and muttering the lyrics of "Scarborough Fair" to her embarrassed daughter. On the eve of Lucy's prom, things spin out of control–Miranda shows up and goes berserk, throwing bottles and spitting nonsensical warnings. Though she finally makes it to the dance, Lucy's night ends in real tragedy. Her normally mild mannered date rapes Lucy, then flees and kills himself by driving his car into a tree.
Soon after, Lucy discovers that she is pregnant. And then, she finds out about the curse.
Lucy is the latest in the long line of Scarborough women, cursed by a spiteful Elfin Knight. For generations the Scarborough women have been cursed to lose their minds by the time they turn eighteen, shortly after giving birth to a daughter who will suffer the same terrible fate. To break the curse, Lucy must perform three impossible tasks as laid out in the ballad of the Elfin Knight. A seamless shirt, an acre of land between the sea and the shore, and plowing that land with a goat's horn then sowing it all with a single grain of corn. None of the Scarborough woman have been able to break the curse, and Lucy finds herself in a terrifying race to save herself and her unborn daughter from befalling the same tragic outcome. What Lucy has that no one else did, however, is a secret letter, and the love of her foster parents Soledad and Leo, and her oldest friend Zach.
Impossible at first glance seems to be yet another tale of modern day faerie, where cruel otherworldly beings derive their entertainment at the suffering of mortals. To a certain extent, this is true–there is an ancient faerie curse, and a truly evil, cold-hearted Elfin Knight reveling in Lucy's struggles. But the harsh curse is only the catalyst to the story; Impossible is really about the strength of love to overcome even the most hopeless, impossible trials. This is a story about relationships, between Lucy and her parents, and Lucy and her old neighbor Zach. From the beginning of the novel, it is clear that Lucy is a sensible girl, serious about her future, and a good daughter and friend. Even when she's embarrassed by Miranda's presence, she is never cruel. Her relationship with Miranda is strained because of Miranda's illness, but there are some genuinely touching moments between the two. As the story unfolds, readers see how much Miranda wanted to save her daughter, and how much she loved Lucy even before giving birth to her.
Similarly, Lucy's relationship with Soledad and Leo is captivating and completely genuine. I loved that as soon as Lucy herself was convinced that the Elfin Knight's curse was real, she didn't try to tackle everything on her own (as some truly too stupid to live heroines so often do)–instead, she talks to Zach, and then to her foster parents, asking them to believe her and to help her. Though Zach and Leo almost instantly believe that the curse is real and not some hallucination brought on by Lucy's recent trauma, Soledad chooses to help Lucy despite the fact she does not believe in curses. She does it because it is important to her daughter, and that is enough for her. The whole idea behind Impossible is that alone and without help, Lucy would fail in her attempts to break the curse–but with unconditional love, she is able to do what no other Scarborough woman has.
There's also a strong romance storyline to the novel with the blossoming relationship between Zach and Lucy. While I thought it was sweet and all, especially in the early chapters (Zach gradually realizes that he has always loved Lucy, Lucy is oblivious to his feelings), it had some undeniably corny moments. For example:
I loved you for that. I can't even tell you how much. I'd kill for you. I'd die for you. I'd be happy forever if you'd only smile at me–although, come to think of it, I wish you'd kiss me. I want to hold you; I want to hold me. You are so gorgeous I can hardly believe it. You make me laugh; you make me cry. Nothing matters but you. Nothing matters but you. Nothing matters but you.
(Keep in mind, this cheesy assessment is coming from the girl that laughs every time she reads the word "nipple". I'm not the best judge of the explicitly romantic.)
As I was saying over at Angie's blog, where yesterday she reviewed this novel, I'm also not a huge fan of 'pregnant teen gets married and everything's all better' storylines in general. It smacks of some brand of moral superiority, and it's just not to my tastes. I think everything was handled and written well in Impossible, but it's a general theme that doesn't sit well with me. In any case, I did appreciate the love story between Zach and Lucy, and I felt sympathetic toward both young characters.
Besides the characters and their relationships, Impossible is also a well written novel with a gripping plot. There was significantly less time spent on Lucy, her parents and Zach trying to figure out how to perform the impossible tasks–which makes sense, as I mentioned before this is more of a tale about love and relationships. However, I was a little disappointed that the solution to the last task(s) was so hasty and underdeveloped–I was expecting something more metaphorical. Also, I was more than a little annoyed with none of the humans realizing that the Elfin Knight was in their midst. I absolutely cannot stand it in books when a solution/villain/etc is (purposely) painfully clear to the readers, but not to the protagonists until a few chapters before the end.
In spite of all my nitpicking, however, I could not separate myself from this novel and I highly enjoyed it. I'd recommend it to anyone that is looking for a new novel with strong relationships and romance elements, but lighter on character or plot development.
Notable Quotes/Parts: Here's the full Ballad:
The Elfin Knight

Are you going to Scarborough Fair?
Parsley, sage, rosemary and thyme
Remember me to one who lives there
She must be a true love of mine

Tell her she'll sleep in a goose-feather bed
Parsley, sage, rosemary and thyme
Tell her I swear she'll have nothing to dread
She must be a true love of mine

Tell her tomorrow her answer make known
Parsley, sage, rosemary and thyme
What e'er she may say I'll not leave her alone
She must be a true love of mine

Her answer it came in a week and a day
Parsley, sage, rosemary and thyme
I'm sorry, good sir, I must answer thee nay
I'll not be a true love of thine

From the sting of my curse she can never be free
Parsley, sage, rosemary and thyme
Unless she unravels my riddlings three
She will be a true love of mine

Tell her to make me a magical shirt
Parsley, sage, rosemary and thyme
Without any seam or needlework
Else she'll be a true love of mine

Tell her to find me an acre of land
Parsley, sage, rosemary and thyme
Between the salt water and the sea strand
Else she'll be a true love of mine

Tell her to plow it with just a goat's horn
Parsley, sage, rosemary and thyme
And sow it all over with one grain of corn
Else she'll be a true love of mine
And her daughters forever possessions of mine
Additional Thoughts: If you are a fan of Impossible and are looking for similar books, you might want to try out some of these other tales of curses and faeries: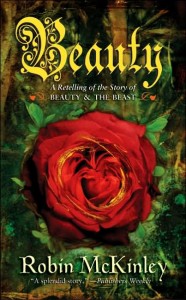 Wicked Lovely and Ink Exchange by Melissa Marr, Beauty by Robin McKinley, or A Curse Dark As Gold by Elizabeth Bunce.
Verdict: A solid, enjoyable book. It's not without its faults and missteps, but I have a feeling that romantics (ahem, Ana!) will easily be willing to overlook those.
Rating: 7 Very Good
Reading Next: The Inferior by Peadar Ó Guilín