Title: Darkness Calls
Author: Marjorie M. Liu
Genre: Urban Fantasy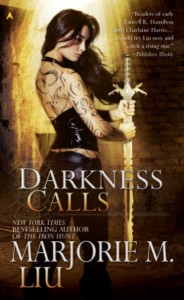 Publisher: Ace
Publication Date: June 30, 2009
Paperback: 320 pages
Stand alone or series: Book two in the Hunter Kiss series, following last year's release of The Iron Hunt. There's also a companion novella for the series titled "Hunter Kiss" in the Wild Thing anthology.
Why did I read this book: I loved The Iron Hunt, plain and simple, so when we were offered a review copy of Darkness Calls, I could not resist.
Summary: (MarjoieMLiu.com)
They are the obsidian shadows of my flesh – tattoos with minds, hearts, and dreams. By day, they protect me. But when night calls to them, they leave my body, dissolving into their true form – as demons…
Nomad born and bred, demon hunter Maxine Kiss has always relied upon herself to fight the darkness that surrounds her, the predators-human, zombie, and otherwise – who threaten the earth. But one man has penetrated her lonely life: Grant, the last of his kind. With music he is able to control any living creature…including demons. And now his life is in danger.
Haunted by the past, determined to change the future, Maxine soon understands that to save Grant, she has only one choice-to lose control, and release her own powers of darkness…
Review:
Maxine Kiss is a huntress; the latest in a long line of women sworn to protect humanity from demons that threaten her world. For generations, the women of the Kiss line have lived solitary lives, moving from town to town with only the "boys" for company – demons that live on the women's skin by day as tattoos, ensuring that each Kiss woman is invincible, but leave their host's flesh and come alive at night. Maxine has chosen to settle down temporarily in Seattle, largely because of her feelings for Grant, the compassionate man whom she has given her heart. Grant is one of the last of his kind, a lightbringer, gifted with the ability to see and manipulate people's auras – and when a dark figure from his past shows up at his homeless shelter, beckoning him into a trap, Maxine and Grant are tested harshly, in terms of their power, and the lengths they will go to for each other.
As in its predecessor The Iron Hunt, heroine Maxine Kiss is back in top form here with Darkness Calls – with even higher stakes, this time around. Maxine has some soul searching to do in this book, in terms of her chosen life forsaking the tieless nomadic existence of her mother and choosing to follow her heart, even when it means embracing the darker power she fears to wield. Maxine's inner narrative and growth as a character is admirable here as she comes to grips with her own bloodline (granddaughter of an avatar, Jack the "meddling man"), and what her burgeoning powers mean. More interesting, however, is what we learn about Grant in this book – his past as a priest and the special nature of his own singular powers. Ms. Liu pushes her characters past dangerous lines, and, as the title suggests, explores their own darker natures. The introduction of another avatar, the Skinner, who has come to notice Maxine after she destroyed Ashan in The Iron Hunt is a fearful twist and makes for a terrifying foe that these characters must face together.
One complaint that The Iron Hunt garnered in reviews across blogland concerned the writing style – and I will concede that Ms. Liu's impressionist style in the Hunter Kiss novels inspires a love or hate reaction. I just happen to be one of those that love the clipped, almost poetic quality of Maxine's narrative. For those that were turned off by the style in the first book, I would recommend giving Darkness Calls another chance as the tone is less confusingly abstract in this installment. Also, in comparison to the first novel this second book is much more action-centered and digs much more into characters and the dark implications of Maxine's world – another compelling reason to give Darkness Calls a read for those who were disappointed with the pacing of the first novel.
For my part, I highly enjoyed this novel, more so than its predecessor, and certainly recommend it to fans of darker urban fantasy. There are some delicious plot threads left open at the end of this novel, and I cannot wait to see where Maxine, Grant, and the boys are in for next.
Notable Quotes/Parts: I loved a very dark scene when Maxine and Grant are off to meet the Skinner, walking through a twisted club:
I stared at him, torm. Still able to feel those hands at my throat, that knife slipping between my legs. Violent tendencies would not remain inside this club. Nor did it matter that most normal people would be unprepared for any kind of physical violence, regardless of whether their attacker was superenhanced, or not. It was not just innocent lives at stake. Eventually, inevitably, one of those cat-eyed men, or women covered in scales, would end up arrested or in a hospital. The physical differences would not go unnoticed.

I looked at Grant. "What do you think?" He surveyed the room, leaning hard on his cane: a man as out of place in that club, surrounded by those bodies, as a wolf might be in a cement block. I wished I could see through his eyes. I wished I knew with certainty the truth in the hearts around me.

"I think you have little choice in the matter," he finally said, grim – and gave Jack a hard look. "I think you have to choose your battles."
The first chapter (which is probably one of the best I have read in a while, in terms of pulling readers into a story) is available online HERE.
Additional Thoughts: If you missed it, leading up to the release of Darkness Calls, Marjorie Liu wrote a letter from Grant to his unborn (and yet conceived) daughter with Maxine. The letter was released in four parts online, at four separate websites. The letter in its totality however, can be found HERE at the publisher website.
Verdict: Every bit as engrossing as The Iron Hunt, Darkness Falls surpasses its predecessor in terms of plotting, characters, and writing style. A highly recommended read for fans of urban fantasy, and for Ms. Liu's paranormal romance fans who have yet to take the plunge.
Rating: 7 Very Good
Reading Next: The French Mistress by Susan Holloway Scott