The scientist, the witch, the AI and the magic tree.
Title: All the Birds in the Sky
Author: Charlie Jane Anders
Genre: Science Fiction, Speculative Fiction, Fantasy
Publisher: Tor Books
Publication Date: January 26 2016
Paperback: 320 Pages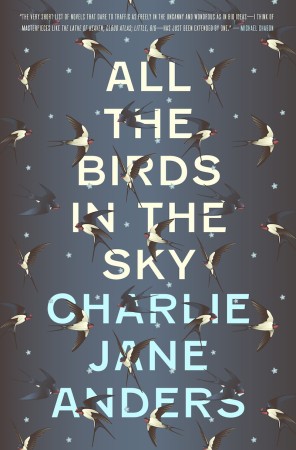 From the editor-in-chief of io9.com, a stunning novel about the end of the world–and the beginning of our future

Childhood friends Patricia Delfine and Laurence Armstead didn't expect to see each other again, after parting ways under mysterious circumstances during high school. After all, the development of magical powers and the invention of a two-second time machine could hardly fail to alarm one's peers and families.

But now they're both adults, living in the hipster mecca San Francisco, and the planet is falling apart around them. Laurence is an engineering genius who's working with a group that aims to avert catastrophic breakdown through technological intervention into the changing global climate. Patricia is a graduate of Eltisley Maze, the hidden academy for the world's magically gifted, and works with a small band of other magicians to secretly repair the world's ever-growing ailments. Little do they realize that something bigger than either of them, something begun years ago in their youth, is determined to bring them together–to either save the world, or plunge it into a new dark ages.

A deeply magical, darkly funny examination of life, love, and the apocalypse.
Stand alone or series: Stand alone
How did I get this book: Review copy from publisher
Format (e- or p-): Paperback
Review:
A scientist and a witch walk into a bar book.
Laurence (the scientist) and Patricia (the witch) are (somewhat) best friends and sometimes enemies. They have complicated lives and at least one of them knows the answer (sort of) to a question that might yet save the world.
But before they get to that point there will be:
Difficult childhoods that include but are not limited to: earnest yet terrible parenting. Bullying and abuse. Time Travel. Communicating with birds. Building an AI as an after-school project. Growing close – then apart.
Eventually: growing up. By the time they find each other again, the apocalypse is knocking, knocking, knocking on earth's door.
*
A scientist and a witch walk into a bar book: This book, by Charlie Jane Anders, which is simultaneously a slap in the face of male-privileged narratives and a homage to Science Fiction AND Fantasy.
It's a charmingly hybrid tale: the narrative voice sounds fairytale-ish in its telling at the same time that it addresses technology. It's a futuristic tale that looks at the past, that features Artificial intelligence, quantum physics, as well as magic and talking trees. But like all good novels, it moves beyond its most obvious outward themes to focus on its wonderful characters.
When I mentioned this is a novel that slaps those male-privileged narratives, this is what I meant: Laurence is the type of male lead that I tend to find absolutely insufferable. I've seen this novel compared to Lev Grossman's The Magicians and I find that an apt comparison, with a "but". I loathed The Magicians both for how it revels in bleakness and for centring its story on emo male privilege at the expense of all other characters but most importantly, at the expense of women. It would be hilaribad if it wasn't a novel that has been continuously celebrated and even, awarded a TV show recently. In all All the Birds in the Sky, I saw shadows of that type of character in Laurence but I appreciated not only how his motivations were deeply seated on his traumatizing past but also how the novel called him out on his behaviour in different ways, never excusing him.
The other major difference of course, is how the novel gives women their voices – you have not only the other main character Patricia, sharing the viewpoint but also a plethora of other equally important women.
All the Birds in the Sky is a novel that focus on friendship, love, belonging. That looks at how important it is to find those who deeply understand you but who don't actually enable your worst traits. It looks at loneliness and trauma. At bonding and surviving. At forgiveness and new beginnings and change. It's delightful, hopeful, optimistic and dare I say it, magic.
Notable Quotes/Parts: You can read chapter 1 online.
Rating: 8 – Excellent
Buy the Book: