Title: The Loneliest Girl in the Universe
Author: Lauren James
Genre: Science Fiction, YA
Publisher: Walker Books
Publication date: September 2017
Paperback: 290 Pages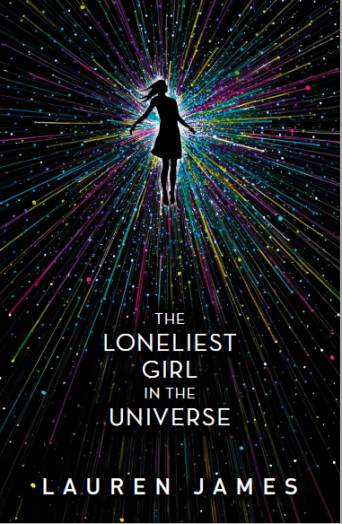 Can you fall in love with someone you've never met, never even spoken to – someone who is light years away?

Romy Silvers is the only surviving crew-member of a spaceship travelling to a new planet, on a mission to establish a second home for humanity amongst the stars. Alone in space, she is the loneliest girl in the universe until she hears about a new ship which has launched from Earth – with a single passenger on board. A boy called J.

Their only communication with each other is via email – and due to the distance between them, their messages take months to transmit across space. And yet Romy finds herself falling in love.

But what does Romy really know about J? And what do the mysterious messages which have started arriving from Earth really mean?

Sometimes, there's something worse than being alone . . .
Stand alone or series: stand alone
How did I get this book: ARC from the publisher
Format (e- or p-): Print
Review
You could say Romy Silvers is your regular teenage girl who is into movies and TV shows, shipping and writing fanfic. Except…
Commander Romy Silvers, 17 years old , is the sole surviving crew-member of the Infinity, a spaceship travelling to a new planet, with the mission to establish a new home for humans. The voyage itself will take decades and the further the ship travels, the longer it takes for messages to and from Earth to arrive.
It's been four years since something terrible happened inside the Infinity, the events that left Romy all alone: we know her dad died, her mother… well, something else happened to her mother. And to the astronauts. The only living things left are Romy and the embryos that will one day populate the new planet.
And for the past four years, completely alone in space, Romy has tried to keep her sanity by keeping to a routine, still going through all the daily tasks the ship and the mission require. Writing fanfic also helps – and the audio messages Romy receives from Molly, her Nasa therapist, have been a life saver – even if those messages are arriving with a time lag of years.
And then one day, Romy receives a new communication, an email coming from J, the commander of the Eternity, a ship that was launched from Earth years after the Infinity but whose more up to date travel system means that the ship is travelling faster and catching up with Romy soon, within a year. The idea is to connect both ships and make the voyage to the new planet faster.
As the distance – and time – between the two ships decrease, the more Romy and J become close. But then Molly's messages from Earth stop and news of a War back home reach Romy. With the time lag, does this mean the war is now over? Does J know anything about it? And how about the communications Romy's received by a new power who took over NASA and is sending her new software to download that will make her ship more efficient.
SHOULD SHE TRUST THEM?
You think the summary above or the super misleading cover copy tells you anything about this novel? LOL. Wrong.
What we have here is a super tense, harrowing tale featuring a young girl trying to survive alone in space AND complete an important mission at great personal cost, while experiencing trauma and anxiety.
I liked many things about The Loneliest Girl in the Universe: from Romy's incredibly personal tale to the overall arc relating to the ship, the mission and Earth. I liked how Romy's anxiety is portrayed and how it was never (mis) used as a gimmick. Instead, she has a healthy relationship with her therapist and when that relationship is severed, Romy tries to keep going the best way she can. Romy's narrative is infused with her struggles – and her sense of isolation, her fears and her loneliness are almost palpable. The novel's increasing drama and high stakes are no joke either.
I was perhaps less taken with the circumstances surrounding the Eternity and its leader but am more than happy to chalk it down to personal preference. I did however enjoyed the hopeful, beautiful ending of the novel a great deal.
The Loneliest Girl in the Universe is a fast-paced SF thriller with a dash of horror, making it a great read for this Halloween. It reminded me of recent SF thrillers I loved including Six Wakes by Mur Lafferty and Illuminae by Amie Kaufman and Jay Kristoff. Recommended!
Rating: 7 – Very Good
Buy the Book: