A Diana Wynne Jones book is like a box of chocolates, you never know what you're gonna get – except for a guaranteed good time.
Old School Wednesdays is a weekly Book Smuggler feature. We came up with the idea towards the end of 2012, when both Ana and Thea were feeling exhausted from the never-ending inundation of New and Shiny (and often over-hyped) books. What better way to snap out of a reading fugue than to take a mini-vacation into the past?
This time, Ana starts her reading of DWJ's Dalemark Quartet

Title: Cart and Cwidder
Author: Diana Wynne Jones
Genre: Middle Grade, Fantasy
Publisher: Oxford University Press, Macmillan
Publication Date: First published 1975
Paperback: 224 Pages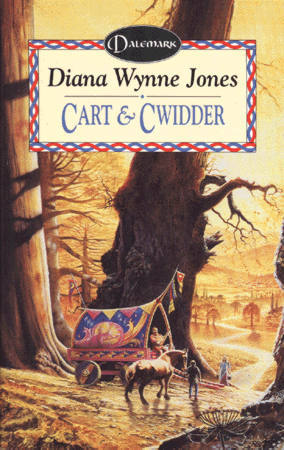 Cart and Cwidder is the first in the best-selling Dalemark Quartet of books and tells the story of Moril and his brother and sister who are travelling musicians journeying through Dalemark, until one day they pick up a mysterious passenger. Somehow Moril's family and the stranger are becoming bound together in terror, flight, and music.

Stand alone or series: Book 1 in the Dalemark Quartet series
How did we get this book: Bought
Format (e- or p-): Print
REVIEW
To paraphrase Forrest Gump, a Diana Wynne Jones book is like a box of chocolates, you never know what you're gonna get. You can open a DWJ novel and get a fantastical story full of whimsical details and lovely characters; or a SciFi time traveling romp; or a darker take on familial relationships that could be either mythical or very humane. Occasionally you find romance, sometimes you get heartbreak and very often often there is humour. And because I am yet to be disappointed by a DWJ novel, her books are also a great source of comfort.
Take Cart and Cwidder: to say this book came out of left field is an understatement. Its beginning is slow and even sort of dull. A young boy named Moril daydreams as he travels alongside his family of touring musicians, thinking about far away rolling fields. His family lovingly mocks him, he gets to work on his songs, just as his brother Dagner and sister Brid do. Their parents Clennen and Lenina take care of the show, the food and the money. Songs are made and performed. Messages are carried back and forth between the towns they travel to, just another service they provide for gold, or goods. They are travelling in the South, and it is briefly mentioned that there is a divide between north and south, and then they pick up a young passenger named Kialan and Kialan is not very nice to anybody, and he fights with Moril's sister Brid the most. And it's all very nice but – to run with the chocolate box metaphor – of a slightly mundane milk chocolate flavour, if you will.
Then half way through the book you see that the milk chocolate is a white-chocolate-with-raspberries-and-a-dash-of-chilli-pepper in disguise.
Because the father gets violently murdered.
Before he dies he tells Moril his cwidder is enchanted.
Then hours later, Lenina decides she had enough of that life and marries a lord who might or might not have killed her husband. Children are optional in this arrangement.
Dagner, Brid, Moril and Kialan take off to have adventures on their own. All of a sudden: freedom fighting. Magic. And growing up.
And the slow revelation that every single minor detail of that "dull" beginning has a deeper meaning and a reason to be there: the daydreaming, the songs, the messages, Kialan.
And these are only part of what makes this short book so remarkable. The storytelling is infused with meaning – and history, myths are a huge part of it. The relationship between siblings is great; even greater is Moril's coming of age journey of self-discovery that sort of mimics the narrative trick that the author has played on us: that shows the story and the character are anything but mundane. There is magic in the ordinary. That there is struggle in making the right choice and in using magic.
And I just loved Lenina – she doesn't get to say much but her actions and her choice matter in the way that they show a woman making decisions independently of her motherhood without the narrative passing judgment. She does what she thinks is best for her and her family when it's needed. That her family doesn't see it that way is not her fault. Her choice matter even more when it becomes clear that the reason she married Clennen in the first place might not have been entirely consensual. So I really appreciated the freedom she is granted by the narrative.
Cart and Cwidder is the first in the Dalemark Quartet. I picked up all four books because I was told the fourth has time travel and that is relevant to my current interests. I hope to read the next books in quick succession as I loved this one.
Rating: 8 – Excellent