Today we are delighted to celebrate release week for Beastly Bones by William Ritter. This is the second book in the Jackaby series, starring a paranormal investigator and his intrepid sidekick.
About the Book: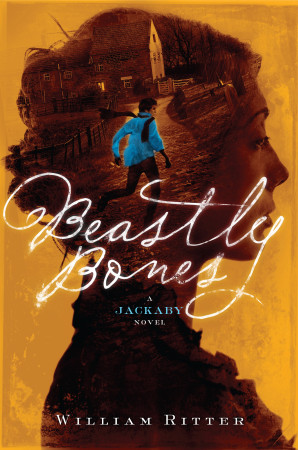 In the highly anticipated sequel to the acclaimed Jackaby, Abigail Rook and Sherlockian detective of the supernatural R.F. Jackaby are back and on the trail of a thief, a monster, and a murderer.

In 1892, New Fiddleham, New England, things are never quite what they seem, especially when Abigail Rook and her eccentric employer R.F. Jackaby are called upon to investigate the supernatural.

First, members of a particularly vicious species of shape-shifters disguise themselves as a litter of kittens. A day later, their owner is found murdered, with a single mysterious puncture wound to her neck. Then, in nearby Gad's Valley, dinosaur bones from a recent dig go missing, and an unidentifiable beast attacks animals and people, leaving their mangled bodies behind. Policeman Charlie Cane, exiled from New Fiddleham to the valley, calls on Abigail for help, and soon Abigail and Jackaby are on the hunt for a thief, a monster, and a murderer.
Beastly Bones, the second installment in the series, delivers the same quirky humor and unforgettable characters as Jackaby, the book the Chicago Tribune called "Sherlock Holmes crossed with Buffy the Vampire Slayer."
About the Author:
William Ritter began writing Jackaby in the middle of the night when his son was still an infant. After getting up to care for him, Will would lie awake, his mind creating rich worlds and fantasies—such as the one in New Fiddleham. Will lives and teaches in Springfield, Oregon. Beastly Bones is his second novel.
The Giveaway:
Enter for a chance to win by using the form below. Good luck!