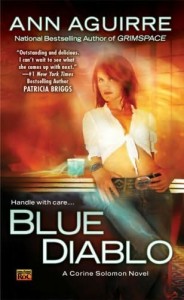 One of our most anticipated reads of 2009 is Blue Diablo by Ann Aguirre, so when we were contacted a few weeks ago and asked if we wanted to be part of her Blog Tour we immediately said yes. And we are very pleased to give the floor to Ann Aguirre!
Hello, and thanks. I'm tremendously excited as the countdown clock rolls down toward release day for BLUE DIABLO. Ana and Thea posted a blurb on Sunday, so you already know my urban fantasy centers around Corine Solomon, who possesses the gift of psychometry.

Instead of offering a soliloquy about the size of crickets in my backyard (and how the cats drag them in to startle me), I'm going to do something a little different. I've done blog interviews before, but I've never framed it like this. Usually, the blog hosts ask me a certain number of questions, I answer them, and it limits what readers can say about the matter.

Today, we turn the interview up to eleven. Here's what we're going to do. You, dear reader, are free to ask me whatever you like (within reason). I reserve the right to refuse to answer on the grounds it may incriminate me (or others), but most things, I'm sure I'll be happy to ramble on about. Ask about my writing, living in Mexico, my pets, my vacation plans, what I'm writing, how I write, or whatever strikes your fancy. To make this super-interactive, I'll be stopping in all day to answer your questions, and hold a dialog with you. So let's get started!
And for those who leave a question by Midnight PST we have something special to sweeten the deal: Ann is generously offering 5 ARCs of Blue Diablo. Here are Teh Rules:
a) winners promise to post a honest review online somewhere by April 8th (see d);
b) winners will be selected within 24hrs;
c) winners will be contacted via email by Azteclady (Ann's wonderful promotion wiz) , therefore a valid email address must be provided for the comment to be entered in the giveaway;
d) winners must send link to online review to either Ann or AztecLady by April 8th;
e) we will announce the winners tomorrow, Thursday by midday Eastern on this very same post so check back here! We will also have them in the sidebar.
So, let's get this party started shall we? Ask away (but remember to play nice) and good luck!
ETA: ANN SELECTED THE WINNERS AND THEY ARE:
Jennygirl
Katiebabs
Michele Lee
Lori T
Leslee
CONGRATULATIONS! AZTECLADY WILL CONTACT YOU FOR YOUR CONTACT DETAILS! THANK YOU ALL FOR YOUR WONDERFUL QUESTIONS AND ANN FOR THE AWESOME ANSWERS! THIS WAS UTTERLY FASCINATING!