"On The Smugglers' Radar" is a feature for books that have caught our eye: books we have heard of via other bloggers, directly from publishers, and/or from our regular incursions into the Amazon jungle. Thus, the Smugglers' Radar was born. Because we want far more books than we can possibly buy or review (what else is new?), we thought we would make the Smugglers' Radar into a weekly feature – so YOU can tell us which books you have on your radar as well!
On Ana's Radar:
Last year I read and enjoyed Maplecroft by Cherie Priest. Just found out that there will be a sequel!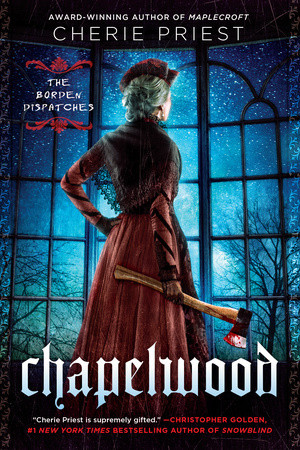 From Cherie Priest, the award-winning author of Maplecroft, comes a new tale of Lizzie Borden's continuing war against the cosmic horrors threatening humanity…

Birmingham, Alabama is infested with malevolence. Prejudice and hatred have consumed the minds and hearts of its populace. A murderer, unimaginatively named "Harry the Hacker" by the press, has been carving up citizens with a hatchet. And from the church known as Chapelwood, an unholy gospel is being spread by a sect that worships dark gods from beyond the heavens.

This darkness calls to Lizzie Borden. It is reminiscent of an evil she had dared hoped was extinguished. The parishioners of Chapelwood plan to sacrifice a young woman to summon beings never meant to share reality with humanity. An apocalypse will follow in their wake which will scorch the earth of all life.

Unless she stops it…

Yay, the next – and final! – Fairyland book! I still need to read book 4, The Boy Who Lost Fairyland though, will soon!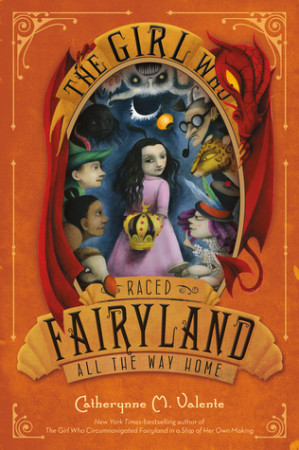 It should come as no surprise that I am REALLY looking forward to the sequel to The Three-Body Problem by Cixin Liu. And now Tor just revealed the cover for the THIRD book and I want that too so much.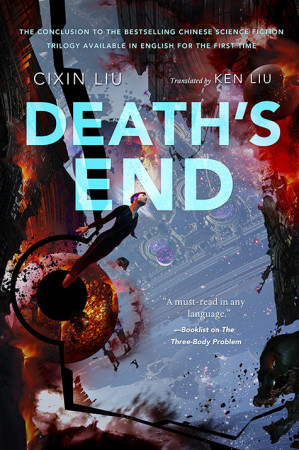 With The Three-Body Problem, English-speaking readers got their first chance to experience the multiple-award-winning and bestselling Three-Body Trilogy by China's most beloved science fiction author, Cixin Liu. Three-Body was released to great acclaim including coverage in The New York Times and The Wall Street Journal. It was also named a finalist for the Nebula Award, making it the first translated novel to be nominated for a major SF award since Italo Calvino's Invisible Cities in 1976.

In January of 2016, this epic trilogy will conclude with Death's End, which takes place half a century after the end of the second book in the Three-Body trilogy, The Dark Forest, out in the U.S. on July 7, 2015. How has humanity answered the threat of the Trisolaran Invasion Fleet? And what outcome would prove the greater threat to humanity's existence: defeat, or victory? Will humanity reach for the stars or die in its cradle?

Finally the Zen Cho book of my dreams finally has a cover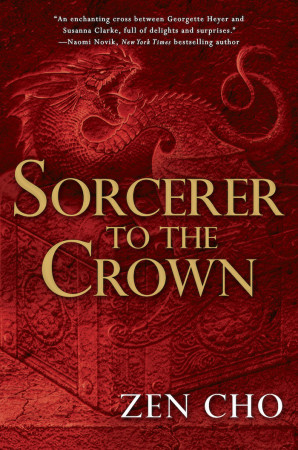 Zacharias Wythe, England's first African Sorcerer Royal, is contending with attempts to depose him, rumours that he murdered his predecessor, and an alarming decline in England's magical stocks.

But his troubles are multiplied when he encounters runaway orphan Prunella Gentleman, who has just stumbled upon English magic's greatest discovery in centuries.

On Thea's Radar:
First: Death's End AAAAAAAA! Where is my copy of Dark Forest? I need these books NOW!
Ahem. But back to regular programming: first up on my radar, a fantasy novel from Orbit that looks pretty awesome.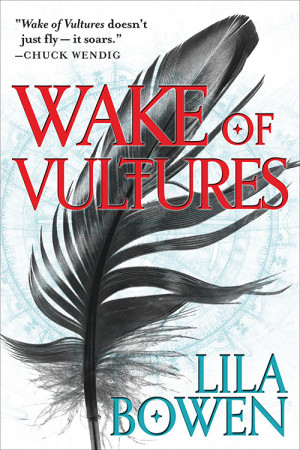 A rich, dark fantasy of destiny, death, and the supernatural world hiding beneath the surface.

Nettie Lonesome lives in a land of hard people and hard ground dusted with sand. She's a half-breed who dresses like a boy, raised by folks who don't call her a slave but use her like one. She knows of nothing else. That is, until the day a stranger attacks her. When nothing, not even a sickle to the eye can stop him, Nettie stabs him through the heart with a chunk of wood, and he turns into black sand.

And just like that, Nettie can see.

But her newfound sight is a blessing and a curse. Even if she doesn't understand what's under her own skin, she can sense what everyone else is hiding — at least physically. The world is full of evil, and now she knows the source of all the sand in the desert. Haunted by the spirits, Nettie has no choice but to set out on a quest that might lead to her true kin… if the monsters along the way don't kill her first.

Next up, a science fiction novel that sounds like it's right up my alley ("perfect for fans of The Edge of Tomorrow, Alien and the Expanse series?" OK!):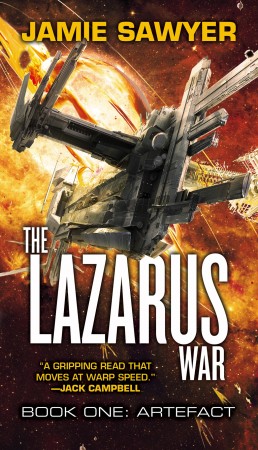 Artefact is book one of The Lazarus War, an explosive new space adventure series from one of the brightest new stars in science fiction – perfect for fans of The Edge of Tomorrow, Alien and James S. A. Corey's Expanse series.

Jack Campbell, author of the Lost Fleet novels calls it 'a gripping read that moves at warp speed.'

Mankind has spread to the stars, only to become locked in warfare with an insidious alien race. All that stands against the alien menace are the soldiers of the Simulant Operation Programme, an elite military team remotely operating avatars in the most dangerous theatres of war.

Captain Conrad Harris has died hundreds of times – running suicide missions in simulant bodies. Known as Lazarus, he is a man addicted to death. So when a secret research station deep in alien territory suddenly goes dark, there is no other man who could possibly lead a rescue mission.

But Harris hasn't been trained for what he's about to find. And this time, he may not be coming back . . .

Artefact is an action-drenched tale of elite space marines, deep space exploration and galactic empires. Discover The Lazarus War – the thrilling new space opera series from one of the most exciting new voices in science fiction.

"An adrenaline shot of rip-roaring military SF packed with cinematic action sequences and tightly drawn characters" Stephen Deas, author of ELITE: WANTED, EMPIRES: INFILTRATION and EXTRACTION

Next up, the new Kate Elliott! Yessssss!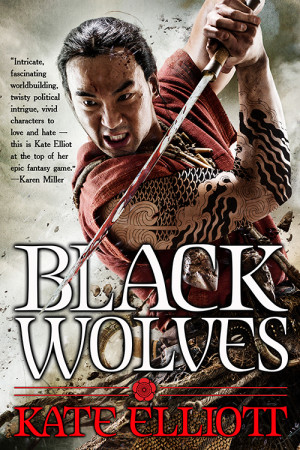 Some choices can never be undone.
The Hundred, once ruled by a tainted religion and demon court, is now a place of prosperity, but treachery still waits in the shadows. Once the captain of the elite Black Wolves, Kellas finds himself standing at a crossroads where he must decide whom to serve and whom to betray. Faithful to the king's memory but shut out from his legacy, Lady Dannarah fights for the rank she was denied, while three young outcasts leave their homes to find their own destiny.

As broken alliances are guardedly rekindled and old friendships put to the test, the Hundred's past is called into question ­and its very future is at stake.

I confess that this next book caught my for one reason only: dinosaurs.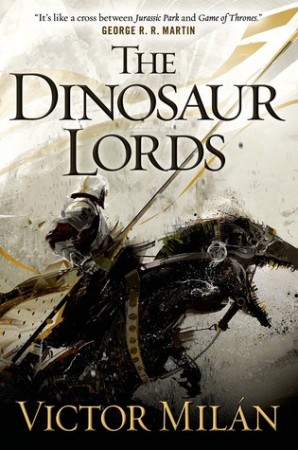 A world made by the Eight Creators on which to play out their games of passion and power, Paradise is a sprawling, diverse, often brutal place. Men and women live on Paradise as do dogs, cats, ferrets, goats, and horses. But dinosaurs predominate: wildlife, monsters, beasts of burden – and of war. Colossal planteaters like Brachiosaurus; terrifying meateaters like Allosaurus and the most feared of all, Tyrannosaurus rex. Giant lizards swim warm seas. Birds (some with teeth) share the sky with flying reptiles that range in size from batsized insectivores to majestic and deadly Dragons.

Thus we are plunged into Victor Milán's splendidly weird world of The Dinosaur Lords, a place that for all purposes mirrors 14th century Europe with its dynastic rivalries, religious wars, and byzantine politics…and the weapons of choice are dinosaurs. Where we have vast armies of dinosaur-mounted knights engaged in battle. And during the course of one of these epic battles, the enigmatic mercenary Dinosaur Lord Karyl Bogomirsky is defeated through betrayal and left for dead. He wakes, naked, wounded, partially amnesiac – and hunted. And embarks upon a journey that will shake his world.

This new forthcoming title from Saga Press looks flippin' amazing, too: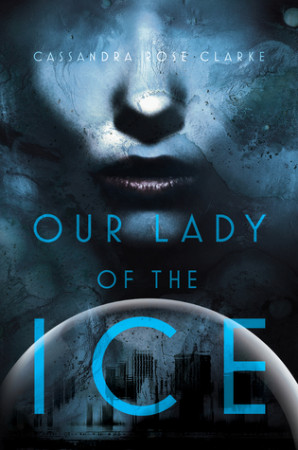 Hope City, Antarctica. The southernmost city in the world, with only a glass dome and a faltering infrastructure to protect its citizens from the freezing, ceaseless winds of the Antarctic wilderness. Within this bell jar four people–some human, some not–will shape the future of the city forever:

Eliana Gomez, a female PI looking for a way to the mainland.

Diego Amitrano, the right-hand man to the gangster who controls the city's food come winter.

Marianella Luna, an aristocrat with a dangerous secret.

Sofia, an android who has begun to evolve.

But the city is evolving too, and in the heart of the perilous Antarctic winter, factions will clash, dreams will shatter, and that frozen metropolis just might boil over…

And that's it from us! What books do you have on YOUR radar?