In which Lucy Hounsom talks about the inspirations behind the new Fantasy novel Starborn
"Inspirations and Influences" is a series of articles in which we invite authors to write guest posts talking about their Inspirations and Influences. In this feature, we invite writers to talk about their new books, older titles, and their writing overall.
Please give a warm welcome to Lucy Hounsom!

There's a house on the edge of a village I drive through on my way to work. It's a white house, perfectly ordinary except for its odd location on the last corner before the road leaves the village and runs on to Exeter. One autumn twilight I was coming home past the house and, as traffic was slow, had a chance to glance inside. Yellow light spilled from the windows and I saw a kitchen with the bustling silhouettes of people preparing the evening meal. Such a common scene, but an ancient one and it made me think of the place all stories begin: in the home, around a meal, in the company of family and friends. The oral tradition is rooted here in a time when story was used as a means to impart the gathered knowledge of a people, knowledge that teaches us how to live.
This archetypal setting often occurs in fantasy, particularly at the beginning of an epic, where safe domesticity serves both to coerce the hero into adventure and to later remind them what they took for granted. So it's no surprise that my own book begins in an inn, a place that sees comings and goings, while retaining an air of permanence. It's another reminder of how much Robert Jordan's first book inspired me when I was 17 and the seeds of Starborn were just beginning to sprout. I'm always unreasonably excited by strangers walking into a village, bringing with them an aroma of mystery and magic to turn the protagonist's life on its head. You find the same scenario in The Belgariad, Shannara, The Sword of Truth – all stories in which the familiar swiftly becomes unfamiliar.
Often the hero's home will crop up again much later in their journey, usually accompanied by a feeling of regret, of wistfulness, as a manifestation of wholeness that the hero, scarred now by experience, can never recapture. I've been told that I unconsciously work symbols and archetypes into my fiction and perhaps I find it easy to do so because fantasy is brim-full of them. Nowhere else is the hero's journey – our journey – so clearly illustrated. The language of fantasy is deceptively simple and the genre has the potential to be wonderfully inclusive.
I've talked about the home in fantasy because I think it plays an important part in the characterisation of the hero. We are shaped by our childhoods and our childhood environment and our earliest experiences colour everything we do. My protagonist, Kyndra, has an unbelievably long journey ahead of her, which changes her more than she could ever have imagined, and yet I wanted her to retain the roots of her thinking, to see the world – rightly or wrongly – through the eyes of someone who has grown up in a sheltered community at peace. The very concept of war is alien to her, as are the attitudes that foster it, and, particularly in the follow-up to Starborn, she struggles to understand the divisions responsible for fragmenting a society.
Opening the doors of discussion a bit wider, it's hard to pin down individual influences. I've mentioned Robert Jordan and yes – The Wheel of Time did play a huge part in the conception of Starborn. But my approach to writing fantasy is inspired by thousands of pages and years of reading during a highly impressionable age. Like many writers, I was profoundly moved by Tolkien; Middle Earth has become a personal mythology that underpins much of my thinking about the tenets of fantasy and why I find it so compelling a genre. Because fantasy is with me all the time, in the everyday as well as in my reading and writing. Perhaps it's the same for anyone who's read a great deal of it and can't shake the sense of the epic that fantasy conveys.
I'm aware all this is quite ephemeral. You asked me to identify my inspirations and influences, but I fear there isn't one that dominates. I've been inspired by things as diverse as the Prose Edda to Captain Nemo's Grand Salon to the Japanese Manga series, Bleach. I've stayed true to some tropes and unwittingly subverted others, but the result is a classic coming-of-age fantasy that's primarily plot-driven with multiple character perspectives. It's traditional stuff, I don't deny, but I hope it embodies how much I love this marvellous genre where stories as sprawling as The Odyssey, or as concentrated as a fairy tale can unfold without limitation.

About the Book: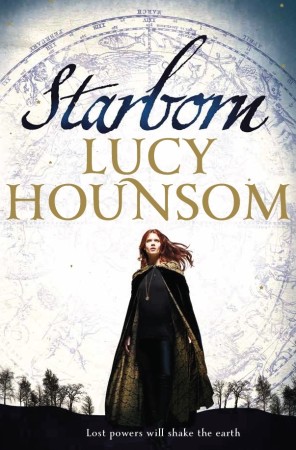 Where lost powers will walk the earth
When Kyndra accidentally breaks a sacred artifact at her village's coming-of-age ceremony, she finds all hands turned against her. Then, following too swiftly for coincidence, a madness sweeps her home, along with unnatural storms. An angry mob blame her and she fears for her life — until two strangers, wielding a power not seen for centuries, take her to safety. They flee to the sunken citadel of Naris, but worse dangers will lie ahead, amongst the underground city's politicians, fanatics and rebels. But in its subterranean chambers, she will find her true path – facing betrayal and madness to find it.

Kyndra, like every reluctant hero, has a choice: seize her destiny with both hands or walk away, perhaps dooming a whole world to fall. Starborn is about a girl coming of age, but it's also about heroism. It's strengths, burdens, responsibilities and – not least – its consequences.
Starborn is out today, April 23, in the UK. You can read an excerpt HERE.

About the Author: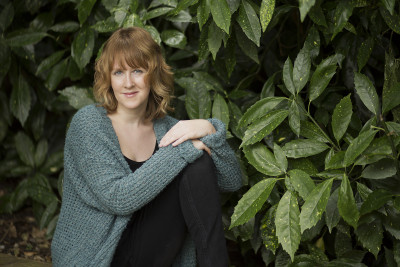 In between writing fantasy novels, Lucy's also a bookseller for Waterstones, and says that the link between writing and bookselling really helped her with this book. Starborn and its sequel were acquired by Tor at the end of 2013, and it's published on 23rd April.