Old School Wednesdays is a weekly Book Smuggler feature. We came up with the idea towards the end of 2012, when both Ana and Thea were feeling exhausted from the never-ending inundation of New and Shiny (and often over-hyped) books. What better way to snap out of a reading fugue than to take a mini-vacation into the past?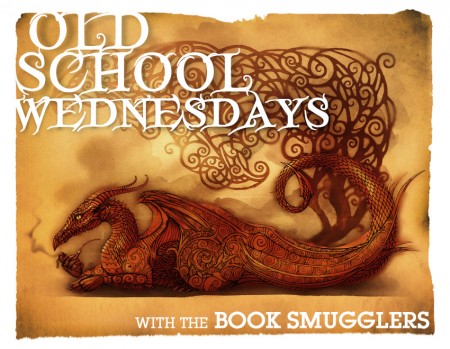 Logo designed by the wonderful KMont
In March 2013, we asked YOU for your favorite old school suggestions – and the response was so overwhelmingly awesome, we decided to compile a goodreads shelf, an ongoing database, AND a monthly readalong/book club.
On this particular Wednesday, we're doing something a little bit different. See, Ana has never read or seen Anne of Green Gables – one of Thea's beloved childhood favorite books and television adaptations.
Today, that nonsense ends. Thea will wax poetical about her favorite Anne Shirley shenanigans, and Ana gives her perspective as an adult approaching the classic story with fresh eyes.
Of course, what's an OSW joint review without your opinion? We invite everyone else to sound off and share their own experiences with the incorrigible, imaginative Anne.

Author: L.M. Montgomery
Genre: Young Adult, Fiction, Historical
Publisher: L.C. Page & Co.
Publication date: First published 1908
Paperback: 314 pages
As soon as Anne Shirley arrived at the snug, white farmhouse called Green Gables, she knew she wanted to stay forever… but would the Cuthberts send her back to the orphanage? Anne knows she's not what they expected — a skinny girl with decidedly red hair and a temper to match. If only she could convince them to let her stay, she'd try very hard not to keep rushing headlong into scrapes or blurt out the very first thing she had to say. Anne was not like anybody else, everyone at Green Gables agreed; she was special — a girl with an enormous imagination. This orphan girl dreamed of the day when she could call herself Anne of Green Gables.
Stand alone or series: Book 1 in the Anne of Green Gables Series
How did we get this book: Bought
Format (e- or p-): Ebook
Review:
Thea's Take:
"There's such a lot of different Annes in me. I sometimes think that is why I'm such a troublesome person. If I was just the one Anne it would be ever so much more comfortable, but then it wouldn't be half so interesting."
Anne (with an "e") Shirley is an eleven-year-old orphan with freckles, red hair, and an imagination that rivals the greatest and most creative minds in history. She loves reading and daydreaming, playacting in great melodramas; she yearns for hair as black as the raven's wing and for great romantic tragedy… but most of all, Anne yearns for friendship. Kindred spirits, whose souls call out to each other in perfect understand, and a bosom friend she can hold close to her heart – even when in the depths of despair.
When Anne is sent by her orphanage (by mistake) to Green Gables, a farm on Price Edward Island, Anne finds all of these things. She instantly falls in love with Green Gables's rolling hills and forms a kinship with Matthew, the gentle and softspoken co-owner of the farm. Although the other owner, Matthew's sister is tough-as-nails and threatens to send Anne back on account of their having no need for a girl on the farm, Anne soon wins over steely Marilla with her imagination, charm and ridiculous shenanigans. Anne of Green Gables is the story of Anne Shirley as she finds a home, friendships, and future. She quickly befriends Diana Barry (her dearest, most cherished bosom friend), and excels at school (taking first place in so many subjects, especially with the guidance of new schoolmaster Miss Stacy), and even forms a rivalry with the infuriating Gilbert Blythe (who dared make fun of Anne's red hair, to catastrophic ends).
Dear readers, kindred spirits, bosom friends: I love Anne of Green Gables.
I've loved it since I was a child: discovering the redhead's adventures on PEI, marveling at her imaginative scope, and desperately wanting a bosom friend of my own (and secretly, to try Marilla's raspberry cordial that isn't actual raspberry cordial). My original volume of Anne of Green Gables was so dogeared and weather-worn that it fell apart by the time I reached adulthood – but not before I was able to pass the book on to my younger sisters.
My family moved quite a bit when I was young – from Hawaii to Japan to Indonesia, back to Japan, Indonesia, the Philippines. I had a very happy childhood and younger sisters whom I tortured and love dearly, but I always did yearn for the kind of permanence of home that Anne yearns for in her adventures. I could identify with her feelings of isolation and getting lost in books and her own imagination, wanting a bosom friend of one's very own, desperately needing to succeed at school and beat the rest of the class. And, beyond those personal reasons, Anne of Green Gables resonated so much with me because it was a book written in the early 20th century about a girl facing pretty impossible odds, yet rising to find happiness and home and success because of her own gumption and ingenuity, as well as the kindness and inherent goodness of others. It's an uplifting and empowering story – a fairy tale of sorts, but one rooted in humor and goodwill and imagination. Not to mention, the books are written in L.M. Montgomery's sparkling prose, with Anne's vivid thoughts and frankly impressive vocabulary coloring the reading experience.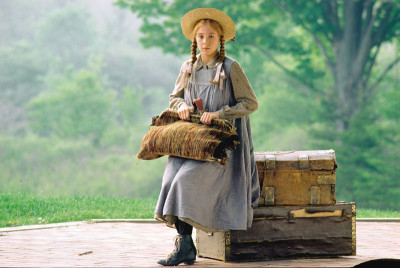 Of course, as a child of the 1980s, my love for Anne of Green Gables was only further fueled by the 1985 TV movie adaptation of the same name. Megan Follows will always be Anne to me – this is one of the very first times I can recall reading a book, then watching the movie and feeling overwhlemed by The Awesomeness of seeing characters I love come to life in the best possible way on screen. The film and book are almost inseparable in my mind; I own the DVD edition of Anne of Green Gables and still watch it fairly regularly (say, once a year). (If you haven't seen the film, I urge you to do so immediately – I'm making Ana watch it the next time she visits New York.)
So what else can I say about Anne in this rambling love letter of a post? Perhaps I'll just conclude with a few things I learned from the rapscallion redhead.
1. Fashion Tips. Puffed sleeves are the height of fashion.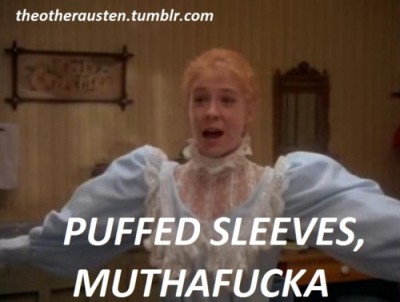 "I don't see how I'm going to eat breakfast," said Anne rapturously. "Breakfast seems so commonplace at such an exciting moment. I'd rather feast my eyes on that dress. I'm so glad that puffed sleeves are still fashionable. It did seem to me that I'd never get over it if they went out before I had a dress with them. I'd never have felt quite satisfied, you see. It was lovely of Mrs. Lynde to give me the ribbon too. I feel that I ought to be a very good girl indeed. It's at times like this I'm sorry I'm not a model little girl; and I always resolve that I will be in future. But somehow it's hard to carry out your resolutions when irresistible temptations come. Still, I really will make an extra effort after this."
2. How to Deal With Annoying Boys. Gilbert Blythe, you deserve this slate breaking over your head.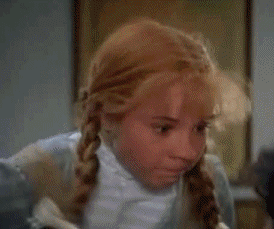 Gilbert reached across the aisle, picked up the end of Anne's long red braid, held it out at arm's length and said in a piercing whisper:

"Carrots! Carrots!"

Then Anne looked at him with a vengeance!

She did more than look. She sprang to her feet, her bright fancies fallen into cureless ruin. She flashed one indignant glance at Gilbert from eyes whose angry sparkle was swiftly quenched in equally angry tears.

"You mean, hateful boy!" she exclaimed passionately. "How dare you!"

And then–thwack! Anne had brought her slate down on Gilbert's head and cracked it–slate not head–clear across.
3. How to be a Bosom Friend. Because bosom friends love each other unconditionally…
"Indeed I will," sobbed Diana, "and I'll never have another bosom friend–I don't want to have. I couldn't love anybody as I love you."

"Oh, Diana," cried Anne, clasping her hands, "do you LOVE me?"

"Why, of course I do. Didn't you know that?"

"No." Anne drew a long breath. "I thought you LIKED me of course but I never hoped you LOVED me. Why, Diana, I didn't think anybody could love me. Nobody ever has loved me since I can remember. Oh, this is wonderful! It's a ray of light which will forever shine on the darkness of a path severed from thee, Diana. Oh, just say it once again."

"I love you devotedly, Anne," said Diana stanchly, "and I always will, you may be sure of that."
…and also take care of each other when one has unwittingly gotten the other drunk.
4. How to bear a dye job gone bad. Because green hair is no fun for anyone.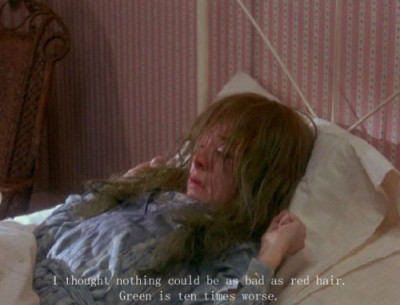 "Anne Shirley, what have you done to your hair? Why, it's GREEN!"

Green it might be called, if it were any earthly color–a queer, dull, bronzy green, with streaks here and there of the original red to heighten the ghastly effect. Never in all her life had Marilla seen anything so grotesque as Anne's hair at that moment.

"Yes, it's green," moaned Anne. "I thought nothing could be as bad as red hair. But now I know it's ten times worse to have green hair. Oh, Marilla, you little know how utterly wretched I am."
5. How to deal with the unexpected. Because sometimes, bends in the road are just what you need.
"I'm just as ambitious as ever. Only, I've changed the object of my ambitions. I'm going to be a good teacher– and I'm going to save your eyesight. Besides, I mean to study at home here and take a little college course all by myself. Oh, I've dozens of plans, Marilla. I've been thinking them out for a week. I shall give life here my best, and I believe it will give its best to me in return. When I left Queen's my future seemed to stretch out before me like a straight road. I thought I could see along it for many a milestone. Now there is a bend in it. I don't know what lies around the bend, but I'm going to believe that the best does. It has a fascination of its own, that bend, Marilla. I wonder how the road beyond it goes–what there is of green glory and soft, checkered light and shadows–what new landscapes–what new beauties–what curves and hills and valleys further on."
Ana's Take:
I had never heard of Anne of Green Gables until a couple of years ago. As far as I know it was never a big title in Brazil – Wikipedia tells me of two translations, one published in 1956 and out of print and one published in 2009 when I had already moved away. As such, Anne of Green Gables has not been a part of my childhood not even as part of a collective cultural knowledge. No, my imported childhood friends were Pollyanna and the Little Prince, never Anne Shirley.
+++
But…allow me to retrace my steps to the moment I started reading this book. Because my first impression was not one of enthusiasm. As an adult, reading from a modern perspective in this distant 21st century, there was a bit of culture shock and discomfort. Allow me to remind you that:
-Marilla and Andrew wanted an orphaned kid not out of kindness but because they wanted a child worker. Yes, they sent for a boy of 11 (ELEVEN) so that the boy could work in return of room and board. Let that sink in.
-there is a bit of xenophobia and surprise!racism! in the book: at one point street urchins are called "London street Arabs" and Anne is conned by peddler who was a "German Jew" and not one of those Italians like Marilla thought.
It is possible to be a fan of problematic things.
+++
There is also the question of my hardened, cynical heart when faced with the type of character that Anne is….the unbearably sweet, extremely quirky, ever so clever girl who just wouldn't.Shut.Up about being ugly because of her HORRIBLE red hair and freckles. I confess it was hard to start with – I kept rolling my eyes and almost stopped reading.
Then Marilla decided to keep Anne and I found myself crying. No, I found myself sobbing. In public. Disgraceful.
+++
Featuring an omniscient narrator with a sympathetic, somewhat snarky voice, Anne of Green Gables is a novel of episodic adventures featuring what I can only call a set of loveable characters with Anne Shirley as a protagonist. These episodes stand well on their own but come together in the end by composing a beautiful portrait of Anne's childhood. Her adventures with her friends, her adoptive family, going to school and the setbacks that can only happen to Anne (Anne, I too had green hair at one point. Unlike you, I had to endure it and it was horrible. There was one time when a cute boy pointed at me and said I had bogeys all over my hair. I wanted to hide forever, Anne) are amazing – funny and heartwarming even without any sense of nostalgia attached to it. But what I loved the most is how it was all eventually framed as part of growing up. The later chapters are as important and serious and as the earlier ones were funny and light.
I loved the later, more composed, less talkative Anne just as much as I loved the early days Anne.
+++
Anne is not a Mary Sue. She is not a manic pixie girl. She is not perfect: she has a terrible temper, she doesn't like everybody (even if she tries).
But she is: self-confident, assertive, smart, loyal to her girlfriends and a girl: I refuse to call her a Mary Sue or to add any negative connotations to such a wonderful female character. I will not tell her to shut up.
+++
"Kindred spirits are not so scarce as I used to think. It's splendid to find out there are so many of them in the world."
This book is a kindred spirit. I wish I had met it sooner.
Rating:
Ana: 9 – Damn near perfect
Thea: 10 – A perfect, beautiful stroll down memory lane
And now we turn it over to you, gentle readers! Have you read (or watched) Anne of Green Gables? Sound off in the comments!