Title: What a Pirate Desires
Author: Michelle Beattie
Genre: Historical Romance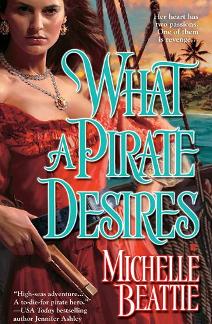 Publisher: Berkley Sensation
Publication Date: December 2008
Paperback: 304 pages
Stand Alone/Series: Stand alone
Summary: When her family was murdered by the brigand named Dervish, all that Samantha Fine cherished was swept away in the churning waters of the Caribbean. Driven by revenge, she masquerades as Sam Steele, the most cunning pirate of the seas, striking terror in the hearts of every merchant who dares to cross her path. If only they knew the legendary buccaneer's extraordinary secret… A MAN IN NEED
One man has discovered that a fiery female spirit wrestles beneath Sam's fearsome exterior: the pirate, Luke Bradley. He once sailed with the vile Dervish, and now has a score of his own to settle. But as he joins Sam on her journey across the unpredictable Caribbean Sea, Luke is drawn to her loyal heart and courageous strength. Now, making Dervish pay for his sins is second to the quest to win Sam's heart…
EVERYTHING A PIRATE DESIRES
Why did I read the book: We received a review copy of the book. I liked the cover and the premise so I decided to give this a go.
Review:
Warning: there will be spoilers.
Samantha Fine is a survivor. 5 years before the book starts, the ship she was travelling in with her family was attacked by the dreaded Pirate Dervish, her parents and younger sister killed. She was saved from being killed by her friend Joe – a father figure – who jumped off the ship with her. They were later rescued and taken to a plantation in the Caribbean where they became slaves. Samantha was even raped by the EVIIIIL plantation owner. Before he could repeat the experience though, Samantha fought back, killed him (or so she thought), freed all of the other slaves and with a group of 5 of them, stole the plantation owner's ship and this ragtag bunch soon become pirates themselves – Samantha takes the name of Sam Steele and they brave the seven seas in search of Dervish. The revenge will be hers. One day.
Cue to the first chapter in which our heroine bravely walks into a prison somewhere in the Caribbean to visit the also infamous pirate Luke Bradley who is set to hang. She makes him an offer he can't refuse: to break him out and in return he will take her to Dervish. Luke used to be a member of Dervish's crew but was betrayed by him and he is too, in search of revenge. Luke has connections and these connections point them the way of Dervish and off they go.
Where can I start? Perhaps with my own expectations. The cover, the blurb and the premise were so very promising: both the cover and blurb tell me the heroine was going to be a kick-ass heroine who was a pirate herself, therefore I was expecting her to be strong, capable. The premise tells me of high sea adventures, of two pirates Swashbuckling their way around , falling in love along the way. Instead what do I get?
A Woe-is-me heroine who spends the entire book moaning about how she hates pirates, how she hates pirating. Who is constantly whining and crying. Who runs a bunch of ragged escapees, whose cunning plan to pirating was to accost ships and then have Samantha pretend to have been attacked by pirates to inspire….pitty on the other ship's crew. And I am supposed to believe that she is the GREATEST pirate the Caribbean has ever seen. Everyone fears Sam Steele and I spent the whole book wondering why.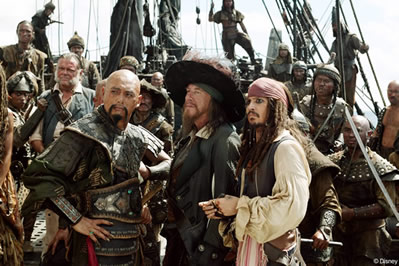 The true pirates of the Caribbean called. They want their dignity back.
In the same fashion, she is attracted to Luke but she fights it because he is OMG, a pirate.
"Luke was a pirate. He, like Dervish, lived to take from other people, to pillage and destroy. Hadn't she seen today, on her own ship, the damage that pirates wreaked? "
Yes, today and every day for the past 5 years as well, Samantha – are you not a pirate yourself??? And this bipolar mantra is repeated ad nauseam throughout the book,
No, he is a pirate I cannot love him. But wait, he is actually an honourable pirate. No, he LIES. Yes, he is hot.
There is simply no consistency to her character. She CHOSE to be a pirate. She has hated every single minute of it for the past 5 years just so that she can exact revenge. And when it finally comes the time for the confrontation? This example of intelligence walks into the pirate's den, still trying to keep her undercover status and then Luke who is in his role (as he is supposed to) plays around talking about wenching and she gets all pissy and says to all "I am Sam Steele." And like that, 5 years of secret are blown away because she is upset. And when she finally finds Dervish, what does she do? She walks away. Because she is the better person. Can you hear that sound? That is Ana's wail of frustration.
Similarly, Luke is a character that had a lot of potential – someone who at first seems unapologetic about his living: who liked his rum, his wenching, his pirating and fighting. From the get go, Luke seems to be the (stereo)typical pirate from the use of "luv" in almost every sentence to his physical description: Open shirt, chains around his neck, gold sash around his waist , eye patch. I am a-okay with stereotypical as long as it is well executed. But as with everything in this book, Luke is a shallow excuse for a pirate and his dedication to the pirating cause is only superficial. You see, Luke has daddy issues: he is a bastard hated by the step-father who kept saying he was unworthy. According to his sister he is a pirate because that "it is all he thinks he can be" . And the love of a good woman is the only thing that will make him believe he is worthy. But he struggles. I found it hilarious when Luke decided to remind Samantha who he really was (repeat the mantra: an unworthy pirate ) by wearing: "a shirt gaping open".
Behold the pirate! His shirt is open! He must be FEARLESS.
Before they can be together for reals though there is more stupidity coming from Samantha and the return of the Plantation Villain and his rapists ways. He too, has been looking for Samantha for 5 years to exact revenge and get into her tight hole one more time. *rolls eyes* What is up with these villains and their obsession with tiny tight holes anyway?
With the characters being completely inconsistent and the implausible plot, the fact that everyone thinks they are the two greatest pirates *snorts* the world have ever seen, the complete lack of chemistry between Luke and Samantha – there is no salvage here. This could have been a hit but it failed miserably in all aspects. The premise was there, the characters could have been so much more, and the prose itself is not even that bad. But alas…this book is sailing straight into the Land of Wasted Opportunity.
Notable Quotes/ Parts: *Laughs hysterically*
Additional Thoughts: So far, I have been unlucky with pirate books. So what Ana desires: a pirate book where the pirates are REAL Pirates and not any of the above:
– A peer of the Reign in disguise
– A person who has no alternative
– A man with daddy issues
I want high seas adventures and of course, I would prefer my pirates not to be of the murdering/sociopath kind – there can be honour amongst thieves, right? Something like…the Black Sawn with the awesome Tyrone Power – can we say oh, "Jamie boy" .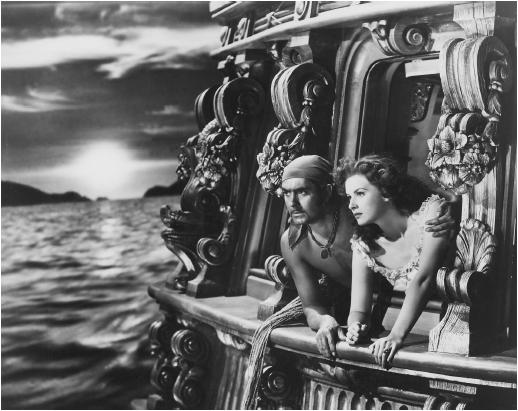 Can someone point me to the X?
Verdict: This one should be walking the plank.
Rating: 2 – Complete waste of time.
Reading next: the Manga Vampire Knight by Matsuri Hino