Holy indestructible alloy, Captain Stupendous! Geeks, Girls and Secret Identities is fun.
Title: Geeks, Girls and Secret Identities
Author: Mike Jung, illustrations by Mike Maihack
Genre: Speculative Fiction, Science Fiction, Superheroes, Middle Grade
Publisher: Arthur A. Levine Books/Scholastic, Inc.
Publication Date: October 2012
Hardcover: 307 pages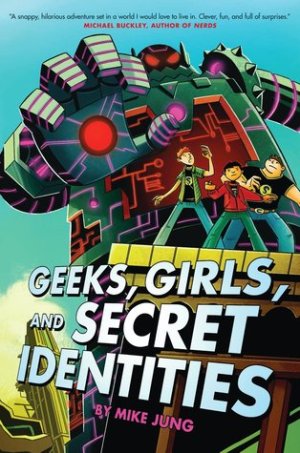 A SUPER funny, SUPER fast-paced, SUPER debut!

Can knowing the most superhero trivia in the whole school be considered a superpower?

If so, Vincent Wu is invincible.

If not (and let's face it, it's "not"), then Vincent and his pals Max and George don't get any props for being the leaders (and, well, sole members) of the (unofficial) Captain Stupendous Fan Club.

But what happens when the Captain is hurt in an incident involving BOTH Professor Mayhem and his giant indestructible robot AND (mortifyingly) Polly Winnicott-Lee, the girl Vincent totally has a crush on?

The entire city is in danger, Vincent's parents and his friends aren't safe, the art teacher has disappeared, and talking to Polly is REALLY, REALLY AWKWARD.

Only Vincent Wu has what it takes to save the Captain, overcome Professor Mayhem, rally his friends, and figure out what to say to Polly. But will anyone take him seriously? Seriously. Anyone??

Find out in this action-packed super comedy debut.
Stand alone or series: Stand alone novel
How did I get this book: Bought
Format (e- or p-): Print Book
Why did I read this book: This novel crossed my radar a few years ago, when a Smugglivus guest mentioned that it was a fantastic superhero novel for younger readers. Fast forward to this January – while cleaning off my shelves and aimlessly wondering which book I should read over the holiday break, I saw Geeks, Girls and Secret Identities and decided that it was finally time.
Review:
Copperplate City isn't that different than any other American metropolis. There are parks, a lake (admittedly a very stinky and goose-poop polluted lake), a middle school, a police force, pizza parlors, regular places of business… you get the picture.
The only difference is, Copperplate City is protected by a superhero.
The impervious, undefeated, high-flying and super strong Captain Stupendous has protected the denizens of Copperplate City for decades without fail – or aging. He has defeated maniacal villains and their dastardly inventions; he's saved children from abductions with a perfect success record; he's protected local industries and kept the city in one piece. It's no wonder, then, that kids like Vincent Wu are obsessed with the Captain – heck, there are four fan clubs devoted to Stupendous in the city alone! (Vincent is the president of the only club that doesn't suck, the Captain Stupendous Fan Club, period. No "Official" – that's a lame club.)
But one day, everything changes. Captain Stupendous is missing from action after having a very hard time defeating the newest villain on the block: Professor Mayhem, who has an indestructible giant robot at his disposal. It turns out that Captain Stupendous isn't who Vincent (or anyone, for that matter) thinks he is. He's not even a he at all – he's actually Vincent's crush, the surly teenaged Polly Winnicott-Lee.
With the obsessed Professor Mayhem on the loose, the future of Copperplate City and the safety of his friends and family rest on Vincent's admittedly undersized shoulders. But can he train the new Captain Stupendous in time to save the day?
Holy indestructible alloy, Captain Stupendous! Geeks, Girls and Secret Identities is fun. The debut novel from Mike Jung, this beautifully illustrated young YA/upper MG superhero adventure manages to balance comedy, action, and pre/adolescent frustration perfectly. Most importantly, though the book is written simply in terms of structure, vocabulary, and overall direction, it never condescends to its audience and actually subverts and tackles some pitfalls of the superhero fiction subgenre head-on. While many superheros pass on the cape and cowl from one generation to the next – similar to Polly's position here, as she's the only person around when the old Stupendous dies – the twist in Geeks is more science fictional and deeply subversive, when you think about it. I mean, a surly biracial teenage girl is the manliest, buffest, clean-cut, most revered Superman-riffing superhero of all time? HOW COOL IS THAT? [Sidenote: The reveal that Polly has assumed the mantle as Stupendous be a slight spoiler, but as you find that out within the first few chapters, and I think it's a huge, integral part of this book, I don't care and I'm choosing to talk about it.] This assumed role as Stupendous raises all sorts of other important questions, most immediately about personal choice.
See, Polly has no choice in her new role as Captain Stupendous – she just happened to be there at the right time (not unlike Hal Jordan) and finds the responsibility of becoming the world's most iconic hero foisted upon her. But unlike Green Lantern, Polly's dilemma has the added pathos of being a really young teenager – and not just any teenager, but one who has survived a Stupendous rescue and has her own form of PTSD to grapple with. (Not to mention the fact that when she uses her own science fictional power, she doesn't become a superheroine version of Polly – she becomes a square-jawed, all-American beefy adult dude.) When she reveals her secret identity to Vincent and his friends Max and George, they don't understand why anyone wouldn't want to be Stupendous – but I very much love and appreciate the careful consideration that Jung examines in Polly's conflicted and hurt feelings at becoming Captain Stupendous (especially since the role comes from an authority figure that Polly trusts and respects).
This raises a secondary really interesting discussion of choice – because this story could have (and would have) been completely different if Jung chose to tell it from a slightly different perspective. Because as much as I've talked about Polly, Geeks, Girls and Secret Identities is not Polly's story. It's also not the story of football player Max assuming the role as a great manly superhero. Nor is it the story of quintessential scrawny and overlooked geek becoming the world's greatest superhero.
No, it's the story of Vincent Wu – who, ok, is the quintessential scrawny and overlooked geek – but he stays himself and relies on his smarts and knowledge of Stupendous, his trust in his friends and the people he cares about to train the world's greatest superhero, and thus save the day. That is really, superbly, stupendously awesome. I love that Vincent is the hero of this tale, and that he grapples with his own insecurities and his frustration that no one listens to him or takes him seriously. When Vincent lashes out or gets worked up, readers can sympathize, empathize, with his vexation. I also love that Geeks is the story of Vincent growing up – or at least understanding that others aren't always against him or not taking him seriously. There are some truly touching moments in the book with Vincent's parents individually, as well as with his mother's boyfriend, Bobby.
Which brings me to the next awesome point about Geeks, Girls and Secret Identities – the wonderful diversity of all of the characters within. Mike Jung – a voice in the We Need Diverse Books movement – does a fantastic job of integrating characters of different backgrounds in a way that is representative of the actual diverse world we live in. Vincent Wu is bi-racial (Asian and Caucasian parents), as is other main character Polly Winnicott-Lee. One of Vincent's friends, George has a mother who is bisexual, and other parents are divorced or separated and dating other people, while stil being in functional relationships with their families. I love that all of this is just a matter of course, because you know, that's the way it is in the real world.
And that's to say nothing of the actual action and plotting of the story itself! Which is quite good. I love the idea of alien creatures or some science fictional explanation for the actual physical body of Captain Stupendous; similarly, I appreciate that the origin story is familiar (it came from outer space!) and accessible. There isn't much new ground treading in this book, but that's part of the charm – it's a familiar story with familiar superhero tropes, but with enough subversive character and perspective twists to make it that much more memorable.
I certainly enjoyed it and cannot wait to read what Mike Jung comes up with next.
Notable Quotes/Parts: I would be remiss if I didn't at least mention the gorgeous artwork from Mike Maihack. Check these out: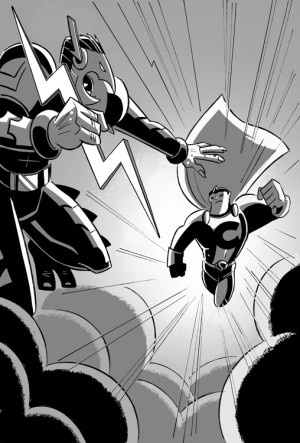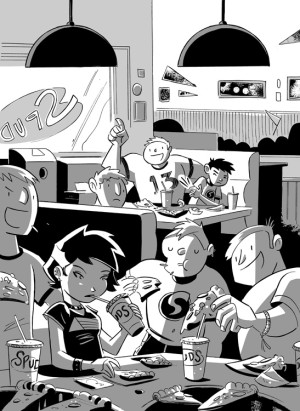 And here's a quick excerpt:
"CAPTAIN STUPENDOUS!" I yelled, swiveling my head and pointing up. There was a sharp whoosh overhead, followed by the sound of fabric whipping in the wind. A roar went up from the crowd. "Time to take care of business, baby!" I yelled. The robot turned and raised its fists as Stupendous flew straight at its chest.

"AH, THERE YOU ARE!" Professor Mayhem sounded insanely cheerful to see Stupendous. "Game over, baby," somebody in the crowd shouted.

"Watch, it's gonna be over with one punch!" Whoever said it was wrong, though, because the robot swung one big metal fist and hit Stupendous face-first with a loud CLANG. Stupendous flew sideways, spun around and crashed into the building across the street. Just like that, everyone quit cheering. George, Max and I stood there with our mouths hanging open.

"What just happened?" George said.
Rating: 7 – Very Good
Buy the Book:
(click on the links to purchase)
Ebook available for kindle US, nook, Kobo, Google Play, iBooks