We can hardly believe it, but 2014 is almost gone and it's already time for Smugglivus!!! Yay!
For the uninitiated, here is a quick primer:
Smugglivus, what?
Smugglivus is our month-long (ok, technically it's about five weeks long) end of the year celebration. Back in our first year of The Book Smugglers in 2008, we wanted to do something special at the end of the year leading up to our blog anniversary in early January. So, we came up with the idea to host a holiday bonanza to celebrate our favorite books, authors, and bloggers of the year. Thus, inspired by Seinfeld's infamous Festivus, Smugglivus was born.
Each year, Smugglivus begins on December 1 and features guest posts from our favorite people across the interwebs (with a healthy serving of our regular reviews and giveaways, of course). The event ends with a bang on January 7, our very own blogiversary. (It's our seventh this year!)
What can you expect from Smugglivus 2014?
Awesome Guests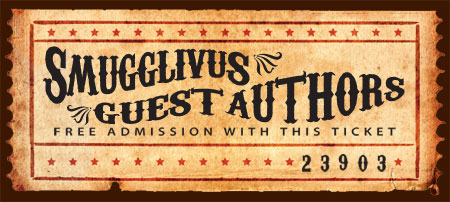 Every single day for the duration of the event we will feature at least one (but often more) guest. These guests include authors whose books we loved this year to our very favorite book bloggers. Our guests will talk about different topics: their favorite reads/TV/movies of 2014, what they are looking forward to and/or have planned in 2015, or anything in the holiday spirit of sharing bookish thoughts.
This year, our all-star author lineup includes, among many others, Kate Elliott, Mike Carey, Aliette de Bodard, Robert Jackson Bennett, Genevieve Valentine, Silvia Moreno-Garcia, Rin Chupeco, Sarah McCarry and more. Of course, we'll also have plenty of awesome bloggers/reviewers over to play, including, Renay from Strange Horizons and Lady Business, A Dribble of Ink's Aidan Moher, Foz Meadows, Sunil Patel, Mahvesh Murad and many, many more.
Giveaways
We have loads of books to giveaway, some of them generously donated by some of our guests, some sponsored by us – including a special giveaway on Christmas Day. Whee!
Feats of Strength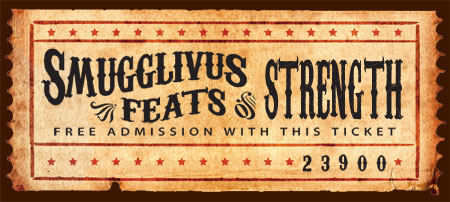 What is Smugglivus without a little danger, a little death-defying challenge? The Feats of Strength are our "dare" challenges – taken to the next level. This year, we're continuing the tradition we started three years ago: both Smugglers have to read and provide mini reviews for 7 books each (one for every year of book smuggling).
What makes this feat even more difficult? Each mini review can only be 50 words long.
That's right. You heard us.
Airing of Grievances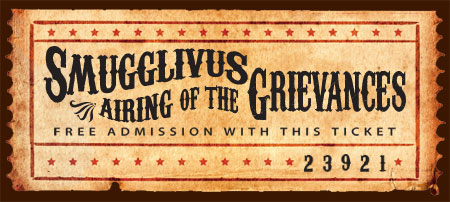 The Airing of Grievances is quite possibly our favorite Smugglivus ritual, in which we rant. We rant about fandom, books, TV shows, movies, the Internets, reading, and maybe even each other. *GASP* (All in good nature, of course. Most of the time.)
Ana and Thea's Most Excellent Books of 2014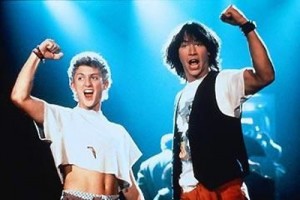 In which we post our top 10 (ish) favorite books of the year, including notable mentions and favorite books published prior to 2014. We'll also post about our favorite TV shows and movies in our "Best of The Rest" feature.

And that is Smugglivus in a nutshell! We will of course, continue with our regular schedule with reviews (albeit less than the usual number of titles per week) here and at Kirkus, but Radar and Old School Wednesdays posts will go on a break till January. Our usual Sunday stash will be mostly dedicated to the festivities as well.
We do hope you join us for the event and have as much fun reading our guest posts and reviews as we had organizing them!
We leave you now with the line up for the first few days of Smugglivus!
This Week on Smugglivus:
This year, our very first guest to kick off the festivities today is Erin Claiborne, the author of A Hero at the End of the World. Later today, we open the floor to Kelly and Kim of the fabulous blog Stacked.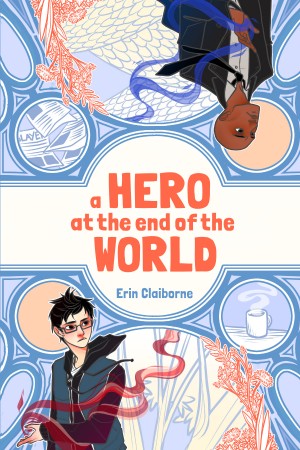 Tomorrow, it's podcaster and book reviewer Mahvesh Murad's turn to pick favorites with her first ever contribution to Smugglivus, followed by one of our favourites Kid Lit authors, Kate Milford, writer of Greenglass House.
On Thursday, we will also be posting our joint review of The Three Body Problem by Liu Cixin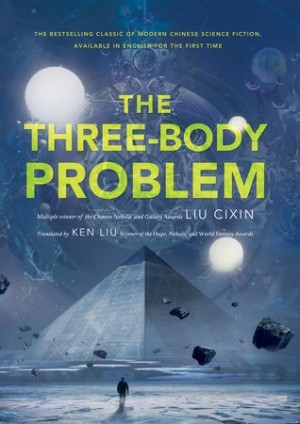 On Friday, we host two SFF authors: Robert Jackson Bennett, author of the incredible City of Stairs and Octavia Cade, author of the amazing Trading Rosemary as well as one of Book Smugglers Publishing's short stories, The Mussel Eater
On Saturday, we close the first week of Smugglivus with SFF author and Smuggler-fave Susan Jane Bigelow (The Seeker Star, The Extrahuman series)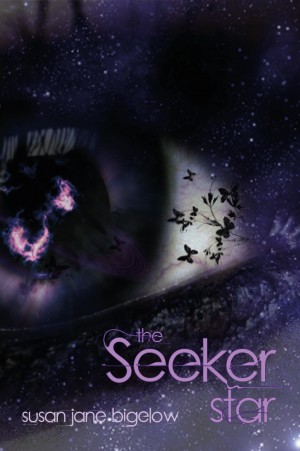 The 2014 Poster:
Finally, Smugglivus would not be Smugglivus without a Smugglivus Poster! This year, Thea herself designed our poster…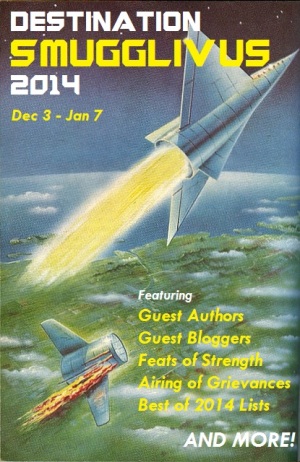 And with that, dear readers, we declare Smugglivus officially open! Happy Smugglivus everybody!
~ Your Friendly Neighborhood Book Smugglers