Welcome to Smugglivus 2013! Throughout this month, we will have daily guests – authors and bloggers alike – looking back at their favorite reads of 2013, and looking forward to events and upcoming books in 2014.
Who: Eric Smith, author of the recently released Geek's Guide to Dating, marketing & social media manager over at Quirk Books, and one of the cofounders of Geekadelphia.
Please give a warm welcome to Eric, folks!

Hey there Book Smugglers readers! Happy Smugglivus! Thanks for having me.
Working in publishing, I read a lot of books. That should come as no surprise. It's important to me to try and fall in love with every book we put out, so I spend a lot of time reading rough manuscripts, ARCs, and getting to know the authors and their past work.
That being said, sometimes that leaves little room to read much else.
What do I look for in a good book? I love memorable, relatable characters that I can get attached to. Characters with stories that can make me cry. And I also love finding novels that inspire me to visit my local coffee shop after work, and make attempts at writing my own books. And I tend to find all of that in Young Adult novels.
These books accomplished all of that. Great characters. Moving stories. Inspirational prose. Thank you, authors. You're all fantastic.
Favorite YA Reads of 2013
Eleanor & Park and Fangirl by Rainbow Rowell: How does Rainbow Rowell do it? I mean seriously. Two incredible YA books in one year? How? Someone please tell me, thanks.
When it comes to Rainbow's characters, she seriously gets the geek community, a world that I'm a part of. Two characters who fall in love, bonding over mixtapes and comic books? A girl incredibly into fan fiction? Her characters are incredibly relatable; her stories always make me cry (bam, right in the feels), and she makes me want to be a better writer with every single book.
The 5th Wave by Rick Yancey: When it comes to The 5th Wave, I gave into the hype. This book was everywhere. I felt like everyone on Twitter was talking about it. And with good cause.
The story? Aliens have taken over the Earth, as well as the bodies of its inhabitants. The novel focuses on the fight against them… and man, this book really nailed it with the whole paranoid and doubt thing.
I mean, the entire time I was reading it, I was questioning everything I had previously read. Who's a good guy? Who's bad? Can I trust this narrator? What about this one? OH MY GOD WHAT IS HAPPENING?
If you want to have panic attacks while reading a thrilling story, this book is for you.
Boxers & Saints by Gene Luen Yang: For me, this was the year of really getting into comic books and graphic novels. I became obsessed, and picked up a ton throughout the year. And my favorite has got to be the National Book Award nominated two-volume set by Gene Luen Yang.
Yang's YA historical fiction graphic novel focuses on the Boxer Rebellion, a dark period in Chinese history, and tells the story of the rebellion from two sides. On one side, the story of young man leading the uprising against the Western missionaries, and on the other, the story of a young girl caught between the missionaries and her friends.
Not only did Yang's story move me while reading (I cried a few times), it made me want to learn more about the history he was illustrating. If it was his mission to educate people… well, mission accomplished. A stunning book.
Bonus Non-YA Read in 2013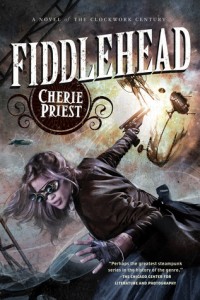 Fiddlehead by Cherie Priest: Alright, I can't talk about best of books without talking about Cherie Priest. I don't read a lot of steampunk. I love the visual aesthetic behind steampunk, especially at Comic Con, but the books seldom grip me. But I cannot get enough of Cherie Priest's amazing literary world in her stunning The Clockwork Century series.
Zombies. Pirates. Airships. Alternate History. Spies. War. Oh yeah, and STEAMPUNK. There's just so much to love here, and Fiddlehead is the fifth (and sadly final) book in the series. I highly recommend picking up the first book in the series, Boneshaker, and preparing yourself to become utterly smitten.
And maybe hop on Etsy while you're at it, get yourself a nice pair of goggles.
Most Anticipated Reads in 2014
As for books I'm anxiously awaiting, I feel like 2014 is the Year of the Sequel. Almost every single book I'm anxiously awaiting happen to be books closing out or continuing a series.
Most Anticipated Sequel Involving Mermaids: Of Neptune by Anna Banks. Romance, crackling wit, and hilarious one-liners… you'll love Banks' writing.
Most Anticipated Sequel Involving Cyborgs: Cress by Marisa Meyer: I love Meyer's stunning sci-fi world, and her wonderful characters. I may go crazy waiting for the last book, Winter, which comes out in 2015.
Most Anticipated Sequel Involving Rouges & Zombies: Strange and Ever After by Susan Dennard. It's the third and final book in Dennard's Something Strange and Deadly series, and I can't wait to get my hands on it. It's a paranormal historical zombie romp through Philadelphia (where I live).
Most Anticipated Sequel Involving Aether Storms: Into the Still Blue by Veronica Rossi. The conclusion to Rossi's amazing Under the Never Sky series, I need this in my hands. Right now. Thanks.

Thanks, Eric!