Today, we are running a special giveaway of the three books in The Raven Cycle by Maggie Stiefvater to celebrate the release of the third book Blue Lily, Lily Blue on October 21 2014.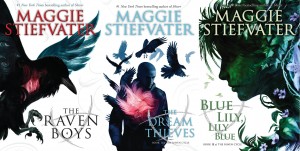 ABOUT THE RAVEN CYCLE
Mystery, Romance and the supernatural combine in this series from #1 New York Times bestselling author Maggie Stiefvater.
Book 1: The Raven Boys:
Every year, Blue Sargent stands next to her clairvoyant mother as the soon-to-be dead walk past. Blue never sees them–until this year, when a boy emerges from the dark and speaks to her. His name is Gansey, a rich student at Aglionby, the local private school. Blue has a policy of staying away from Aglionby boys. Known as Raven Boys, they can only mean trouble.

But Blue is drawn to Gansey, in a way she can't entirely explain. He is on a quest that has encompassed three other Raven Boys: Adam, the scholarship student who resents the privilege around him; Ronan, the fierce soul whose emotions range from anger to despair; and Noah, the taciturn watcher who notices many things but says very little.

For as long as she can remember, Blue has been warned that she will cause her true love to die. She doesn't believe in true love, and never thought this would be a problem. But as her life becomes caught up in the strange and sinister world of the Raven Boys, she's not so sure anymore.
Book 2: The Dream Thieves:
Now that the ley lines around Cabeswater have been woken, nothing for Ronan, Gansey, Blue, and Adam will be the same. Ronan, for one, is falling more and more deeply into his dreams, and his dreams are intruding more and more into waking life. Meanwhile, some very sinister people are looking for some of the same pieces of the Cabeswater puzzle that Gansey is after….
Book 3: Blue Lily, Lily Blue
There is danger in dreaming. But there is even more danger in waking up.

Blue Sargent has found things. For the first time in her life, she has friends she can trust, a group to which she can belong. The Raven Boys have taken her in as one of their own. Their problems have become hers, and her problems have become theirs.

The trick with found things though, is how easily they can be lost.
ABOUT THE AUTHOR
Entertainment Weekly has called Maggie Stiefvater, "one of the finest YA novelists writing today." Maggie Stiefvater is a writer, artist, and musician and the New York Times bestselling author of Shiver, hailed by Publishers Weekly in a starred review as, "a lyrical tale," and by BookPage as, "beautifully written, even poetic at times, and a perfect indulgence for readers of all ages." There are more than 1.8 million copies of the Shiver trilogy in print. Since publication, rights to thirty-six foreign editions of Shiver have been licensed. Linger, the second book in the Shiver trilogy, debuted at #1 on the New York Times Bestseller list. The Scorpio Races (2011) was named to the following best of the year lists for 2011: Publishers Weekly, School Library Journal, The Horn Book and Kirkus Reviews. In addition, The Scorpio Races was named a 2012 Michael L. Printz Honor Book by the American Library Association and a New York Times Notable Children's Book. Time Magazine called, The Raven Boys, Book #1 in Stiefvater's latest New York Times bestselling series The Raven Cycle, "A flirtier kind of horror-fantasy, aimed at teens clutching tattered Twilight and Sandman paperbacks….Stiefvater's quirky prose has ample nerdy pleasures." Stiefvater lives in Virginia with her family.
GIVEAWAY DETAILS: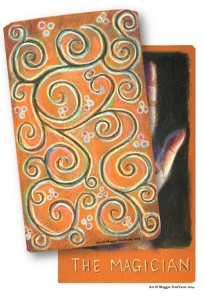 Courtesy of Scholastic, we are giving away The Raven Boys, The Dream Thieves, and Blue Lily, Lily Blue PLUS Limited Edition The Raven Cycle Major Arcana Tarot Deck (featuring Maggie Stiefvater original artwork!) to one lucky winner. The giveaway is open to addresses in the US ONLY and will run until November 15 2014 12:01AM EST. Use the form below to enter and GOOD LUCK!