It is no secret that we love Neil Gaiman (heck, we even had a full on "Neil Gaiman Appreciation Week" last year).  When The Graveyard Book was first released last year (in Hardcover) , we bought it as soon as we could and totally loved it. Since then, the book, which tells the tale of a boy named Nobody Owens who is adopted and raised by the occupants of a graveyard, has won several major Awards like the 2009 Hugo, the Newbery Medal, and a Locus Award as well as making it into Ana and Thea's Most Excellent Books of 2008 list (which we all know is the most prestigious award of them all.)
More About the Book: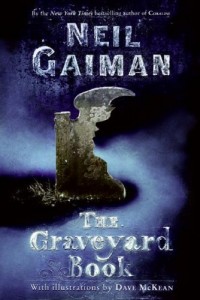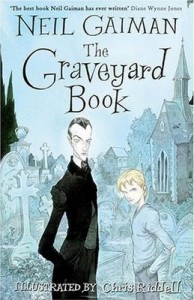 Nobody Owens, known to his friends as Bod, is a normal boy.

He would be completely normal if he didn't live in a sprawling graveyard, being raised and educated by ghosts, with a solitary guardian who belongs to neither the world of the living nor of the dead.

There are dangers and adventures in the graveyard for a boy-an ancient Indigo Man beneath the hill, a gateway to a desert leading to an abandoned city of ghouls, the strange and terrible menace of the Sleer.

But if Bod leaves the graveyard, then he will come under attack from the man Jack—who has already killed Bod's family. . .
Book Trailler narrated by Neil Gaiman:
Giveaway Details:
In celebration of the Book Blogger Appreciation Week and the paperback release of the book in October, we are giving away two paperback copies. All you have to do to enter is to leave a comment here answering the question:
"Is there a specific book or author that you find yourself recommending over and over?"
Contest is open to all and runs untill Saturday 19th, 11:59 PM Pacific Time. We will announce the two winners in our Sunday stash. Good luck to all!